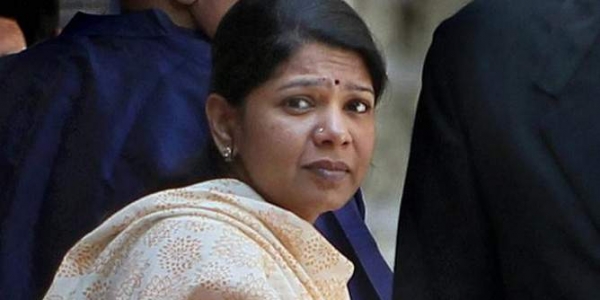 Hours after the Lok Sabha polls for the Vellore Lok Sabha constituency was countermanded, I-T sleuths raided the rented residence of Kanimozhi, the DMK's Thoothukudi candidate late on Tuesday.
Based on a tip-off, a 10-member I-T team barged into the rented house at Kurunji Nagar in Thoothukudi. The I-T sleuths were also checking the election office set up on the same premises. I-T officials said the raid was based on an alert from the Thoothukudi district collector, who is also the returning officer of the constituency. P Geetha Jeevan, local DMK MLA, who was in-charge of the constituency, rushed to Kanimozhi's house. After the news spread, DMK cadres in the district rushed in to the spot as well.
As the number of people started swelling, I-T sleuths sought the help of the police to keep the people at bay. A tense situation prevailed in front of the house as more people were pouring in and some of them resorting to sloganeering against the Centre and the Election Commission.
DMK leader MK Stalin asked why BJP candidate Tamilisai Soundararajan, 'who had hoarded crores of rupees,' had not been raided. "Even after filing an official complaint, they are not taking any action. We have to do reforms in the Election Commission in future," Stalin said. He said Modi is using the I-T wing to defame the opposition and the DMK.
However, later, I-T officials did not recover anything from the location.