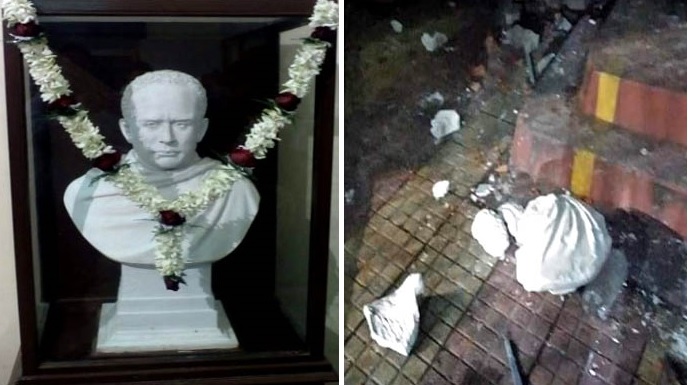 When Nathuram Godse pumped three bullets into the frail body of Mahatma Gandhi, there was stunned silence for a few seconds. When the Mahatma fell forward, an American gentleman Tim Rainer realised what had transpired and grabbed Godse by the shoulders and handed him over to the police. To a foreign correspondent Godse said his only words that evening, "I am no at all sorry."
He was to change his mind later. Justice GD Khosla, who was part of a three-member bench that heard Godse's appeal against a trial court verdict that found him guilty of the Mahatma's murder, wrote in his book that "it was said afterwards that Godse had, during his last days in gaol, repented of his deed and declared that were he to be given another chance he would spend the rest of his life in the promotion of peace and the service of his country." (The Murder of the Mahatma: GD Khosla).
Godse's fans, among them a current BJP parliamentarian and it's Bhopal candidate Sadhvi Pragya, are perhaps not aware of the assassin's history and his reported change of heart. For them, he remains a hero who did India great service by killing an apostle of non-violence, the person who, as the New York Times wrote on the day of his death, the 'greatest Indian since Gautam Buddha.'
Also read: Pragya apologises for Godse remark, says comment was twisted by media
Godse was neither a patriot, as Pragya -out on bail in a terror case – argued and later regretted under pressure, nor a nationalist, as her colleague Sakshi Maharaj proffered a few years ago. He was a mad man whose own troubled childhood made him a deeply flawed person. Narayan Apte, his partner in crime, incidentally, was also an eccentric. A womaniser, Apte had blind belief in astrology. He was convinced that nothing would cut short his life and was aghast when he was awarded the death sentence.
The problem with the BJP is that it still can't speak in one voice about the Mahatma and his killers. So, while the Prime Minister tries to promote a clean India as the Mahatma's dream, some of his stalwart colleagues continue to demean Gandhi by eulogising his killer and continue to enjoy flourishing careers in politics. Sakshi Maharaj, for instance, is the BJP candidate from UP in spite of calling Godse a nationalist on the floor of parliament. And there has been not a single voice to admonish Thakur, whose pearls of wisdom would have stunned even medieval societies.
The BJP's eagerness to appropriate almost everyone linked to the Mahatma's assassination is a clever ploy. For the world at large, it earns easy PR points by invoking his name, recalling his contribution to freedom struggles in many countries. In India, it claims to be the protector of the political legacy of Sardar Patel, the very person who banned the RSS for its alleged role in the murder. And, to keep its core Hindutva brigade, some of its hotheads keep praising Godse.
To understand the BJP's convoluted relationship with Godse, the sporadic doubts of Godse bhakti in a section of the saffron parivar, it is important to delve into his history.
Godse was the son of a village postmaster. During his childhood, to ward off evil influence, his mother dressed him up as a girl and made him wear a nose ring (nath), leading to the name Nathmal and then Nathuram. Since he failed to clear matriculation and find a stable job, Godse was forced to start a small tailor's shop.
As Justice Khosla writes, at 22, Godse joined the Rashtriya Swayam Sewak Sangh (RSS) — an organisation of which the avowed aim was to protect Hindu culture and solidarity. A few years later he shifted to Poona, and became secretary of the local branch of the Hindu Mahasabha.
Also read: The unchanging face of two K'taka BJP MPs known for courting controversies
It is often alleged that RSS leaders distributed sweets after Gandhi's death. This accusation was one of the reasons cited for a ban on RSS by Patel. The RSS claims he was not an active member of the organisation when he killed Gandhi.
Since many BJP leaders come from RSS and its affiliates, they carry mixed emotions about Godse, his ideology and affiliation to their alma mater. Their ideological upbringing makes them identify with Godse's cause of Hindu 'rashtravad,' but the compulsions of politics make them praise its most vocal critic, Mahatma Gandhi.
This confusion sometimes tumbles out of them at inappropriate times. Ideally, mum should be the word within the BJP when it comes to Godse. But, when even the defence minister of India has to jump into the debate over Godse – on whether he was an assassin or a terrorist – you can't help thinking that the killer is lodged deep inside their psyche, like the bullets he fired that fateful evening.
Also read: Kamal says India's first terrorist was Hindu, raises a ruckus