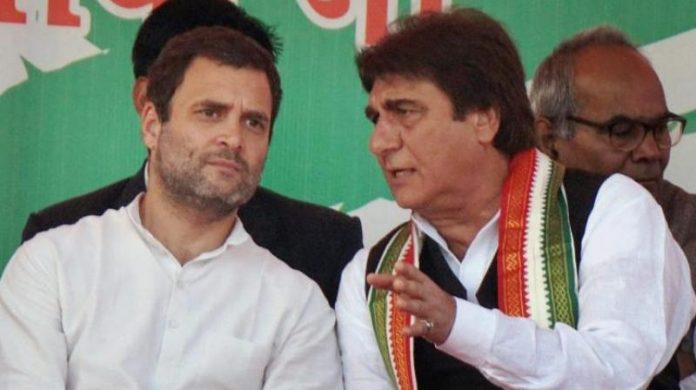 Even as whispers over Congress president Rahul Gandhi's resignation gain ground, two state party chiefs, including Raj Babbar, have offered to quit.
Owning up for the loss of his party, Uttar Pradesh Congress chief Raj Babbar has reportedly sent his resignation to Rahul Gandhi.
Babbar also tweeted that he failed to fulfil his duties as a party president and would discuss his resignation with the party chiefs. "The results are depressing for the Uttar Pradesh Congress. I find myself guilty of not discharging my responsibility in a proper manner," tweeted Babbar, who lost from the Fatehpur Sikri parliamentary constituency.
Advertisement
Rahul Gandhi to resign?
Following yet another abysmal performance, Gandhi on Thursday (May 23) reportedly offered to resign as Congress chief even though party spokesperson Randeep Singh Surjewala has denied the reports.
He is now expected to resign at a meeting of the Congress Working Committee (CWC) on Saturday. At Thursday's press meet, when asked if he would resign as party chief, Gandhi said the CWC will meet soon and decide on the matter. "People of India have decided that Narendra Modi will be the PM again and I fully respect it… It is not the day to go into the details for the opposition's defeat," Gandhi said.
Loss to Smriti Irani
What is said to have added pressure on Gandhi was his failure to retain Amethi, the Gandhi family stronghold in Uttar Pradesh. A three-time MP from Amethi, Gandhi lost the seat to BJP's Smriti Irani. The Congress-led UPA won 92 seats across the country, while the BJP-led NDA bagged 300-plus, bettering its 2014 performance.
In Uttar Pradesh, the Congress has been reduced to a single seat out of the 80 parliamentary constituencies despite the party pressing into service its 'Brahmastra' Priyanka Gandhi Vadra. Priyanka was named the party's general secretary for Uttar Pradesh (East) while Jyotiraditya Scindia was made in-charge of UP West. Despite that the only seat the party could hold on to was that of Sonia Gandhi's Raebareli. Notably, Scindia lost the party bastion of Guna in Madhya Pradesh to BJP's Krishna Pal Yadav.
Apart from Babbar, Odisha Congress chief Niranjan Patnaik and Karnataka Congress campaign committee president HK Patil have also resigned from their posts, claiming moral responsibility for the poor show in their respective states.