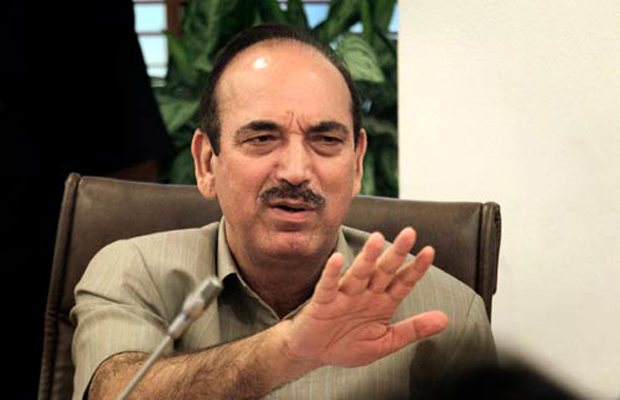 The Congress does not have a problem if it is not offered the Prime Minister's post, senior party leader Ghulam Nabi Azad has said.
He told mediapersons in New Delhi on Thursday that the sole objective of the party was to keep the BJP and the NDA out of power. "We are not going to make it an issue if it [the PM post] is not offered to us," the leader of the opposition in the Rajya Sabha said.
Congress stance
Narendra Modi would not be the PM after the polls. A non-NDA, non-BJP government would  come to power at the Centre, he added.
Advertisement
"We have already made our stand clear. If the consensus is in favour of the Congress, then the party will take the leadership but our aim has always been that NDA government should not come. We will go with the unanimous decision," Azad told reporters here.
The BJP would be reduced to 125 Lok Sabha seats, he claimed, refusing to state how many the Congress would win. He said the BJP was 'thoroughly exposed' after coming to power in 2014 as it 'created  hatred and divide' in society. He said the BJP government's policy and principle had exposed the party as one of 'capitalists and industrialists.'
The BJP government had followed a 'pro-rich' policy. All major sections of society – farmers, youth, women and labourers – were a depressed lot due to the 'wrong' policies of the Central government, he said.
'I feel like committing suicide' 
Taking a swipe at the PM's recent 'cloud cover' statement, he said: "After seeing the PM's statement related to science, I think I should commit suicide." Azad condemned the smashing of the bust of Ishwar Chandra Vidyasagar during clashes between the BJP and TMC supporters during Amit Shah's roadshow in Kolkata on Tuesday.
Rajnath's dare
On Tuesday, Union home minister Rajnath Singh had dared the opposition to name a Prime Minister candidate. Famously, BJP president Amit Shah had said the opposition would not have a PM. He said in a rally in Tamil Nadu that the PM would change every day, from Mayawati to Chandrababu Naidu. He jocularly said 'Sunday would be an off.'
In an apparent retort, Ghulam Nabi said, "We are in the last phase of elections and I can say on the basis of my experience during campaigning across the country that neither the BJP nor the NDA was going to return to power at the Centre."
(With inputs from Agencies)