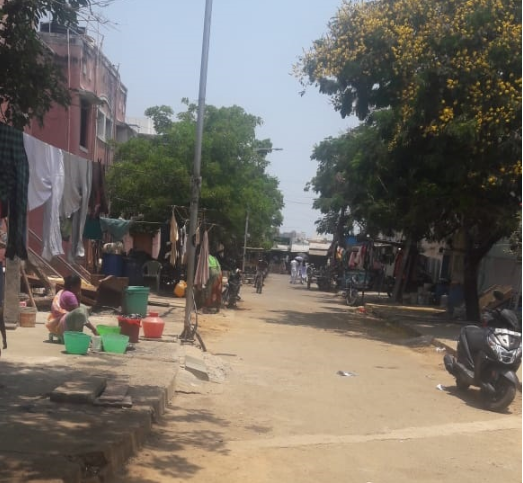 Suganya (name changed), who has been a Dravida Munnetra Kazhagam (DMK) loyalist, has resolved she would never vote for the party again. Born and raised in Thideer Nagari in Thousand Lights, she moved to Perumbakkam almost two years ago after the slum settlement was removed by the Tamil Nadu Slum Clearance Board. Sujatha says bitterly that their 'thalapathy,' MK Stalin, who won from their constituency in Thousand Lights several times, failed the 2,500 families that lived there. "We know that the last DMK government had already approved Perumbakkam as one of the resettlement sites during their reign. Had they wished, they could have stopped our eviction. But they started it. We used to call him (Stalin) 'Enga Veetu Pillai' (our house's child, ironically, inspired from the blockbuster film starring All India Anna Dravid Munnetra Kazhagam's founder MGR). He then left us and began contesting from Kolathur," she says.
Many from Thideer Nagar, who have moved into the site for a few years now, have begun mulling options like Seeman's Naam Tamilar Katchi or even NOTA. "We have been discussing this among ourselves on WhatsApp. Everyone has used us as pawns in their political game. We can't trust anyone," she adds.
Colonies formed
There are four resettlement sites in Chennai South's Lok Sabha Constituency. Resettlement of slum dwellers from the banks of rivers like the Cooum and Adyar, after the Indian Ocean tsunami in 2004, the 2015 Chennai floods and the most recent drive to remove encroachments on waterbodies, has led to the formation of a large number of colonies between on city fringes. Each colony holds over 20,000 families and they have a huge say in the constituency's voting pattern. Far from their places of interest, the families struggle with little job opportunities, inadequate transport facilities, minimal healthcare and educational infrastructure. The woes have spelt disenchantment with politicians and their representatives.
On the radar now
Semmenchery's tsunami colony, where people were moved in two years after the 2004 disaster, has seen a trail of politicians after the announcement of the LS polls. Murugan, a resident for the past 13 years, says he has seen the DMK, the AIADMK and even TTV Dhinakaran's party reaching out to people here. "Actor Kamal Haasan had a meeting here some days ago with people from his Makkal Needhi Maiyam participating in it. But who will come here after elections? We are suffering in unhygienic surroundings, enduring leaky roofs and living in an unsafe neighbourhood. There is absolutely no police surveillance. We should invite them to come and see our homes," he says.
No amenities 
In all the years, no one has taken an effort to improve healthcare services here, says Beula, another resident. "There is one primary health centre nearby and there are no government healthcare facilities; we have to travel all the way to where we once lived," she says. A large section of them being wage labourers working as painters, drivers, and house maids, the eviction has rendered them unemployed. "We get water and have electricity. But what about our livelihood," asks Manju, who was in Saidapet, before the floods and has now moved to Perumbakkam. "The men from families turn to alcohol due to unemployment and we women, and our children suffer. Even if we earn, half of it is spent on transport," she adds. With change in addresses and constituencies, a fair section of them in the newest resettlement colony are unsure if they will be able to cast their votes. Kosalya, a teacher in an anganwadi school, says, "I just changed my address from Semmencherry. I really hope I can vote this time." She adds that the mix of people from different areas of the city has left the doors open for both the major Dravidian parties.
Kannagi Nagar
Kannagi Nagar, with a proactive ward councillor, as the residents say, has seen a lot of development with regular water supply and neat surroundings. The area has a large section of AIADMK loyalists, says Jessie, who has been living here for over a decade, after shifting from Mylapore. "He has ensured that our basic needs are met. There are problems, but they are manageable," she says. The neighbouring Ezhil Nagar has been getting a raw deal. Kuttisree, a transgender from the area, says, "Bus or water facilities are all concentrated in Kannagi Nagar. There is not a bus stop for the locality that has such a huge population," Kuttisree says.
While there are talks about votes being bought, some residents maintain that they will vote for someone who would do good to them. "We can only hope that the next in line will work for our welfare – without cheating us. We have to look beyond bribes; it is in our hands," says Jhansi, a resident of Ezhil Nagar.