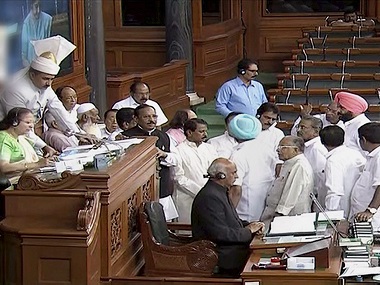 The Bharatiya Janata Party (BJP) has decided to adopt a new strategy to influence voters in the Parliamentary elections. It is planning to showcase how the MPs conducted themselves in Parliament, i.e., focus on their 'unparliamentary' behaviour. The campaign would drive home the point that instead of representing their constituents and raising issues related to their constituency, the MPs disrupted Parliament's functioning.
Though it's a negative campaign of sorts, the BJP feels that it would help them 'expose' the Opposition. Thirty-second videos of such behaviour would be circulated including on social media.
Party leaders recall how the disruptive MPs threw paper balls and planes at the treasury benches. They recall that once when Deputy Speaker of Lok Sabha Thambi Durai was chairing a session, an MP pulled out the mike and even threw leaflets at the chair.
Advertisement
The ruling party has zeroed in on 15 Opposition MPs for this expose. It would field 'strong' candidates against these leaders. During the campaign in the respective constituencies, the BJP would play video clippings of the 'unruly' behaviour, bordering on 'hooliganism,' of these MPs.
Congress president Rahul Gandhi is likely to be one of the prime targets of the BJP. Smriti Irani would put up a spirited fight in Amethi and try to build a narrative on how Rahul's performance was below par and show how whenever he participated, his primary intention was only to 'stall' the proceedings.
The BJP is focusing on Rahul because the party believes that he was primarily responsible for not allowing the House to function. Other aspects of the narrative are likely to be the familiar territory of how 'he misled Lok Sabha by uttering lies on Rafale, former French President's statement' etc.
The suggestion has come from the top brass of the party. They particularly wish to 'expose' how Opposition members crossed over to the treasury benches with placards and raised slogans against the prime minister and shouted 'hai hai' during Parliament sessions.
Though the BJP is not revealing the names, likely targets would be Jyotiraditya Scindia, Kantilal Bhuria, Sushmita Dev, Gaurav Gogoi, Deepender Hooda, Sunil Jakhar, Suresh Kodikunnil, Rajeev Satav, Ranjeet Ranjan, wife of Pappu Yadav, and Ravneet Singh Bittu of the Congress party. Kalyan Banerjee of Trinamool Congress and a few MPS from Samajwadi Party, TDP and RJD are also likely to figure on the list of MPs who would be targeted by the BJP.