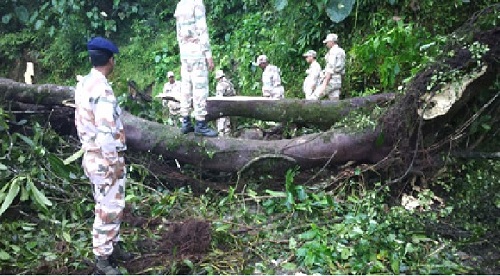 Around 500 masked men armed with daos (machetes), sticks and guns, including AK-47 assault rifles, allegedly ambushed a polling team in Arunachal Pradesh's Kurung Kumey district around 5pm on May 19, the Arunachal Times reported. The team reportedly was on its way to the Nampe polling station, where a re-poll was scheduled for today May 21. The polling station is located in Koloriang Assembly constituency in the district. The assailants allegedly waylaid the polling team in Lumbung area and snatched the electronic voting machines (EVM) and other poll equipment as well.
An unnamed police officer was quoted saying that the assailants belonged to the National People's Party (NPP). The Conrad Sangma-led NPP is an ally of the BJP in northeastern states.
According to the same news report, Nampe sector magistrate Rido Tarak has since lodged an FIR at the Koloriang police station. "While doing so, they indiscriminately fired several rounds of bullets with sophisticated weapons, which included AK-47 assault rifles," Tarak said.
Gunda loktantra are in Arunachal Pradesh general election, here is no Meaning of democracy, it's ground report from Arunachal Pradesh re-poll…. #BJPMission2019 pic.twitter.com/pNq3ikABDH

— Dera Techi (@deratechii) May 21, 2019
Advertisement
The magistrate, however, said the paramilitary force accompanying the polling team did not resort to retaliatory firing in apprehension of deaths and casualties on both sides.
"The poll team has safely returned to Koloriang from Langbang," the district election officer (DEO) said.
He said they are determined to conduct the fresh poll, as scheduled, on Tuesday, despite the ambush and the snatching away of the EVMs.
The Election Commission had ordered re-polling on May 21 at the booth in Koloriang constituency and one booth in Tali seat of Kra Daadi district, after allegations of electoral malpractices during an earlier election in April, PTI reported.