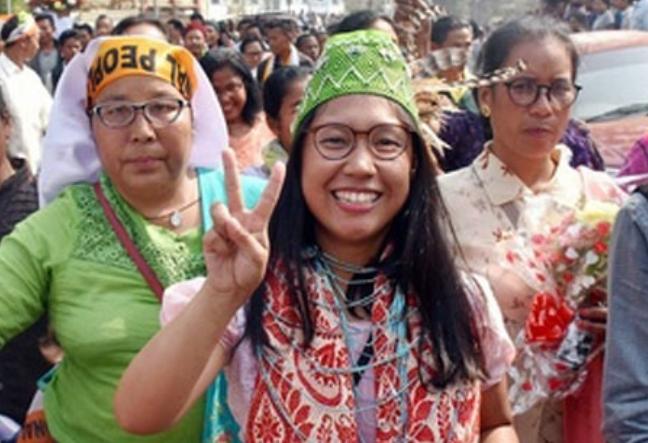 As voting for the two Lok Sabha constituencies — Tura and Shillong — and by-poll to the Selsella Assembly constituency in Meghalaya began this morning, former Union minister and National People's Party (NPP) candidate Agatha Sangma exuded confidence of winning her Tura parliamentary seat.
On April 11, after casting her vote, Agatha said: "There is no doubt that NPP is going to emerge victorious in this election and we are confident of it. Elections are always tough and we all have worked hard and believe that our hardwork will pay off."
Agatha is up against former Congress chief minister Mukul Sangma and BJP's Rikman G Momin. She was first elected to the 14th Lok Sabha in a by-election in May 2008, after her father and former Lok Sabha speaker PA Sangma resigned from the seat to join state politics. Later, she was re-elected to 15th Lok Sabha. She was minister of state for rural development in Manmohan Singh's cabinet.
Advertisement
Even though Mukul Sangma is well-known in the constituency and enjoys considerable support, many in the region believe there is a reason behind Agatha's conficence — the Sangma family's "out and out rule" in Tura. The Lok Sabha seat has remained with them since 1977. It was her father and former Lok Sabha speaker PA Sangma who won the seat that year. He went on represent the constituency multiple times, except for a short period (1989-1991) when he didn't contest. After PA Sangma's death in 2016, his son Conrad became an MP from Tura in a bypoll. Conrad, however, vacated the seat after becoming the Chief Minister of Meghalaya in December last year.
In fact, Congress insiders admit that the party had to field its strongest candidate, Mukul, since "no one else could match the formidable presence of the Sangma family" in Tura.
His father's son
Meanwhile in neighbouring Assam, all eyes are set on Congress MP Gaurav Gogoi, who is seeking a re-election from the Kaliabor Lok Sabha seat. Gaurav, who is the son of three-time former chief minister Tarun Gogoi, is facing Asom Gana Parishad's Moni Madhab Mahanta.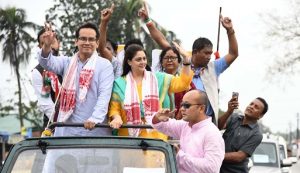 The AGP which is contesting the Lok Sabha elections in alliance with the BJP in Assam, has fielded Moni Madhab, who also happens to be the younger brother of AGP working president and water resources minister Keshab Mahanta.
However, it's Gaurav, who seems to be hogging the limelight with a campaign blitz that also saw party leader and Bollywood actor Nagma Morarji campaigning for him. Congress's star campaigner Nagma came all the way to Assam to join a roadshow in Kaliabor.
The Kaliabor parliamentary constituency — one of the 14 Lok Sabha constituencies in Assam — comprises 10 Assembly segments of Golaghat, Dergaon (SC), Bokakhat, Dhing, Batadroba, Rupohihat, Samaguri, Kaliabor, Sarupathar and Khumt. This has traditionally been a Congress stronghold. The party has lost the Kaliabor seat only twice in 1984 and in 1996.
In fact, it was Gaurav's entry into politics as Lok Sabha candidate that became a major cause for infighting within the state Congress, which ultimately saw Himanta Biaswa Sarma quitting the party in 2015. Sarma joined the BJP and become the main reason for Congress party's complete wipeout from the region.