Punjab excels in national school education survey, while Telangana, UP falter
In a complete reversal of fortunes in the field of school education, Punjab has emerged as the best performer in the recently released National Achievement Survey (NAS) 2021.  Four years ago in 2017, in the same national survey, Punjab had scored below average in 11 out of 15 subjects.
The 2021 NAS report, which was released by the Ministry of Education on Thursday (May 26) shows that Punjab scored above the national average in all categories in the national school education assessment study.
What is NAS?
The NAS, conducted by the Centre in coordination with the CBSE and NCERT, assesses learning outcome levels of students of four grades, Classes 3, 5, 8 and 10. The survey was conducted on one single day, on November 12 last year. The children were assessed on their ability to analyse, reason and communicate their ideas effectively to be lifelong learners.
It is an exercise seeking to assess learning outcomes, and is undertaken every three years. The aim is to test basic learning competencies in students to help identify gaps and determine interventions in education policies, teaching practices and learning.
The size of the survey
At the national level, the survey tested 34.01 lakh students, 5.17 lakh teachers from 1.18 lakh schools across 720 districts. In Punjab, for example, a total of 1.17 lakh students from 3,656 schools, including government and private, were tested.
A large portion of the schools, surveyed belonged to the rural areas (67 per cent), while just 33 per cent were urban. Students were assessed at 4 levels — Class 3, Class 5, Class 8 and Class 10 — across different subjects, which were scored out of 500. Students of Classes 3 and Class 5 were tested for language, maths, and environmental science (EVS), students of Class 8 for language, maths, science, and social science, and students of Class 10 for maths, science, social science, English and Modern Indian Languages.
Also read: Engineering, diploma institutes in South bristle at AICTE's new fee structure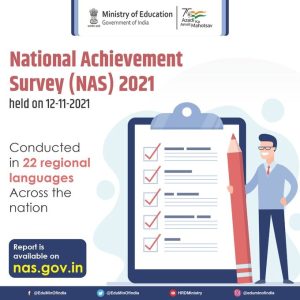 Out of the other states/UTs, Rajasthan and Chandigarh also performed well. Kerala too also remained above the national average in most categories. It was among the best performing states in Class 3 language (342) and EVS (318), however, Tamil Nadu scored marginally below the national average in all subjects.
Among low-performing states – that is, with the lowest mean scores in subjects – Telangana, Arunachal Pradesh and Uttar Pradesh have all recorded low scores across subjects and school levels. Despite the big hype over the Delhi model of education, Delhi lagged behind in most subjects in all the four levels.
Punjab leads
According to NAS-2021, Punjab has scored highest in all subjects for Classes 3, 5 and 8. For Class 10, the state has scored the highest in maths, second highest in science, social science and MIL. It scored third highest in English after Chandigarh and Goa. It scored more than the national average in all categories and emerged as the topper in 11 of 15 subjects.
Punjab scored the highest in Class 3 maths (355), language (339), EVS (334), Class 5 maths (316), language (339), EVS (310), Class 8 maths (297), language (338), science (287), social science (288), and Class 10 maths (273), the survey shows.
But the state's performance dropped to second at the Class 10 level in Modern Indian Languages, science, social science, and English.
A senior official from the Punjab education department told a leading national daily that it had been a "huge embarrassment" for them, after being labelled as the "worst performers" in almost all categories and scoring below the national average in 11 of 15 subjects in 2017. Hence, the department reportedly worked hard to prepare for the next survey. Children were trained in using OMR answer sheets, they realigned the entire syllabus in objective-type questions to make students familiar with the NAS format. The department also did a complete overhaul of the syllabus, including starting an initiative called 'Padho Punjab' aimed at outcome levels based education.
Also read: UGC's dual-degree scheme removes learning silos, but fees and other concerns remain
Overall decline in learning
However, what is disheartening is that the survey found there was a slump in learning outcomes of children in all these grades assessed in the survey across the country — the national mean score for all levels was found to be lower than that of the 2017 NAS.
In Class 3, performance declined from 336 in 2017 to 323 in 2021 in language, from 321 to 306 in maths, and from 321 to 307 in EVS.
In class 5 too, the language score is 309 in the 2021 survey, down from 319 in 2017. maths dropped to 284 from 310 in 2017, and EVS dropped from 310 to 283.
Scores of language at the class 8 level registered only a marginal drop, from 307 (2017) to 302 (2021). But, maths dropped from 269 in 2017 to 255 in 2021, science dropped from 274 in 2017 to 250 in 2021, and social science dropped from 278 in 2017 to 255 in 2021.
Except for English and Modern Indian Languages, subject scores saw a general decline in Class 10. Science saw a drop from 253 (2017) to 206 (2021), social science dropped from 254 (2017) to 231 (2021), and maths dropped from 254 (2017) to 220 (2021). While Modern Indian Languages rose marginally from 254 in 2017 to 260, English grew from 253 (2017) to 277 (2021).
The survey also found that students' learning capabilities declined in the higher classes.
For instance, in maths, the average percentage of marks scored by students was 57 per cent in Class 3. It dropped to 44 per cent in Class 5, 36 per cent in Class 8 and 32 per cent in Class 10.