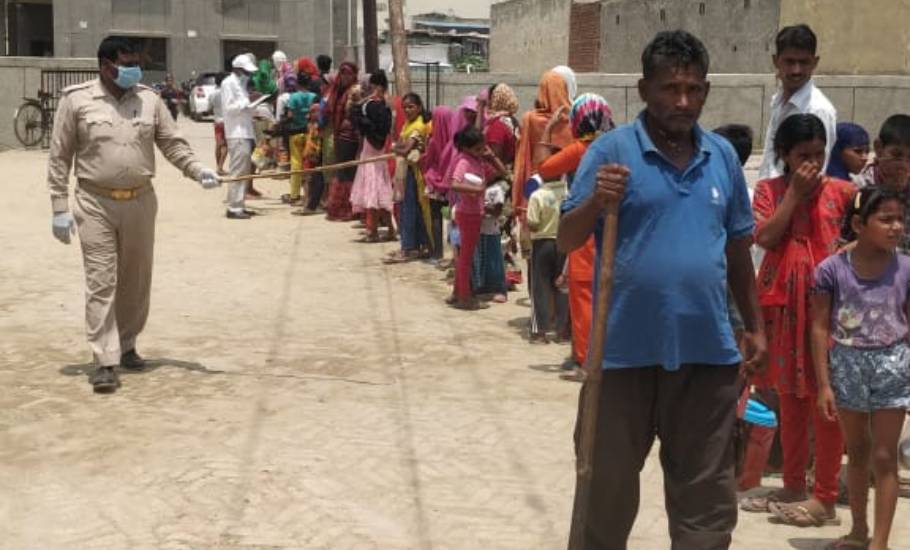 What Unlock 1 means for Delhi's daily wagers: Burnt 'khichdi,' joblessness
With some relaxation in lockdown norms across the country, the formal and informal sectors of the economy are crawling back to normalcy. But thousands of labourers and daily wagers in Delhi and Uttar Pradesh, mostly house helps and small-scale construction and factory workers, are now hunting for new jobs or hoping to get their old ones back.
Adding to their woes, the governments of both Delhi and Uttar Pradesh have cut down on the distribution of cooked food, which was earlier ferried in trucks twice a day to localities where daily labourers live. Many non-governmental organisations (NGOs) that earlier supplied essentials to the government for these meals have also run out of funds.
At the mercy of food trucks, landlords
Adding to this, many daily wagers complained of being frequently threatened by their landlords to pay their rental dues. In Khoda, Ghaziabad, 22 families from West Bengal that were planning to return to their native villages have been forbidden by their landlords to leave, unless they pay their pending rent – ₹2,000 per family – for the past three months.
"The food trucks have stopped coming, my employer's society is still sealed, and our landlord is not letting us go. When we don't even have the money to feed ourselves, how do we pay rent?" asked 23-year-old Safina Bibi, a house help living in Khoda. "I asked my madam to lend me ₹1,000 but she dismissed me, saying 'we are sailing in the same boat as you'".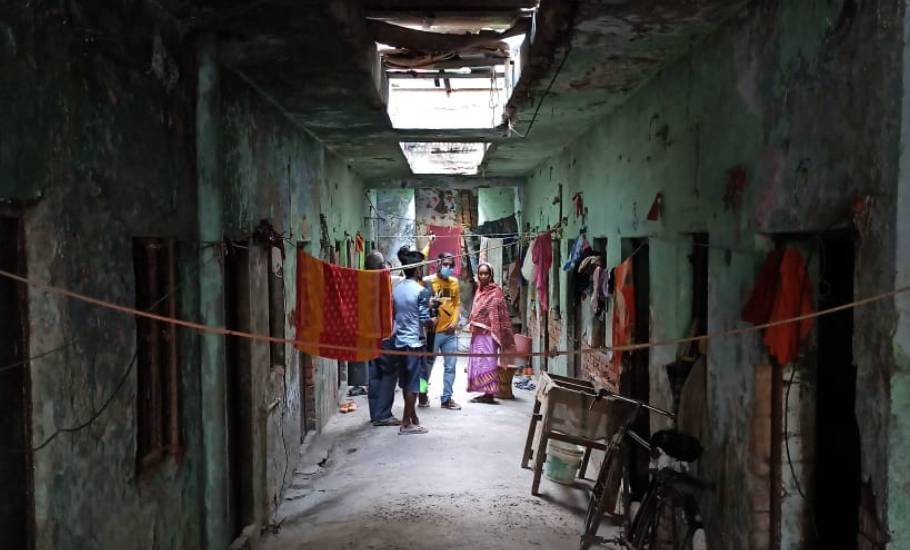 The story of 28-year-old Meena Kumari, who hails from Bihar and works in Noida as a house help, is not much different from Safina's.
"My employer who works as a high-ranking government officer, told me 'your poverty is not my problem' when I requested him to lend me ₹2,000. I wouldn't have had to beg for money if I could work or get free meals," Meena said.
Jaiprakash Sharma, a Noida-based food distributor, who used to provide cooked meals to nearly 1.5 lakh people from five kitchens, said: "Earlier, we used to get raw materials from at least five to six different NGOs and voluntary organisations for each kitchen, but now the number has reduced to one or two. Naturally, the quantity of cooked meal distribution has fallen."
Similarly, in Delhi's Mahipalpur, nine Kashmiris are stranded without food and money and have been prohibited from leaving their rented houses by their landlords.
Related news: The invisible women in the sea of migrant labourers
"How do I let them go if they owe me three months' rent of ₹18,000 for three rooms? After all, I have to feed my family, too," said Himanshu Gupta, who has rented out rooms to the Kashmiris.
Arjmand Ashraf Parry, 21, from Kashmir, said, "We applied for food coupons two months ago, but have still been waiting to receive food. Now, we don't even see the food trucks coming anymore."
Bhupinder Singh Joon, the Aam Aadmi Party's (AAP) legislator from Southwest Delhi's Bijwasan Assembly constituency, where these men reside, however, says that although the food trucks were shifted every two weeks to avoid overcrowding, cooked meals are still being distributed.
'Bad quality, less quantity'

While many of these workers are still hoping to find food trucks within two kilometres of their residences, those who are fortunate enough to receive meals are dissatisfied with the quality. But there is no other option. At least 50 people that The Federal spoke to in Uttar Pradesh and Delhi said that the khichdi (blend of rice and lentils), rice and dal are either semi-cooked or burnt.
Kajal, 10, who was seen lining up for food at Noida Sector 70, said, "The dal (pulses) is semi-cooked on most days and we have to cook it at home again. Now, our gas is also exhausted and we have to eat it kachha (raw) only."
"Eating burnt khichdi for over a week has given me stomach infection and I don't even have money to buy medicine," said Tafazzul Islam from Mehrauli, Delhi.
Anuradha, 13, says her mother suffered from gastritis after eating burnt khichdi for three consecutive days. Seventeen-year-old Sachin Kumar, who shares similar woes, however, makes peace with the situation by saying that, "something is still better than nothing." Many say the heat could also be making the food go stale fast.
Related news: Migrants leaving 'heartless' NCR vow never to return
As people were complaining about the food quality on record, Jaiprakash Sharma, the food distributor, could be heard saying, "You people do not even deserve this food."
"These people have pelted stones at us because they are unhappy eating khichdi day after day. It's not I who decides what is cooked," he tells us.
Anil Verma, junior engineer, Noida Authority, said: "Our food is tested frequently by food-testing authorities. Moreover, we also test the food before distribution. While the taste is up to an individual, the quality is definitely up to the standards." He, however, refused to share the contact details of food-testing authorities, despite repeated requests.
Since the distributor is authorised to dish out food only to people who are physically present near the food trucks, many who can walk to the spot including pregnant or lactating mothers, physically-challenged people, and old or indisposed people, have to rely on the food their family gets for them. More often, the received food is insufficient for the entire family.
The food is distributed twice a day, between 1-2 pm and 6-7 pm. Many mothers said that their children had to stay hungry all morning.
The situation is no better for those with local ration cards. They are not getting the free ration promised by state governments and are having to rely on cooked meals.
Deepak Lal, 29, from Sarfabad, said at least 100-150 people had been lining up for a week since 3 am outside the kirana store, which opens at 5:30 am, holding their local ration cards. After 30 beneficiaries get dry ration, "the rest are asked to 'come tomorrow', and that tomorrow never seems to come".
In a woeful state of affairs, where local residents and migrant labourers are forced to scrape for food and hunt for jobs, the easing of lockdown might have helped a handful of people, but certainly not the poor. And amid all this chaos, social distancing has been the least of the concerns for people on the ground, be it labourers or officials.