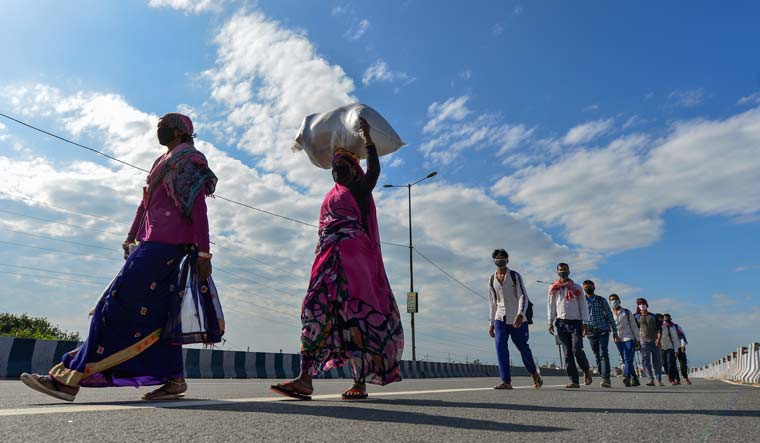 We will walk home if not given transport, say migrant workers in TN
Homesick, jobless and stranded, migrant labourers in Tamil Nadu are considering walking home, if the state government doesn't provide them transport facilities to travel to their states.
Homesick, jobless and stranded, migrant labourers in Tamil Nadu are considering walking home, if the state government doesn't provide them transport facilities to travel to their states.
The despair-driven decision of migrants comes at a time when their counterparts in states like Gujarat and Karnataka have started going home in state-arranged buses and those in Kerala, Maharashtra, Rajasthan and Telangana have boarded Shramik Special trains.
While many migrants in Tamil Nadu began making frantic calls to their friends and relatives working in various states after getting the news of the operation of Shramik Special trains, others in cities like Coimbatore and Tirupur, got to know about it only after they heard the chugging of the passing Kerala- Bhubaneswar special train.
Related news: 100 migrant workers in Jammu start walking for home in UP
More than 5,000 migrant workers in Tirupur thronged the railway station on Monday (May 4), demanding to be taken back to their native states in trains. On March 2 and 3, several parts of Chennai witnessed a similar protest by the stranded guest workers.
"If the Kerala government can send their guest workers home through trains, why can't the Tamil Nadu government make necessary arrangements for our transportation?" asks Naveen Kumar, a native of Bihar who works in the unorganised sector at Angeripalayam in Tirupur.
"If the state government is not ready to facilitate any transportation, we do not have any other choice than to walk some 2,000 km to our native places," he added.
Can't afford social distancing or food
Like Naveen, there are around 400 guest workers from Bihar, living in cramped houses in the Angeripalayam locality of Tirupur. "We all share a small space here. At least five people are crammed in a single room and the probability of getting infected and the spread of the disease are high as we cannot maintain social distancing," another migrant worker said.
Disappointed over supply of poor quality food and essentials, many workers doubt the Tamil Nadu government would take care of them if they are infected. "When we were struggling for survival, the government gave us only poor quality essentials, which we could not cook and eat on a daily basis. How can we rely on the government to take care of us if we test positive for COVID-19," said another migrant worker in Naveen's locality.
The workers in the locality said they start their walk home in a day or two, if the state government does not pay heed to their demands.
A few migrant workers in Chennai to whom The Federal spoke to said that they are running out of money and are surviving with the help of money borrowed from relatives through bank transfer. "We don't have money to pay train tickets as we did not get work in the past 40 days," says Niranjan, a construction worker.
Govt communication confusing
After protests by migrant workers, the state government on Sunday (March 3), announced a website, where they can register themselves. However, migrant workers in Chennai, who attempted to register themselves complained of facing languages issues.
"If I can read and write English, why would I come all the way to Tamil Nadu to work at construction sites?" asks Aditya, a migrant worker from Madhya Pradesh.
Besides that, the Centre's revised rules for travel has confused them further.
The central government which earlier said that people, who are stranded in the state will be transported to their home states, clarified on Sunday (May 3) that the previous order was meant to facilitate movement of such stranded people, who had moved from their native places or workplaces, just before the lockdown period, but could not return to their native places or workplaces on account of restriction.
Related news: After criticism, BJP points to 85% train subsidy for migrant workers
"The facilitation envisaged in the orders is meant for such distressed persons, but does not extend to those categories of persons, who are otherwise residing normally at places, other than the native places for purposes of work etc. and who wish to visit their native places in normal course," the order stated.
If the revised rules are considered, migrant labourers would come under the category of outsiders who reside and work in the state and had not come for a short visit. The central government is yet to clarify on the same.
Officials wait for factories to open
Local body officials believe the migrant workers would return to their normal life once the industries open on May 6, as decided by the state government.
According to a senior official handling the migrant worker issue at Chennai, only 10 per cent of workers were willing to return. In a survey at the industrial hub Tirupur, it was found that only 20 to 30 per cent of workers are willing to return.
However, officials in the districts and Chennai have started registering workers who wish to go home, on the website of the respective states.
"Every state has a web portal where we have to submit the details of the employees from our states. Only Assam, West Bengal and Uttar Pradesh have not given their website links, where we can register the details of the workers belonging to their states. So, we have registered them in the website created by the Tamil Nadu government to collect the details of the guest workers," said a senior official in the team, working on facilitating the transportation facility.
Related news: Indian Railways to operate more Shramik Special trains for migrants
However, the officials were not sure when they would be able to arrange the special trains and transport the guest workers.