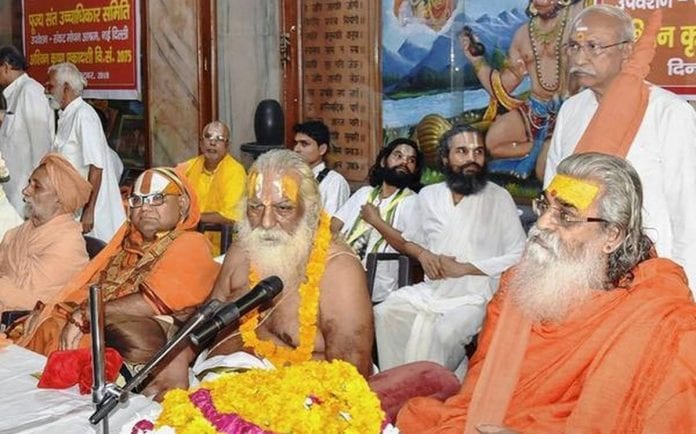 Mahant Nrityagopal Das, who heads Shri Ram Janmabhoomi Teerth Kshetra, the trust formed for the construction of a Ram temple in Ayodhya, Uttar Pradesh, has tested positive for COVID-19.
Das was with Prime Minister Narendra Modi on the stage during the bhoomi poojan (ground-breaking ceremony) for the construction of the temple on August 5.
Uttar Pradesh governor Anandiben Patel, chief minister Yogi Adityanath, and Rashtriya Swayamsevak Sangh (RSS) leader Mohan Bhagwat were also on the stage with Das.
Advertisement
Those who attended the ceremony with Das, including the PM, may have to undergo quarantine since the Indian Council of Medical Research (ICMR) states that those who come in contact with a person who has tested positive for COVID-19 have to undergo home quarantine.
"Detection of a travel related/unrelated suspect case of novel Coronavirus Disease (COVID19) will be followed by rapid isolation of such cases in designated health facilities and line listing of all contacts of such cases. Home quarantine is applicable to all such contacts of a suspect or confirmed case of COVID-19," the guidelines noted.
Das tested positive for the virus infection on Thursday (August 13), a day after he took part in the 'mahabhishek' at the Krishna temple during Janmashtami celebrations in Mathura.
He was tested after he complained of breathlessness on Thursday morning.
A couple of priests and over a dozen policemen at the Ram Janmabhoomi site had tested positive for COVID-19 a few days ago.
According to news reports, chief minister Yogi Adityanath has instructed officials to make arrangements to shift Das to the Medanta hospital in Gurugram.
District officials, including the Agra CMO, are attending to him and he is said to be stable.
Das also heads the Shri Krishna Janmabhoomi Nirman Nyas, a trust set up after the bhoomi poojan in Ayodhya to reclaim land in Mathura that is in dispute with the Shahi Idgah, located next to Krishna temple in Mathura.