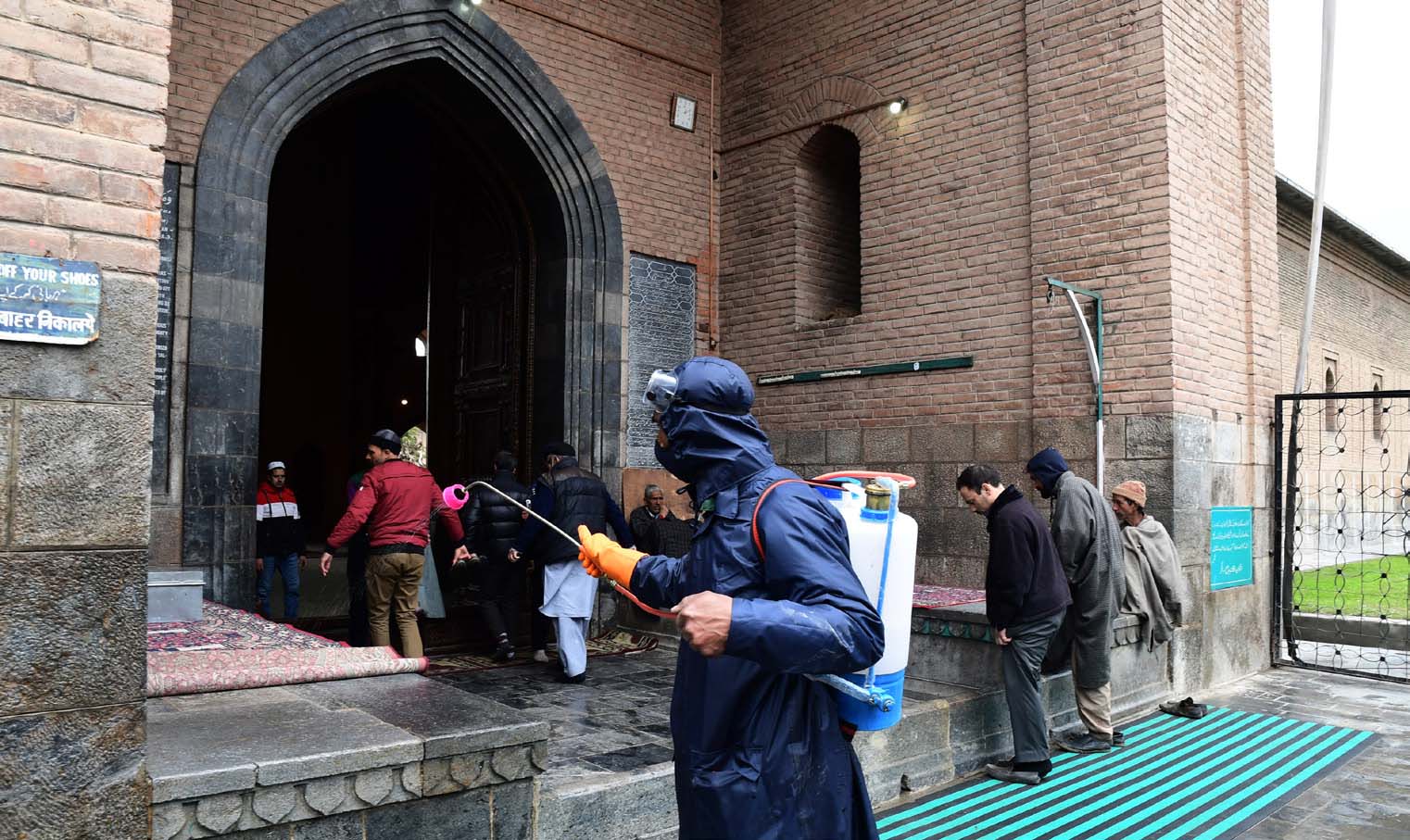 Kashmir's quarantine policy needs a revisit, say experts
Kashmir's leading health professionals are concerned about dealing with a possible spike in COVID-19 cases with improper health infrastructure, inadequate personal protective equipment (PPE), N95 respiratory masks, and oxygen cylinders, and above all, lack of preparedness on the part of the administration to fight the pandemic.
Kashmir's leading health professionals are concerned about dealing with a possible spike in COVID-19 cases with improper health infrastructure, inadequate personal protective equipment (PPE), N95 respiratory masks, and oxygen cylinders, and above all, lack of preparedness on the part of the administration to fight the pandemic.
More doctors are now summoning the courage to speak up. Some are calling for war-time measures while others recommend maintaining calm and caution to avoid panic. As doctors are bracing for the coronavirus battle, the apprehension over lack of equipment remains.
Experts say Kashmir's quarantine policy also needs a revisit. They argue that there is a need to decentralise quarantine and avoid overcrowding at major hospitals like Srinagar's Sher-i-Kashmir Institute of Medical Sciences (SKIMS).
"In the name of quarantine, we are creating mini-jails in hospitals," Dr. Adil told The Federal, adding that "some patients in whom clinical suspicion is very low are having panic attacks due to social stigma and anxiety."
Even asymptomatic individuals who are put in quarantine expect doctors to be with them round the clock, which is not possible when there are patients in the hospitals with more serious conditions.
Related news | 9,000 from Tablighi Jamaat may risk contracting COVID-19
Dr Adil, while making a distinction between quarantine and isolation, explained that the latter is required for a COVID-positive patient and for patients with very high clinical suspicion, even if they might have tested negative. "But those with mild symptoms or asymptomatic ones can be put in various quarantine facilities at district levels. Home quarantine is also recommended."
Scores of people who have been kept at various quarantine facilities in various parts of Kashmir are complaining that the amenities there are inadequate, putting inmates at risk of contracting the virus. Such complaints are pouring in from north Kashmir's Sumbal, south Kashmir's Awantipora, and other parts of Pulwama district as well. Inmates are uploading videos and pictures on social media to highlight their plight.
"In a single room here at GDC Sumbal, 12 of us are kept and forced to use one dingy bathroom. This defeats the very idea of isolation and social distancing," said a local in a video message that he uploaded on social media. He said even if the authorities do not provide them with sanitisers, soaps, toothbrushes, toothpaste, tissues, and other essentials, at least their isolation should be ensured.
In the same video, a youth alleged that they are being treated with suspicion, even though they have not been confirmed to have COVID-19 yet. "It seems the authorities have decided that all of us have tested positive for COVID," he said.
Another inmate said home quarantine was far better for them instead.
Related news | COVID-19 death toll touches 50, positive cases rise to 1,965 in India
Similarly, about 175 persons have been kept at the girls' hostel of the Islamic University of Science and Technology (IUST) in south Kashmir. The hostel has been converted into a quarantine facility. Inmates complained that all those who were there have been forced to use a common washroom which is unclean.
"Leave the sanitisers aside, we do not have a simple hand wash available here. We are not safe. We want home quarantine," said Syed Umer Andrabi, a network engineer in the telecommunication industry, who also sent pictures to substantiate his claim.
Andrabi left Gurgaon on March 21 and reached Jammu where he rested for two days before returning to Kashmir on March 23. He said he was not screened anywhere barring a thermal screening once. He was put at the facility despite having no history of travel to a foreign country.
Problems like social stigma, ostracism, and lack of facilities at the quarantine also force some to run away. However, patients fleeing from hospitals too could potentially risk community spread.
Dr Yasir Wani, consultant paediatrician at the sub-district hospital in central Kashmir's Budgam, said that to avoid this chaotic situation, "we should have ensured home quarantine from the very beginning." He also said, "Only the diagnosed patients should have been admitted to the hospitals. Hospital quarantine of contacts is not recommended as it frightens people. Moreover, the quarantine wards can become potential epicentres of the pandemic."
Related news | Centre to prioritise hospital facilities based on severity of COVID-19 cases
The authorities, however, claim that over 400 persons with a history of travel to foreign countries, including Iran, Italy and Saudi Arabia, have concealed their details and are thus making it tough to flatten the COVID curve.
Srinagar district magistrate and development commissioner Shahid Choudhary, while appealing to people to reveal their history of travel, wrote: "In view of many COVID-19 positive cases in Srinagar, contact tracing hold the key to avoid further spread. Surveillance teams complain reluctance in some cases. Please be truthful, cooperative, and responsible. Easy and quick for all of us. Let's not complicate anymore."
On their part, senior doctors are concerned that the administration did not pay much attention to the recommendations made by health professionals in time. For instance, Kashmir Voluntary Doctors Organization (KVDO) said it had alerted the administration a couple of weeks ago and given recommendations on how to curb the COVID-19 outbreak and transmission in Kashmir. One of the important suggestions made was to place a blanket ban on the arrival of foreign nationals to Kashmir at the earliest.
Instead, the Jammu and Kashmir administration, in the first and second week of March, organised a mega sporting event in north Kashmir's picturesque tourist resort, Gulmarg. Several hundred sportspersons and coaching staff from outside Kashmir participated in the event.
Another major concern here is the capacity of the hospitals. "We have to be ready to take in 1,000 patients of COVID per day. For that, we need bed capacity. Besides, we need to store all the necessary medications for management of COVID-19 in hospitals, oxygen cylinders and refill facilities," said Dr Yasir.
Related news | For Gondi tribe of Tamil Nadu, lockdown is a 21-day fight with hunger
Kashmir is a closed society where interpersonal interaction between people and social gatherings form a pivot to its culture. That is perhaps why members of the KVDO had recommended that the natives with a history of travel should be properly screened at the airports and railway stations and after due process sent for home quarantine or isolation, depending upon the expert assessment.
Another cause for worry is using services of the doctors, who under the circumstances are being described as frontline soldiers, for 24-hour-long shifts, when the PPE suits they wear are not effective beyond six hours. This way, doctors are at greater risk to be exposed to the infection.
"Their close proximity with COVID patients for the next 18 hours after the suit's six-hour protection leaves them vulnerable," said a senior doctor.
Another senior doctor at Srinagar's Jawaharlal Nehru Memorial Hospital (JLNM) said that yet another reason for worry was making untrained doctors and paramedics with no experience deal with high-risk patients related to respiratory ailments in the COVID facility and that it was a "a recipe for disaster".
Dr Nasir Shamas, consultant physician at JLNM, said "time is running out" and that there was no harm in changing the existing strategy while accepting the failures. He said all the COVID patients should be immediately shifted from JLNM and another hospital called Chest and Disease (C&D) in Dalgate immediately, for any spread to other quarantined patients could potentially "endanger the densely populated and congested downtown" in Srinagar.
Meanwhile, the administration on Sunday (March 29) confirmed the second COVID-related death and five more positive cases from Kashmir; two each from summer capital Srinagar and central district Budgam, and one in northern Baramulla district. At present, there are 35 active infected cases and two deaths in Jammu and Kashmir.
The apprehension remains that those with a history of travel to places like China, Iran, Italy, Spain, Germany, France, Netherland, Saudi Arabia, the United Arab Emirates, and the United States of America might have already come into contact with other people in the community.