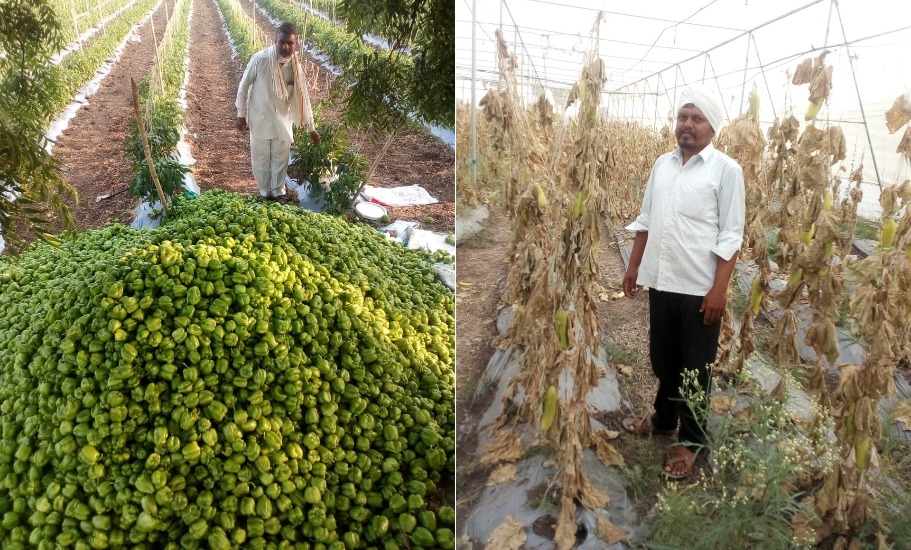 India's enterprising farmers need a safety net amid COVID-19 lockdown
Farmers who had shifted to cultivation of fruits and vegetables hoping to reap more profits than rice and wheat, despite the market being less stable pricewise, have taken such a severe financial blow due to the COVID-19 lockdown that it will be years before they recover.
Farmers who had shifted to cultivation of fruits and vegetables hoping to reap more profits than rice and wheat, despite the market being less stable pricewise, have taken such a severe financial blow due to the COVID-19 lockdown that it will be years before they recover.
Wherever possible, there might even be a flight back to the safety of cereals and sugar where the profit is less but prices are assured.
The shift to fruits and vegetables was one prong of the strategy to double the income of farmers as it was aligned to the change in consumption patterns caused by rising incomes: as the size of household wallet grew, a thinner slice went for cereals and a bigger one for milk, meat, fish, eggs and horticultural produce.
But these perishables have suffered the most due to the nationwide lockdown that began on March 25.
Related news: How the pandemic has hit the hands that feed India
Mahavir Subhash Ghogare, 33, a resident of Bavada village in Pune's Indapur tehsil was particularly unfortunate. A day before the lockdown came into force, he had entered into a contract to sell bananas at ₹14 per kg. The buyer had even paid him ₹5,000 in advance to seal the deal. But with the forced crashing of the economy, the trader did not turn up and the harvest of 2,100 fruit bunches, each weighing about 35 kg on average (or about 75 tonnes total), worth a little more than Rs 10 lakh, found no takers.
Ghogare, who is a graduate in agricultural science with an MBA in agri-business management, distributed 15 tonnes free in his village and in the neighbourhood. The rest, he says, is rotting in the field.
Ghogare is not a hands-on farmer. He has a full-time job with a company selling speciality water-soluble fertilisers. But he advises his father and brother who do the actual cultivation. They have a bank loan of ₹18 lakh with a little over 13 per cent interest. Servicing that loan, buying inputs for the next season and paying wages, when the revenue stream from bananas has all but dried up, will be difficult.
If they default, they will be denied fresh loans unless the government intervenes with an interest waiver or a moratorium on repayment.
The state agriculture department's call centre has been saying farmers were free to sell directly but there were no trucks available, says Ghogare. Police will also not allow workers to transport the produce.
Ghogare has called up about 30 traders and tried selling through two farmer-producer organisations, but met with little success. He had planted export quality Grand Naine bananas at a cost of ₹4.5 lakh. He has five of the total 18 acres under sugarcane too. He intends to shift a part of the seven-acre banana area to cane where payments may be delayed but are assured.
Related news: Tamil Nadu's tea, flower growers cry foul of losses due to lockdown
Avinash Nathu Patil, 37, of Shingadi village in Jalgaon's Raver tehsil was just lucky. Due to late rains last year, he had planted late. So his banana crop which should have been ready for plucking in April will now be harvested in late May. The district is a green zone as far as the coronavirus pandemic is concerned; labour and transport is available but there is no demand from north and east India as the mandis are closed and consumers are forced into isolation.
Patil graduated in computer science in 2005. He turned to growing bananas on his family plot of 10 acres after failing to find a job for three years. Using a combination of tissue culture, drip irrigation and fertigation, or the application of fertiliser precisely through drip pipes, he has built a profitable farming business.
In Maharashtra's Nashik district, 47-year-old Nivrutti Khandrao Medhane is worried about servicing his loan of ₹2 crore. A farmer who took to growing grapes in 1991, he had about 500 tonnes of unsold grapes when the lockdown commenced. Suddenly, the supply of workers for sorting, grading and packing dried up. The European export markets too froze and there were no takers in the domestic market.
He managed to sell about 100 tonnes at distress rates of ₹8-10 per kg at the farm gate against ₹30-50 he was getting before lockdown. The production cost is ₹25 a kg, he says. He cannot covert the over-ripe grapes into raisins; the crop is beyond five months when sugar content peaks.
Medhane says he has faced weather-induced setbacks before but higher prices usually compensated for the loss of production. He has little expectations from the government. "It will be good," he says limply, "if it waives off the loans or reimburses the production cost."
In Bhikhowal village in Punjab's Hoshiarpur district and tehsil, the life of Harbinder Singh Sandhu, 55, was upended by the closure of hotels and restaurants. A grower of exotic vegetables like coloured capsicums in six acres of poly-houses since 2008, his market has now collapsed.
The bell peppers which used to sell for ₹70-80 in Delhi's wholesale market are fetching ₹30, he says. That will just about cover the cost of cultivation and transportation. Sandhu had a stock of 150 quintals when the lockdown began. He does not expect any relief from the Punjab government whose own finances are precarious.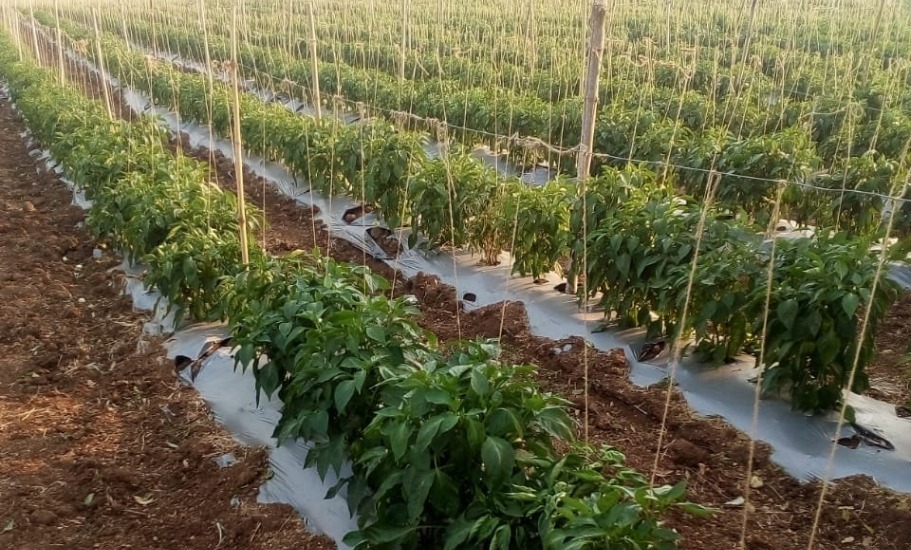 In Ghatsavli village in Maharashtra's Beed district, Ram Sakaram Jadav, 45, is in a similar predicament. The capsicums that he grew on four acres were selling for ₹25-30 per kg before the lockdown, but is now fetching him only ₹4-5 per kg now. He says he has no way to dispose of them too. He has spent ₹90,000 on his 5,000 plants, but has recovered only ₹40,000.
In Nalwandi village of the same district, Syed Javed Ismail, 37, has let Kakri (a variety of cucumber) dry up in his half-acre poly-house.
The scale of the contraction can be gauged from the supply shrinkage of Nashik's Sahyadri Farmers Producer Company, which is among the country's top grape exporters. March and April are the peak months for most of the fruits and vegetables, which this organisation of about 8,000 farmers, sells or processes. Before the lockdown, it used to export 220 tonnes of grapes per day and supply 30 tonnes domestically, says Vilas Vishnu Shinde, its founding chairman and managing director. Its daily supply also included 40 tonnes of pomegranates and 85 tonnes of bananas. About 400 tonnes of tomatoes and 20 tonnes of sweet corn were processed daily. In addition, 23 tonnes of fruits and vegetables were sold through its own retail outlets in Nashik city.
Though it has permission to harvest, process, pack and transport, daily volumes have fallen to 5 per cent of the average as the workforce of 4,100 at its Nashik campus has shrunk to 150. The export markets have seized up; in Europe only the supermarkets are buying. Despite 10,000 tonnes of cold storage capacity and the facility to convert fruits and vegetables to pulp, paste and products, dried or frozen, financial losses are inevitable, Shinde says.
The company has innovated by selling fruits and vegetables in bulk to apartment complexes in Nashik, Pune and Mumbai. The "baskets" of various sizes are meant to keep a household supplied for one week. The orders per complex have to be of at least 50 boxes and placed two days in advance.
The production of fruits and vegetables (excluding flowers, plantation crops and spices) has matched that of food grains over the past few years, and exceeds in value. Most of the fruit and vegetable farmers are risk-taking growers who have prospered by dint of effort and enterprise. And most of them need a safety net now.