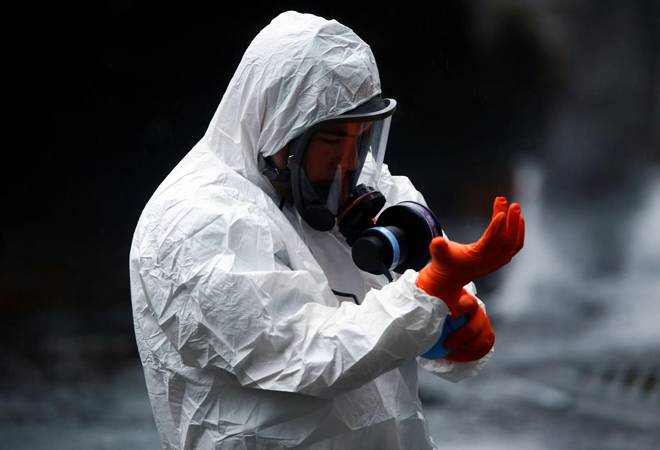 At least 6.2 million surgical coveralls for healthcare workers — better known as Personal Protective Equipment (PPE) — which are needed in India to curb the spread of COVID-19, would be manufactured by only eight suppliers across the country as of now.
Firms manufacturing these coveralls (surgical gowns and drapes) across the country would generally have to send samples of their material to the South India Textile Research Association (SITRA) in Coimbatore, Tamil Nadu for testing and certification.
It was found that only eight suppliers across the country have got their samples cleared as on Saturday (March 28) and are ready to manufacture these coveralls to meet the domestic demand.
Advertisement
Speaking to The Federal, SITRA director Prakash Vasudevan said that of the 50 samples that they had received in the last two months, only eight samples from eight firms were approved, of which three firms were from South India and the rest from the north.
Related news | COVID-19: Where does India stand two weeks after its 100th case?
According to news agency Reuters, a report by Invest India, India's investment promotion agency, estimated that India needed 6.2 million pieces of protective gear and 38 million masks. The report further said that of the 730 companies it contacted for ventilators, ICU monitors, protective equipment, face masks, and testing kits, only 319 firms had responded until Saturday.
Going by the report, it is understood that of those 319 firms, only eight could actually supply coveralls, as per specification by the SITRA.
"Until the virus outbreak, the materials used to manufacture preventive gear were mostly imported from foreign countries. But, since the outbreak in foreign countries, after which the import of materials was stopped, industries here have started to manufacture preventive gear with Indian materials, mostly synthetic," Prakash said.
He further said the coverall itself was a new preventive product as far as India is concerned. "Suppliers did not have a need to manufacture such products until the virus outbreak, but now they have to meet the market demand," he said.
Related news | COVID-19 key points: From Modi's Monday plan to Kerala's rapid tests
Prakash also said he had received only three samples in the past one week. "It was because of the complete lockdown and issues in transportation. Earlier, people would send their samples through post and their test results would be emailed. Now, people are forced to come in person to give their samples. Coming in person too was easy only for the suppliers in southern states, but not for the suppliers in other parts of the country," Prakash said.
Asked if there was any chance of setting up more laboratories in other parts of the country to test samples, Prakash said the textiles ministry was contemplating setting one up in New Delhi. "But, we don't know when it would materialise. The Ministry of Textiles has to take a call on it," he said.
On the other hand, preventive wear manufacturers in India have been seeking permission to self-attest their products, claiming they are resistant to fluids, droplets, and aerosols.
Sanjeev Relhan, Chairman of the Preventive Wear Manufacturers Association of India, said they are using the same raw materials that were earlier tested at SITRA.
"Now, the only problem is that the product is new. Since we are in the business for decades and we know how it functions, it would be helpful at the hour of crisis if the Union government allows us to self- attest through the Association of Indian Medical Device Industry," he said.
Related news | COVID-19: It's time a national unity government is formed in India
Association of Indian Medical Device Industry forum coordinator Rajiv Nath felt the issue would not be resolved as long the restrictions are in place.
"The pharmacies are open, but the wholesalers and the manufacturers are not allowed to open. If the manufacturers manage to open, the lorry carrying raw materials does not reach the industry. So, until the government gives strict instructions to the police and other enforcing authorities, it is highly impossible to meet the demands," he said.
Meanwhile, Shubhra Singh, Chairman of the National Pharmaceutical Pricing Authority under the Ministry of Chemicals and Fertilizers, has written to all the state chief secretaries to ensure unobstructed movement of raw materials, packing materials, finished products, and man power related to the manufacturing and distribution of drugs and medical devices.
Rajiv Nath hoped the situation would be in their favour to manufacture more preventive gear in the following days.