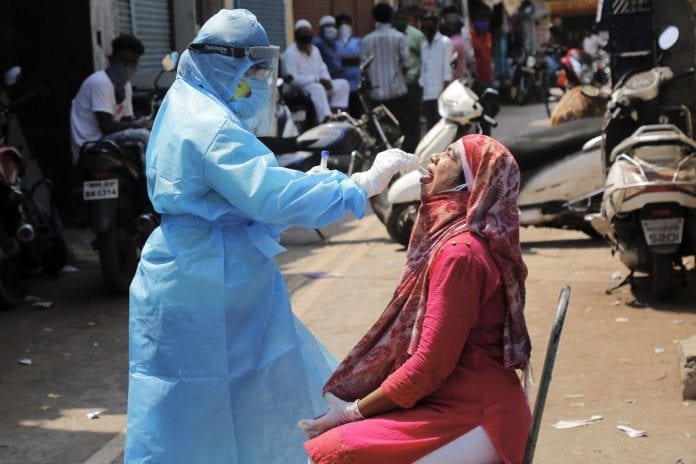 With 54,504 people testing positive, India's COVID-19 tally crossed the 28-lakh mark on Wednesday (August 19), just a day after it crossed the 27-lakh mark, according to the data by covid19india.org.
India currently has 28,21,130 confirmed cases of COVID-19, and 6,85,159 active cases, while the number of recoveries has surged to 20,81,632, with 44,929 people recuperating from the disease.
The death toll climbed to 53,811 with 796 people succumbing to the disease, the data updated at 8.23 pm showed.
India's COVID-19 tally had crossed the 20-lakh mark on August 7.
Advertisement
According to the Indian Council of Medical Research (ICMR), a cumulative total of 3,17,42,782 samples have been tested till August 18 with 8,01,518 samples being tested on Tuesday (August 18).
How are the states faring?
Maharashtra reports highest one-day count of 13,165 COVID cases
Maharashtra on Wednesday reported 13,165 new COVID-19 cases, its highest one-day count, taking its tally to 6,28,642, while 346 fresh deaths pushed the toll beyond the 21,000-mark.
The previous single-day highest was 12,712 coronavirus cases, recorded on August 12. With 13,165 fresh COVID-19, the cumulative figure of infected people in Maharashtra rose to 6,28,642.
The state reported 346 deaths, taking the fatality tally to 21,033.
At the same time, 9,011 patients were discharged from hospitals, taking the tally of recovered coronavirus patients to 4,46,881.
There are 1,60,413 active cases in the state at present.
Tamil Nadu clocks 5,795 fresh COVID-19 cases; recoveries near 3 lakh
Tamil Nadu on Wednesday recorded 5,795 fresh coronavirus cases, taking the tally to 3,55,449 while 116 more deaths pushed the toll to 6,384.
The state has been reporting 100-plus deaths since August 3.
With 6,384 patients getting discharged from various hospitals, the recoveries outnumbered the new infections. In total, 2,96,171 people have got cured so far and the active cases stood at 53,155.
Andhra Pradesh's COVID-19 tally touches 3.16 lakh with 9,742 fresh cases
Maintaining the steep ascent, Andhra Pradesh's COVID-19 tally touched 3.16 lakh on Wednesday as 9,742 more cases were added in the last 24 hours.
The coronavirus toll mounted to 2,906 as 86 fresh casualties were reported. The latest bulletin said 8,061 COVID-19 victims got cured and discharged from hospitals across the state in the last 24 hours.
After showing a declining trend for three days last week, the number of active cases once again saw a spike and now stood at 86,725 after 2,26,372 patients had recovered.
After crossing the three-lakh mark in the number of coronavirus cases, Andhra on Wednesday crossed the 30 lakh mark in the total tests, aggregating 30,19,296.
Kerala's COVID-19 tally crosses 50,000 mark; death toll climbs to 182
Kerala's COVID-19 tally crossed the grim milestone of 50,000 cases on Wednesday, with the state recording the highest daily surge of 2,333 infections, while seven more fatalities took the toll to 182.
The tally now stands at 50,231. At least 2,151 patients were infected through contactand the source of infection of 52 people is not known, Health minister K K Shailaja said.
Seventeen health workers are among those infected. As many as 17,382 people are presently undergoing treatment in various hospitals, while 32,611 have recovered, including 1,217 who have been discharged today.