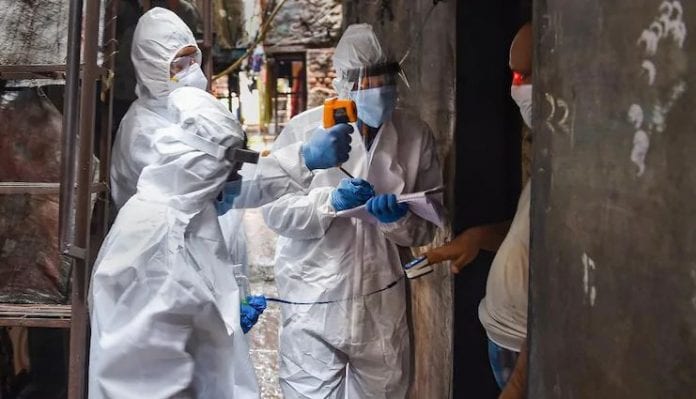 India yet again recorded the biggest daily surge in COVID cases on Friday (April 2), with 81,466 new infections. The country saw 469 COVID-related deaths, the highest since December 6, data from the Union health ministry showed. Pune and Delhi were among the hardest-hit cities in the country.
The infection tally and death toll in the country now stand at 12,303,131 and 163,396, respectively.
Maharashtra, Delhi, Chhattisgarh, Karnataka, Punjab, Kerala, Tamil Nadu, Gujarat and Madhya Pradesh account for 84.61 per cent of the new cases, the ministry said.
Advertisement
The surge in cases has prompted many states to consider restrictions on public gatherings and other measures to protect the public.
Maharashtra Chief Minister Uddhav Thackeray was expected to address the state at 8.30pm on Friday.
Authorities in Pune, among the worst-affected places in India have ordered a 12-hour night curfew starting 6pm Saturday for a period of at least one week. Religious places, hotels and bars, malls and cinemas will all remain closed for the next seven days, Divisional Commissioner Saurabh Rao said, adding only home deliveries of food, medicines and other essential services will be allowed.
Mumbai has also seen a worrying spike. On Thursday the state capital reported 8,646 new cases – the highest ever in a 24-hour period.
"Cases are rising daily in Mumbai… this is a matter of concern," Mayor Kishori Pednekar said. Due to the surge, hospitals are reporting shortage of beds and ventilators," she said. "We have been appealing to people since last March but they are showing carelessness."
In Delhi Chief Minister Arvind Kejriwal said the city is reeling under a "fourth wave" but the government is not planning to impose a lockdown – for now. "On March 16 Delhi reported 425 new COVID-19 cases. Today this figure has risen to over 3,500 cases," he said on Friday.
"There are fewer ICU admissions at present in comparison to October last year. Back then, Delhi was reporting 40 COVID-19 deaths a day but today it is down to 10."
The CM urged the Centre to drop age restrictions for vaccinations and allow governments to vaccinate everyone.
The governments in Uttar Pradesh and Madhya Pradesh also announced new measures. UP extended to April 11 the closure of schools for students up to Class 8, while MP placed urban areas of Chhindwara District, Ratlam City, Betul District and parts of Khargone on lockdown.