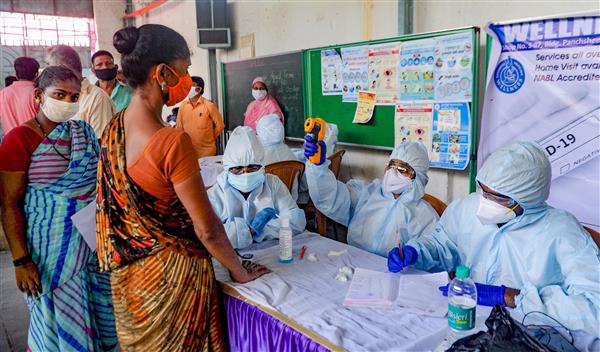 India's COVID-19 caseload went up to 28,36,925 with a record single-day spike of 69,652 infections, while the recoveries increased  to 20,96,664 on Thursday (August 20), pushing the recovery rate to 73.91 per cent, according to the Union Health Ministry data.
The death toll climbed to 53,866 with 977 new fatalities being reported in a day, the data updated at 8 am showed. Case fatality rate has declined to 1.90 per cent.
There are 6,86,395 active cases of coronavirus infection in the country which is 24.20 per cent of the total caseload, the data stated.
India's COVID-19 tally had crossed the 20-lakh mark on August 7.
Advertisement
According to the Indian Council of Medical Research (ICMR), a cumulative total of 3,26,61,252 samples have been tested up to August 19 with 9,18,470 samples being tested on Wednesday.
Deaths
Of the 977 fresh deaths, 346 are from Maharashtra, 126 from Karnataka, 116 from Tamil Nadu, 86 from Andhra Pradesh, 53 each from Uttar Pradesh and West Bengal, 23 from Punjab, 18 from Madhya Pradesh, 17 from Gujarat, 15 from Jharkhand, 14 from Uttarakhand,  12 from Rajasthan and 11 each from Bihar and Jammu and Kashmir.
Ten fatalities each have been reported from Assam, Haryana, Odisha and Telangana, nine from Delhi, eight from Goa, seven from Kerala, six from Puducherry, three from Chhattisgarh while Sikkim, Chandigarh and Ladakh have registered one fatality each.
Of the total 53,866 deaths, Maharashtra has reported the maximum at 21,033, followed by 6,123 in Tamil Nadu, 4,327 in Karnataka, 4,235 in Delhi, 2,906 in Andhra Pradesh, 2,837 in Gujarat, 2,638 in Uttar Pradesh, 2,581 in West Bengal and 1,159 in Madhya Pradesh.
So far, 921 people have died of COVID-19 each in Punjab, 910 in Rajasthan, 729 in Telangana, 572 in Jammu and Kashmir, 567 in Haryana, 487 in Bihar, 372 in Odisha, 277 in Jharkhand, 213 in Assam, 182 in Kerala and 178 in Uttarakhand.
Chhattisgarh has registered 161 deaths, Puducherry 129, Goa 124, Tripura 65, Chandigarh 31, Andaman and Nicobar Islands 30, Himachal Pradesh 19, Manipur and Ladakh 18 each, Nagaland eight, Meghalaya six, Arunachal Pradesh five, Sikkim three and Dadra and Nagar Haveli and Daman and Diu  two.
The health ministry stressed that more than 70 per cent of the deaths occurred due to comorbidities.
"Our figures are being reconciled with the Indian Council of Medical Research," the ministry said, adding that state-wise distribution of figures is subject to further verification and reconciliation.
A few severe COVID-19 patients may not develop long-lasting immunity to COVID: Study
Meanwhile, a study found that high levels of a molecule seen in severe COVID-19 patients may prevent them from developing long-term immunity to the novel coronavirus.
The study said such individuals tended to make very few of a type of cells which produced antibodies against the virus.
Scientists, including those from Harvard University in the US, noted that the release of massive amounts of molecules involved in cell-cell signalling in the body called cytokines can lead to some of the most severe symptoms of COVID-19.
They said high levels of cytokines increased inflammation, and created a feedback loop in which immune cells produced more of these molecules in a process called a cytokine storm.
According to the study, published in the journal Cell, cytokine storms may prevent COVID-19 patients from developing long-term immunity since such individuals make very few of the type of B cells which produce antibodies.
"We've seen a lot of studies suggesting that immunity to COVID-19 is not durable because the antibodies decline over time. This study provides a mechanism that explains this lower-quality immune response," said study co-senior author Shiv Pillai from Harvard University.
In the study, the researchers assessed germinal centres, which are areas within the lymph nodes and spleens where B cells mature and start producing antibodies. "When we looked at the lymph nodes and spleens of patients who died from COVID-19, including some who died very soon after getting the disease, we saw that these germinal center structures had not formed," said study co-senior author Robert Padera from Harvard University.
The researchers also gained insights from previous studies involving mouse models of other infections that induce cytokine storm. According to the scientists, in people with severe COVID-19, one of most abundant cytokines released is called TNF.
In infected mice, they said TNF appeared to block the formation of germinal centers. Based on earlier studies on cytokine storm, the researchers said mice given antibodies to block TNF or in those that had their TNF gene deleted, the germinal centers were able to form.
When they studied the lymph nodes of patients who had died of the disease, they found high levels of TNF in these organs. The scientists believe TNF may be preventing the germinal centers from forming in people with COVID-19 as well.
(With inputs from agencies)