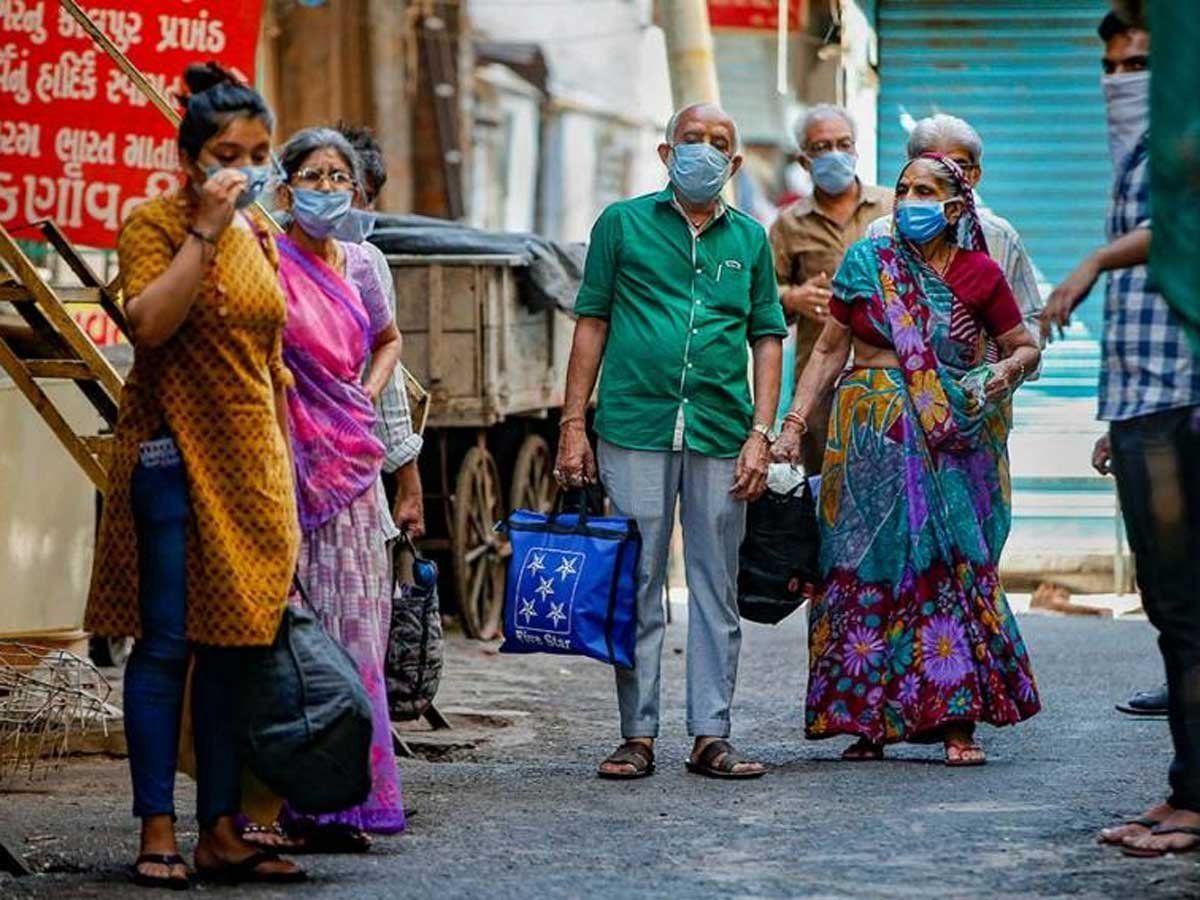 India reports 28,637 COVID cases; Shah claims country in 'good position' in virus battle
India added a record 28,637 cases of COVID-19 on Sunday pushing the country's COVID tally to 8,49,553, while the death toll climbed to 22,674 with 551 people succumbing to the disease in a day, according to the Union Health Ministry data.
India added a record 28,637 cases of COVID-19 on Sunday (July 12) pushing the country's COVID tally to 8,49,553, while the death toll climbed to 22,674 with 551 people succumbing to the disease in a day, according to the Union Health Ministry data.
This was the third consecutive day that COVID-19 cases in the country have increased by more than 26,000.
The total number of confirmed cases include foreigners.
The number of recoveries stands at 5,34,620, while there are 2,92,258 active cases presently in the country, the updated data at 8 am showed. "Thus, around 62.93 per cent of patients have recovered so far," an official said.
According to the ICMR, a cumulative total of 1,15,87,153 samples have been tested up to July 11 with 2,80,151 samples being tested on Saturday.
India in good position in COVID battle, says Amit Shah
India is in a "good position" in the battle against the coronavirus pandemic and the country will fight the disease with determination and enthusiasm, Union Home Minister Amit Shah said on Sunday.
Shah spoke after participating in a mega plantation drive initiated by the Central Armed Police Forces (CAPFs) to plant 1.37 crore saplings in their campuses by this month-end.
"The world is seeing that if a successful battle has been fought anywhere across the globe against the coronavirus it is in India under the leadership of Prime Minister Narendra Modi," Shah said.
Related news: India's COVID-19 recovery rate improves to 62.93%: Health ministry
"It was feared that how would a large country like ours would face this challenge given that we have a federal structure of governance, dense population of 130 crore people and no single chain of command," he said. But the 130 crore people of the country, all states and every individual fought the battle against COVID-19 as one nation, the home minister said.
Across the globe, Shah said, governments are fighting this disease but in India, everyone has joined hands. "We are in a good position in this coronavirus battle and will continue this fight with determination and there is no atmosphere of fear. We have the passion to battle it and the enthusiasm to defeat it," he said in his address to the chiefs of various CAPFs and troops who heard him via a web link.
How are the states doing?
Of the 551 deaths reported in the last 24 hours, 223 are from Maharashtra, 70 from Karnataka, 69 from Tamil Nadu, 34 from Delhi, 26 from West Bengal, 24 from Uttar Pradesh, 17 from Andhra Pradesh, 12 from Bihar, 10 each from Gujarat and Jammu and Kashmir, nine from Telangana, eight each from Assam and Punjab and seven from Haryana.
Madhya Pradesh and Rajasthan reported six deaths each, followed by Odisha with five, Goa with three, Kerala two and Puducherry and Tripura one fatality each.
Of the total 22,674 deaths reported so far, Maharashtra accounted for the highest 10,116 fatalities followed by Delhi with 3,334 deaths, Gujarat 2,032, Tamil Nadu 1,898, Uttar Pradesh 913, West Bengal 906, Madhya Pradesh 644, Karnataka 613 and Rajasthan 503.
So far, 348 people have died of COVID-19 in Telangana, 309 in Andhra Pradesh, 297 in Haryana, 195 in Punjab, 169 in Jammu and Kashmir, 131 in Bihar, 61 in Odisha, 46 in Uttarakhand, 35 in Assam, and 29 in Kerala.
Jharkhand has registered 23 deaths, Puducherry 18, Chhattisgarh 17, Goa 12, Himachal Pradesh 11, Chandigarh seven, Arunachal Pradesh, Meghalaya and Tripura two and Ladakh have reported one fatality.
Related news: The great race to a COVID vaccine
Maharashtra has reported the highest number of cases at 2,46,600, followed by Tamil Nadu at 1,38,470, Delhi at 1,10,921, Gujarat at 40,941, Uttar Pradesh at 35,092, Karnataka at 36,216 and Telangana at 33,402.
The number of COVID-19 cases has gone up to 28,453 in West Bengal, 27,235 in Andhra Pradesh, 23,748 in Rajasthan, 20,582 in Haryana and 17,201 in Madhya Pradesh. Assam has 15,536 instances of the infection, Bihar 15,373, Odisha 12,526, and Jammu and Kashmir 10,156 cases.
Punjab has reported 7,587 novel coronavirus infections so far, while Kerala has 7,438 cases. A total of 3,897 have been infected by the virus in Chhattisgarh, 3,613 in Jharkhand, 3,417 in Uttarakhand, 2,368 in Goa, 1,949 in Tripura, 1,593 in Manipur, 1,337 in Puducherry, 1,182 in Himachal Pradesh and 1,077 in Ladakh.
Nagaland has recorded 748 COVID-19 cases, Chandigarh 555 and Dadra and Nagar Haveli and Daman and Diu together have reported 471 cases. Arunachal Pradesh reported 341 cases, Mizoram 227, Meghalaya 207, Andaman and Nicobar Islands has registered 163 infections so far, while Sikkim has recorded 151 cases.
"Our figures are being reconciled with the ICMR," the ministry said, adding that 3,024 cases are being reassigned to states. State-wise distribution is subject to further verification and reconciliation, it added.
TN reports 4,244 cases; infections drop in Chennai, rise in other districts
Tamil Nadu reported 4,244 cases of COVID-19 on Sunday, taking the total number of people contracting the virus to 1,38,470. As many as 68 people died due to the virus, taking the total death toll in the state to 1,966.
According to the daily bulletin released by the state health department, as many as 41,325 people were tested on Sunday, of which 4,244 people tested positive. Though the number of cases in Chennai has started to decline, the tally is increasing in other parts of the state, especially in the southern region of Tamil Nadu.
This includes Madurai, Tirunelveli, Thoothukudi, Theni, and Virudhunagar districts. On Sunday, while Chennai recorded 1,168 cases, Madurai, Tirunelveli, Thoothukudi, Theni, and Virudhunagar recorded 319, 131, 136, 115, and 246 cases respectively.
The rise in the number of cases in other districts was largely attributed to the return of people from various parts of the state to their hometowns. Madurai and Theni will be under a complete lockdown for 14 days.
With the rise in the number of cases in districts other than Chennai, where there are no adequate bed facilities, the state government is planning to allow COVID-19 patients to remain in house isolation. However, a senior official in the health department said a decision would be taken on a case-to-case basis, the way it was done in Chennai.
With an increase in the number of cases, a surge in the number of deaths has been reported as well.
Of the 68 people who died on Sunday, 60 died due COVID-19 with comorbidities, while eight people died without any comorbid conditions.
Meanwhile, the state cabinet committee had decided to meet on July 14 to take stock of the situation and plan further relaxations that can be provided.
The state has also decided to conduct Class XII board exams for the students who missed the last exam due to COVID-19.
Meanwhile, the state government would also ply government buses in certain areas based on the recommendations from the district collectors, after the cabinet committee meeting, according to sources.
COVID-19 recovery rate nears 80% in Delhi; plans to use stadiums as COVID facilities put on hold
Delhi's daily COVID-19 case count on Sunday remained below the 2,000-mark for the second consecutive day and with the recovery rate improving to nearly 80 per cent, authorities have for now put on hold plans to use stadiums as makeshift coronavirus care facilities.
In the last 24 hours, the national capital has recorded 1,573 fresh coronavirus cases, taking the tally to 1,12,494 in the city, while the death toll mounted to 3,371 after 37 fatalities were reported, according to the latest Delhi health department bulletin.
This is the first time in July that the daily case count has remained below the 2,000-mark for two consecutive days. On Saturday, 1,781 cases were detected.
Related news: COVID-19: Is century-old TB vaccine turning out to be a saviour for India?
Kerala reports 435 new COVID-19 cases, tally rises to 7,873
Kerala on Sunday reported more than 400 positive coronavirus cases for the third consecutive day, taking the tally of infections in the state to 7,873.
State Health Minister K K Shailaja said 435 fresh cases were reported with Palakkad (59) topping the list. The state also reported two COVID-19 deaths after the test results of 63-year-old Thrissur native who passed away on July 5 and a 52-man from Alappuzha who passed away on July 7, came positive on Sunday. The state has reported 31 deaths so far.
Karnataka's COVID-19 tally may double in next 15-30 days, says Health Minister
The number of coronavirus cases in Karnataka may double in the next 15 to 30 days and the coming two months would emerge as a big challenge for the government in tackling the pandemic, state Health Minister B Sriramulu has said.
However, there was no need for any panic and people should follow the COVID-19 related regulations to stay safe, he said in a series of tweets.
As on Saturday, the cumulative tally of COVID-19 cases in the state touched 36,216, including 613 fatalities and 14,716 discharges.
(With inputs from agencies)