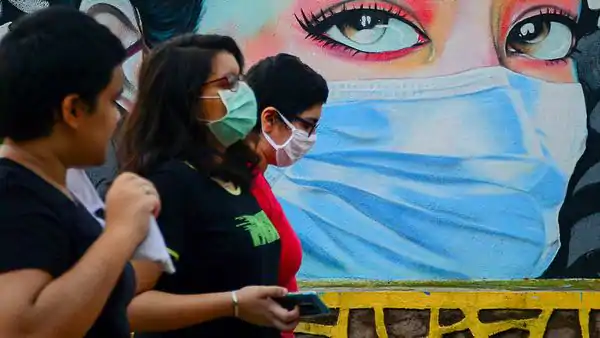 India records 33,979 COVID cases in 24 hours, tally rises to 11,88,892
India recorded 33,979 COVID-19 cases in the last 24 hours, pushing its tally to 11,88,892, while the total number of recoveries increased to 7,48,373, according to covid19india.org data, as of 9.15 pm on Tuesday (July 21).
India recorded 33,979 COVID-19 cases in the last 24 hours, pushing its tally to 11,88,892, while the total number of recoveries increased to 7,48,373, according to covid19india.org data, as of 9.15 pm on Tuesday (July 21).
The death toll due to the disease rose to 28,743 with 644 fatalities reported in a day, the data showed.
There are 4,11,371 active cases of the coronavirus infection currently in the country, while 7,48,373 people have recovered till now. The total number of confirmed cases includes foreigners.
According to Indian Council of Medical Research (ICMR), a cumulative total of 1,43,81,303 samples have been tested up to July 20 with 3,33,395 samples being tested on Monday (July 20).
Deaths reported
Of the 644 deaths reported in the last 24 hours, 246 are from Maharashtra, 61 from Karnataka, 75 from Tamil Nadu, 62 from Andhra Pradesh, 37 from Uttar Pradesh, 35 each from West Bengal, 27 from Delhi, 34 from Gujarat, 18 from Madhya Pradesh, and 10 from Jammu and Kashmir.
Seven fatalities have been reported in Telangana, followed by nine in Haryana, eight in Odisha, six from Rajasthan and Assam, three in Uttarakhand and Goa, two each in Tripura, Meghalaya and Jharkhand, one each in Punjab, Chhattisgarh, Kerala and Puducherry.
Of the total 28,743 deaths reported so far, Maharashtra accounted for the highest 12,276 fatalities followed by Delhi with 3,690 deaths, Tamil Nadu 2,626, Gujarat 2,200, Karnataka 1,469, Uttar Pradesh 1,229, West Bengal 1,182, Andhra Pradesh 758, and Madhya Pradesh 756.
So far, 577 people have died of COVID-19 in Rajasthan, 422 in Telangana, 364 in Haryana, 263 in Punjab, 254 in Jammu and Kashmir, 198 in Bihar, 133 in Odisha, 69 in Assam, 55 in Uttarakhand and Jharkhand each, and 45 in Kerala.
Puducherry has registered 30 deaths, Chhattisgarh 29, Goa 26, Chandigarh 12, Himachal Pradesh 11, Tripura seven, Meghalaya four, Arunachal Pradesh three, Dadra and Nagar Haveli and Daman and Diu and Ladakh have reported two fatalities each.
The health ministry stressed that more than 70 per cent of the deaths occurred due to co-morbidities.
Confirmed cases
Maharashtra has reported the highest number of cases at 3,27,031 followed by Tamil Nadu at 1,80,643, Delhi at 1,25,096, Karnataka at 71,069, Andhra Pradesh at 58,668, Uttar Pradesh at 53,288, Gujarat at 50,465, and Telangana at 47,704.
The number of COVID-19 cases has gone up to 47,030 in West Bengal, 31,373 in Rajasthan, 28,564 in Bihar, 27,462 in Haryana, 25,093 in Assam, and 24,095 in Madhya Pradesh.
Odisha has reported 18,757 infections, Jammu and Kashmir 14,650, Kerala 13,995, while Punjab has 10,889 cases.
A total of 5,821 people have been infected by the virus in Jharkhand, 5,731 in Chhattisgarh, 4,849 in Uttarakhand, 4,027 in Goa, 3,093 in Tripura, 2,179 in Puducherry, 2,015 in Manipur, 1,664 in Himachal Pradesh, and 1,198 in Ladakh. Nagaland has recorded 1,030 COVID-19 cases, Arunachal Pradesh 790, Chandigarh 751, and Dadra and Nagar Haveli and Daman and Diu together have reported 738 cases. Meghalaya has reported 490 cases and Sikkim 343 cases.
Mizoram has registered 297 infections so far, while Andaman and Nicobar Islands has recorded 207 cases.
Nearly 23% of Delhi could be affected by virus, suggests sero-survey
Nearly a quarter of people surveyed for sero-prevalence in Delhi have been infected by the coronavirus, the Union Health Ministry said Tuesday, while a top official said the study also showed the remaining three-fourth population were still vulnerable and called for continuing strict containment measures.
The sero-survey results came on a day the daily cases again surpassed the 1,000-mark.
On Monday, Delhi reported less than 1,000 COVID-19 cases for the first time in seven weeks.
The survey showed nearly 23 per cent people had developed anti-bodies for the infection, said National Centre for Disease Control Director Dr Sujeet Kumar Singh. However, the remaining 77 per cent are still vulnerable and the containment measures need to continue with the same rigour, Singh told a press briefing.
The survey was done to estimate the proportion of people exposed to coronavirus infection in the total population of Delhi and the number of people selected from each district for the survey is proportionate to the population of that area, Singh said.
Delhi has a population of nearly 2 crore. Eight out of Delhi's 11 districts have more than 20 per cent of sero prevalence, Singh said.
A senior Delhi government official said the survey captured the state of recovery from COVID-19 infection in mid-June, which was a month ago. "We will consult with public health experts and epidemiologists to determine if the future course of Delhis strategy against COVID-19 should change in light of these survey results or not," the official said.
The sero survey was conducted from June 27 to July 10, during which a total of 21,387 samples were tested by the NCDC in collaboration with the Delhi government.
"The results of the sero-prevalence study show that on an average, across Delhi, the prevalence of IgG antibodies is 23.48 per cent. The study also indicates that a large number of infected persons remain asymptomatic," the ministry said in a statement.
NCDC Director Singh said, "When the prevalence was adjusted against the sensitivity and specificity of the ELISA test kits, the prevalence in Delhi was found to be 22.86 per cent and this is an adjusted figure… Eight of the total 11 districts have more than 20 per cent sero-prevalence."
"Nearly six months into the epidemic, only 22.86 pc of the people are affected. Eight of the total 11 districts have more than 20 per cent of the sero-prevalence," Singh explained.
Karnataka transport corporations to run buses from Wednesday
With Chief Minister B S Yediyurappa on Tuesday ruling out extension of the week-long shutdown in the city and elsewhere, the state owned bus corporations said they will operate buses from July 22 as usual.
The Karnataka State Road Transport Corporation and Bangalore Metropolitan Transport Corporation (BMTC) today announced they will operate the buses but in limited numbers with caution and restrictions. The KSRTC runs inter-district and inter-state buses, whereas the BMTC operates its buses in Bengaluru municipal area, Bengaluru urban district and Bengaluru rural district.
After the lockdown was imposed from July 14 to July 22 morning to check the spread of the coronavirus, the two transport corporations had stopped their operations in Bengaluru. "KSRTC will start operations from tomorrow.Initially we will operate only 2,000 or 2,500 buses," a senior officer in the transport department said.
He added that the KSRTC and the BMTC put together might have incurred a revenue loss of about Rs 3,000 crore. The officer said the KSRTC had reduced its operations, especially the inter-state air-conditioned buses to Kerala and other neighbouring states and fully stopped its operation from March 24 to May 18.
The BMTC too said that it has decided to run only 1,500 buses initially only on major traffic routes barring containment zones. "Initially the BMTC will operate 1,500 services in Bengaluru city on major traffic routes, excluding containment zones. Services will be increased based on passenger traffic," the BMTC said in a press release.
The transport corporation said its services will be operated between 6 am to 8 pm everyday.
As part of its standard operating procedure, the transport corporations said the crew will wear face masks while on duty, use hand sanitisers and maintain hygiene. Buses will be stopped at the designated bus stops for boarding and de-boarding.
They said that face mask and social distancing will be mandatory for the passengers. If all the seats are occupied, passengers should not board the bus and wait for the next one to come, they added.
TN govt orders 60,000 more vials of Remdesivir, says Health Minister
With anti-viral drug Remdesivir showing the ability to save lives of critical COVID-19 patients, the Tamil Nadu government has ordered 60,000 more vials, state Health Minister C Vijaya Baskar said on Tuesday.
The state government has ordered 60,000 more vials of Remdesivir, which would reach soon, he told reporters.
He also said other anti-viral drugs such as Tocilizumab would also be made available. The minister said steps were being taken to provide plasma treatment to COVID-19 patients in government hospitals here.
Stating that the successful efforts of Oxford University to find the medicine for the virus would increase confidence in the health sector, he said vaccine or drugs to combat COVID-19 should come soon.
Vijay Baskar said even the Siddha system of medicine was also giving effective treatment to the patients. "Coronavirus is our enemy and not the patients," he said, adding that more medical camps will be conducted to identify the infected persons and it was possible to test more than 4,000 people daily in the district.
To a question on the increasing numbers of death, the minister attributed it to diseases other than COVID-19.
With 4,650 beds being available to treat patients, steps were being taken to add another 500, he said.
Local Administration minister S P Velumani who was also present, said government hospitals were providing quality treatment. Earlier, the two ministers reviewed the facilities at the Coimbatore Medical College Hospital.
(With inputs from agencies)