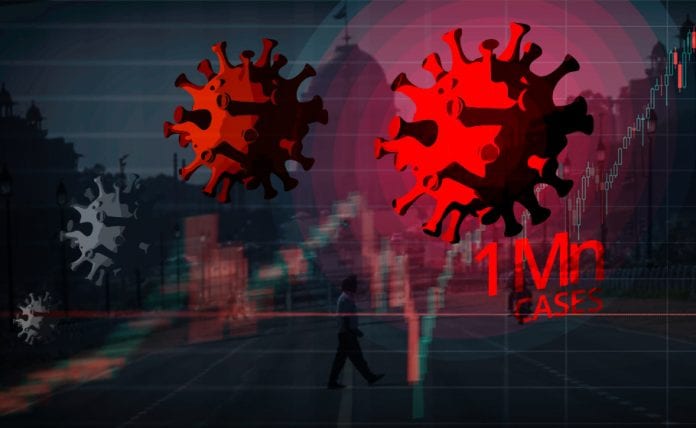 India, on Thursday (July 16), touched the 10-lakh mark for COVID-19 cases with the tally at 10,01,508. The number of cases reported in a day crossed the 30,000-mark for the first time, the exact number being 31,339.
Meanwhile, the death toll climbed to 25,587, with 659 people succumbing to the disease in the last 24 hours.
The country saw a record increase in infections [31,339 cases] in a day, with Maharashtra, Tamil Nadu, Karnataka, Andhra Pradesh, Uttar Pradesh, Delhi, Telangana, West Bengal, and Bihar contributing to around 80 per cent of the single-day spike.
Advertisement
India is currently the third worst-hit country in the world, with the US and Brazil in the first and second spots respectively.
It is to be noted that India took 158 days to reach the first five lakh cases-mark, but just 20 days to record the next five lakh cases.
The first case of COVID-19 was reported in India in Kerala on January 30. The first COVID-19 patient was a student studying at a university in Wuhan, China and had come to her house in Kerala's Thrissur district on vacation.
The fiftieth COVID-19 case in India was reported 41 days after the first case was recorded.
States scene 
Maharashtra added 8,641 new cases to the tally, followed by Tamil Nadu 4,549; Karnataka 4,169; Andhra Pradesh 2,593; Uttar Pradesh 2,058; Delhi 1,652; Telangana 1,597; West Bengal 1,690; and Bihar 1,385.
However, the number of recoveries also saw a steady rise with 6,34,006 people recuperating from the viral disease, leaving 3,41,681 active cases, which is a little more than a third of the country's total COVID-19 tally.
"So far, 63.25 per cent of the patients have recovered," the Union Ministry of Health said, adding the number of recovered cases exceeded active COVID-19 cases by 2,92,325 as on date.
"Just two states — Maharashtra and Tamil Nadu — constitute 48.15 per cent of the country's total active caseload while 10 states contribute to 84.62 per cent of the total active cases," the ministry said.
According to the Indian Council of Medical Research (ICMR), a cumulative 1,27,39,490 samples have been tested up to July 15 of which 3,26,826 were tested on Wednesday (July 15).
Deaths
Of the 659 deaths reported in 24 hours, 266 are from Maharashtra; 104 from Karnataka; 69 from Tamil Nadu; 40 from Andhra Pradesh; 58 from Delhi; 34 from Uttar Pradesh; 23 from West Bengal; 16 each from Jammu and Kashmir and Telangana; 10 from Gujarat; and seven from Madhya Pradesh.
Punjab reported nine fatalities followed by Assam and Bihar with six each; Rajasthan five; Haryana, Odisha and Puducherry three each; Jharkhand two; while Chandigarh, Kerala, Tripura and Dadra and Nagar Haveli and Daman and Diu registered a fatality each.
Of the 25,587 deaths reported so far, Maharashtra accounted for the highest 11,194 fatalities followed by Delhi with 3,545 deaths; Tamil Nadu 2,236; Gujarat 2,090; Uttar Pradesh 1,046; West Bengal 1,023; Karnataka 1,037; Madhya Pradesh 687; and Rajasthan 534.
So far, 492 people have died of COVID-19 in Andhra Pradesh; 386 in Telangana; 322 in Haryana; 230 in Punjab; 222 in Jammu and Kashmir; 167 in Bihar; 103 in Odisha; 50 in Uttarakhand; 53 in Assam; 38 in Jharkhand; and 38 in Kerala.
Puducherry has registered 22 deaths; Chhattisgarh 21; Goa 19; Chandigarh 11; Himachal Pradesh 10; Arunachal Pradesh and Tripura three each; Meghalaya and Dadra and Nagar Haveli and Daman and Diu two each; while Ladakh has reported one fatality.
The ministry maintains that more than 70 per cent of the deaths occurred due to comorbidities.
Maharashtra has reported the highest number of cases at 2,84,281 followed by Tamil Nadu at 1,56,369; Delhi at 1,18,645; Karnataka at 51,422; Gujarat at 45,567; Uttar Pradesh at 43,441; and Telangana at 39,342.
The number of COVID-19 cases has gone up to 38,044 in Andhra Pradesh; 36,117 in West Bengal; 26,580 in Rajasthan; 24,002 in Haryana; 21,558 in Bihar; and 20,378 in Madhya Pradesh.
Assam has instances of 19,755 infections; Odisha 15,392; and Jammu and Kashmir 12,156. Kerala has reported 10,276 novel coronavirus infections so far, while Punjab has 9,092 cases.
A total of 4,754 have been infected by the virus in Chhattisgarh, 4,576 in Jharkhand; 3,785 in Uttarakhand; 3,108 in Goa; 2,281 in Tripura; 1,764 in Manipur; 1,743 in Puducherry; 1,349 in Himachal Pradesh; and 1,147 in Ladakh.
Nagaland has recorded 916 COVID-19 cases, Chandigarh 635; and Dadra and Nagar Haveli and Daman and Diu together have reported 564 cases.
Arunachal Pradesh reported 491 cases; Meghalaya 377; Mizoram 267; Sikkim has registered 222 infections so far; while Andaman and Nicobar Islands has recorded 180 cases.
"Our figures are being reconciled with the ICMR," the ministry said, adding that 1,285 cases are being reassigned to states.
State-wise distribution is subject to further verification and reconciliation, it added.
Less than 2% COVID patients in ICUs; recovered cases exceed active ones by over 2.81 lakh, says Harsh Vardhan
Union Health Minister Harsh Vardhan said on Thursday that less than two per cent coronavirus patients in the country are admitted in ICUs while the number of recovered cases exceeds that of the active ones by 2,81,668 as on Thursday.
Vardhan's remarks came after he inaugurated the new block of the Rajkumari Amrit Kaur OPD on Thursday at the AIIMS in New Delhi along with Minister of State for Health Ashwini Kumar Choubey.
"Gradually, we are moving in the direction to win the battle against the pandemic. Less than two per cent of the COVID-affected patients are admitted in ICUs," Vardhan said, elaborating on the country's collective efforts against coronavirus, a health ministry statement said.
The lab network has been strengthened significantly from one in January to 1,234 laboratories presently, the statement said.
(With inputs from agencies)