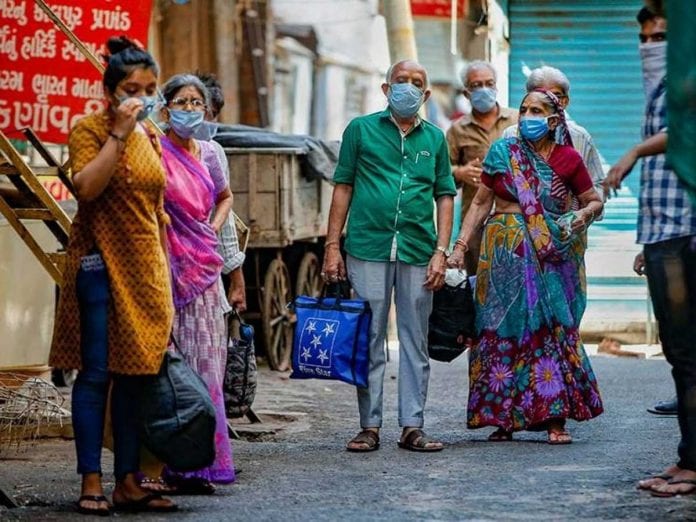 India saw a single-day increase of 53,745 COVID-19 cases on Thursday (August 6), taking the country's tally to 20,16,984, while the recoveries have surged to 13,71,225, according to data by covid19india.org.
In what came as a grim development, the country crossed the 20-lakh mark just two days after it touched the 19-lakh mark.
It can be noted that India took 158 days to reach the first five lakh cases-mark, but just 20 days to record the next five lakh cases.
The death toll due to COVID-19 climbed to 41,538 with 799 new fatalities being reported in 24 hours, the data updated at 9 pm showed.
There are 6,03,767 active cases of coronavirus infection in the country presently.
According to the ICMR, a cumulative total of 2,21,49,351 samples have been tested up to August 5 with 6,64,949 samples being tested on Wednesday.
Centre releases ₹890 crore as second tranche of package for COVID-19 health system preparedness
The Centre has released ₹890.32 crore as the second instalment of the COVID-19 Emergency Response and Health System Preparedness package to 22 states and Union Territories, the Health Ministry said on Thursday.
The amount of financial assistance to each state and Union Territories is based on their COVID-19 caseload. Those who received financial assistance in the second instalment include Chhattisgarh, Jharkhand, Madhya Pradesh, Odisha, Rajasthan, Telangana, Andhra Pradesh, Goa, Gujarat, Karnataka, Kerala, Punjab, Tamil Nadu, West Bengal, Arunachal Pradesh, Assam, Meghalaya, Manipur, Mizoram and Sikkim, the ministry said.
Prime Minister Narendra Modi had announced the ₹15,000 crore package as part of the Whole of Government approach wherein the Centre is leading the COVID-19 response and management, and supporting the states and UTs through technical and financial resources.
The second instalment of the aid will be used to strengthen public health infrastructure for testing, including procurement and installation of RT-PCR machines, RNA extraction kits, TrueNat and CB-NAAT machines, bolster infrastructure for treatment and development of ICU beds, installation of oxygen generators and procurement of bedside oxygen concentrators among others.
It would also be used for engagement, training and capacity building of necessary human resources and incentives to healthcare workforce and volunteers, including ASHA workers on COVID-19 duties, the health ministry said, adding that wherever necessary, volunteers registered on the COVID Warriors portal may also be engaged in coronavirus duties.
The first instalment of ₹3,000 crore was released in April to all states and UTs to aid and enable them ramp up testing facilities, augment hospital infrastructure, conduct surveillance activities along with procurement of essential equipment, drugs and other supplies, the health ministry said.
As part of this package, states and Union territories have been strengthened with 5,80,342 isolation beds, 1,36,068 oxygen-supported beds and 31,255 ICU beds. Also, 86,88,357 testing kits and 79,88,366 Vial Transport Media (VTM) have been procured by them.
As many as 96,557 human resource has been added and incentive has been given to 6,65,799 human resources. The package has aided provision of mobility support to 11,821 staff, the ministry said.
From the states
Record one-day spike of 11,514 COVID-19 cases in Maharashtra
With the highest single-day spike of 11,514 COVID-19 cases, Maharashtras tally reached 4,79,779 on Thursday.
As the virus claimed another 316 lives, the state's death toll climbed to 16,792.
A statement from the department said 10,854 patients recovered and were discharged on Thursday. With this, the number of recoveries went up to 3,16,375.
There are 1,46,305 active patients in the state at present, and 24,87,990 people have been tested so far.
COVID RT-PCR tests cross 30 lakh mark in TN; 5,684 fresh cases reported
Tamil Nadu on Thursday crossed 30 lakh RT-PCR tests for detecting the novel coronavirus while 5,684 more people tested positive and 110 patients succumbed to the disease.
The case tally inched towards the three lakh mark with 2,79,144 infected people as on date and the toll mounted to 4,571, a health department bulletin said.
As many as 67,153 samples were tested on Thursday, taking the cumulative to 30,20,714 as the state remained among the states maintaining a high number of daily tests, a key protocol in managing the deadly virus.
With 6,272 patients getting discharged from various hospitals, 2,21,087 people have been cured in total in the state. The number of active cases stood at 53,486.
Andhra records 10,328 COVID cases, tally inches towards 2-lakh mark
Racing closer to the two lakh mark, the COVID-19 tally in Andhra Pradesh reached 1.96 lakh on Thursday as another 10,328 cases were added for the second consecutive day.
The COVID-19 toll in the state rose by 72 to 1,753 while another 8,516 patients had been discharged from hospitals in the last 24 hours, the latest bulletin said.
After a total of 1.12 lakh patients recovered so far, the state now has 82,166 active cases, the bulletin added.
A total of 22.99 lakh samples were tested till date.
Karnataka reports 6,805 cases of infection, 93 dead
With 6,805 new coronavirus cases recorded in the last 24 hours, Karnataka's tally tocuhed 1,58,254 on Thursday, while 93 more patients succumbed to the infection, taking the total toll to 2,897.
The number of active cases in the state stood at 75,067, while 5,602 recovered from the disease in the last 24 hours, taking the total number of recuperated people to 80,261.
1298 fresh COVID-19 cases reported in Kerala, death toll climbs to 97
In the highest single-day surge, Kerala reported 1,298 fresh COVID-19 positive cases on Thursday, as the infection tally breached the 30,000 mark and the death toll climbed to 97.
Of the positive cases, 1,017 were infected through contact, while the source of infection of 76 people is not yet known, state health minister K K Shailaja said.
The fresh cases include 29 health workers. The total COVID-19 cases touched 30,443 on Thursday and 11,983 people are presently under treatment, while 18,337 have recovered so far, including 800 whose tests returned negative today.