The country reported more than one lakh COVID-19 cases in just 24 hours on Sunday — the highest single-day spike in infections since the pandemic began early last year.
India now has the third highest number of COVID cases in the world after the United States and Brazil.
A total of 490 deaths were reported on Sunday, with nearly 50% casualties (222) in Maharashtra, the Union Health Ministry said on Sunday (April 4).
Coincidentally, India breached the one-lakh mark on a day Prime Minister Narendra Modi chaired a high-level meeting to review the COVID situation and progress of the vaccination program.
On September 16 2020, the national per day caseload rose to 97,894, the highest till then before the April 4, 2021, tally of 1,03,558 fresh cases. Maharashtra contributed more than 50% (57,074 coronavirus positive cases) to the national tally.
The active caseload has breached the 7-lakh mark and the country's overall tally now stands at 1.25 crore.
Also read: Centre issues new guidelines as second wave of COVID looms
The doubling time (the number of days in which cases double) is down to 115.4 days. A bulk of the cases is reported from Maharashtra, Chhattisgarh, Karnataka, Delhi, Tamil Nadu, Uttar Pradesh, Madhya Pradesh and Gujarat.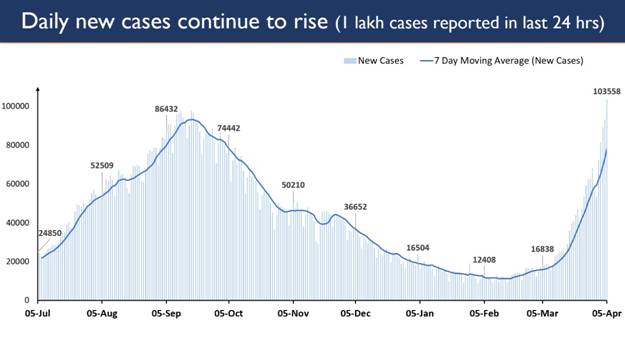 Maharashtra remains worst affected
With 57,074 coronavirus cases on Sunday, Maharashtra continues to remain the worst affected state during the second wave. Mumbai registered 11,206 positive cases, a new record for the state capital.
Chhattisgarh (5,250), Karnataka (4,553) and Uttar Pradesh (4,136) are the other worst affected states.
Taking cognizance of the grim condition, the Centre will send special teams to Maharashtra, Punjab and Chhattisgarh to check the rapid rise in cases and the disproportionate number of deaths.
Also read: Blood clots, deaths from Astra-Zeneca vaccine make young women wary
The situation in national capital Delhi is no better with over 4,000 cases being reported in a day. Tamil Nadu and Punjab reported 3,581 and 3,019 cases respectively.
Lockdown, though not as strict as the last one, is back in several states to break the chain of transmission. Cities in Maharashtra will be under lockdown on weekends besides every day night curfew (8pm to 7am) on weekdays till April 30.
In Rajasthan too, a night curfew is in place; schools (1 to 9) have been shut and multiplexes, gyms are not allowed to operate between April 5 and April 19.
Meanwhile, Prime Minister Narendra Modi, immediately after the Sunday review meeting, tweeted: "Reviewed the COVID-19 and vaccination related situation across the country. Reiterated the importance of the five-fold strategy of testing, tracing, treatment, Covid-appropriate behaviour and vaccination as an effective way to fight the global pandemic. (sic)"
Vaccination makes steady progress
The cumulative number of COVID19 vaccine doses administered in the country has crossed 7.9 crore mark on April 5 (Monday). As on Day-79 of the vaccination drive (April 4, 2021), 16,38,464 vaccine doses were given. Out of which, 15,40,676 beneficiaries were vaccinated across 21,508 sessions for 1st dose and 97,788 beneficiaries received 2nd dose of vaccine.
Celebrities, leaders test positive
Bollywood actors Vicky Kaushal and Bhumi Pednekar also test positive for Covid-19 so did DMK top leader Kanomozhi. A few days back, Bolloywood superstar Aamir Khan, followed by cricketing legend Sachin Tendulkar had shared news of testing positive on twitter. A day before yesterday, 'khiladi' Akshay Kumar declared on twitter that he was COVID positive and in home isolation.