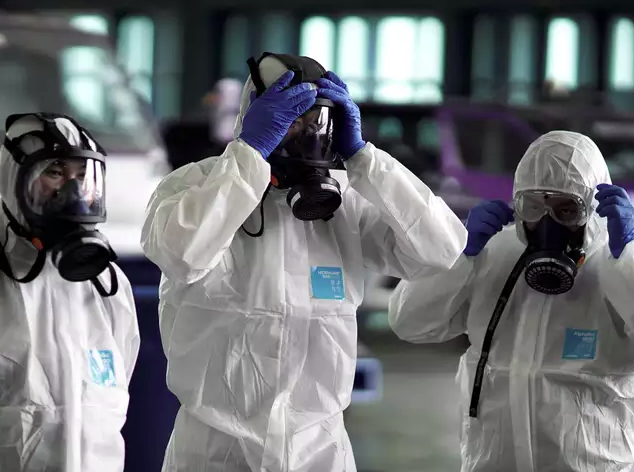 How are south Indian states stepping up measures to deal with COVID-19?
The ongoing COVID-19 pandemic may require radical measures, with temporary hospitals and facilities to attend to the growing number of infection cases, say experts.
The ongoing COVID-19 pandemic may require radical measures, with temporary hospitals and facilities to attend to the growing number of infection cases, say experts.
Talking to The Federal, economist and epidemiologist, Dr Ramanan Laxminarayan, vice-president for research and policy at the Public Health Foundation of India (PHFI) said that like China, which came up with temporary health facilities, exclusively catering to respiratory infections and COVID-19 would be the way to go for India. He also pointed out that the fatality is 20 times higher in COVID-19 than infleunza, as out of 100 million infected, two million are likely to die because of it.
He said, "The strategy is to create several temporary hospitals and then admit anyone with respiratory infections in these facilities. When they test negative, we should be transferring them to the regular hospitals."
He added that in the case of COVID-19, which is highly transmissible, one infected person can actually infect two or three and result in more secondary cases. "Social distancing is an elite concept that cannot be applicable for people like the daily labourers," he added.
Kerala stepping up contact tracing initiatives
Kerala, which recorded the first case of the virus, has 40 cases and being a tourist spot, the state has been stepping up measures to successfully trace contacts. The state is also focusing on adding more beds and isolation wards by looking at public health facilities across districts.
Dr Biju Soman, a public health expert, who has been on the ground implementing initiatives, said, "We are looking at having isolation wards within our facilities, but some are located in crowded areas. We have asked the district functionaries to report with the district wise details on facilities available along with the medical professional."
Related news | India piles up fresh cases of COVID-19; Italy crisis unabated
Dr Soman also added that contact tracing is being scaled up through technology with route maps of cases infected being looked into to reach out to secondary contacts, asking them to contact health officials by putting out details on social media. Video footages are also being scrutinized to locate them. "This could be breach of privacy, but we are not leaving out any opportunities to ensure that surveillance is 100 per cent." He also added that tourist hotspots have been brought under increased surveillance, as there are a number of foreigners visiting the spots.
Those on home quarantine are being helped and given logistic support through Kudumbashree community development societies (CDS) members, apart from engaging panchayats to deliver essentials and supplies at doorstep across.
Tamil Nadu ropes in private hospitals
The State Health Department has handed out guidelines to private hospitals that are empaneled under the Chief Minister's Comprehensive Health Insurance Scheme, and given permission to set up isolation wards. The facilities should have restricted entry, a separate reception, separate ante-room, and single bedded wards with attached restrooms, as per the guidelines. The hospitals treating patients who are suspected to be infected should inform local health authorities and treat them according to government protocol.
Earlier, Tamil Nadu Health Minister Dr C Vijayabhaskar had announced that they were looking at isolation facilities outside the cities. He said, "There are facilities in Tambaram in Chennai, Madurai, Trichy, and Coimbatore that have been identified for specifically admitting patients treated for COVID-19, since they have to be treated under isolation."
Related news | COVID-19: Inter-state border screening non-existent, barring south
The government has also identified beds in district hospitals across the state to be used for treating COVID-19 patients, apart from reserving some in the Communicable Diseases Hospital in Chennai.
Tamil Nadu has seen three cases of COVID 19 – the latest one being a 21-year-old student who returned from Dublin early this week.