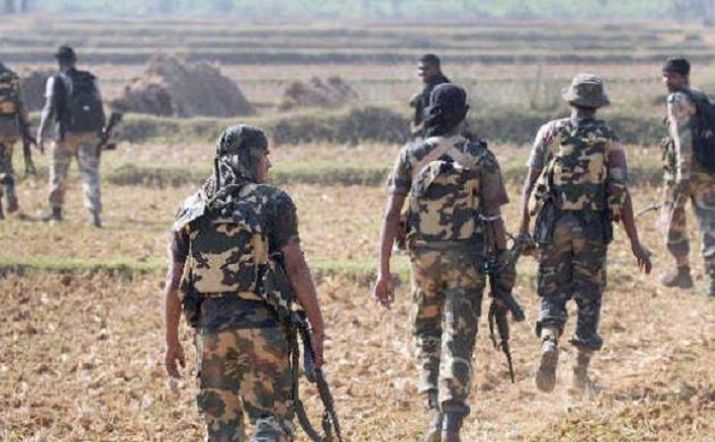 COVID lockdown in Chattisgarh's Maoist areas increases load on security forces
For the paramilitary and local forces deputed in the restive revenue division of Bastar and other areas of Chhattisgarh, the coronavirus lockdown has come with increased responsibility. The forces now, are not only responsible for keeping Maoist activities in check, but also have to ensure that locals get basic facilities during the lockdown period.
The killing of at least 17 security personnel by Maoists on March 26 in Sukma district of the state is also a warning that security forces, posted in the hinterlands, have to be extra careful of Maoist attacks during the 21-day lockdown period.
To ensure that they don't contract the disease, Chhattisgarh Director General of Police Durgesh Madhav Awasthi during a recent review meeting with all range inspector general of police (IGPs) and all superintendent of police (SPs) directed them to see that police personnel regularly use sanitisers, masks and follow social distancing while on duty to enforce the lockdown.
Related news: Chhattisgarh's tribal outreach pushes Maoists to MP's Amarkantak
He also directed personnel and officers in Naxal-affected areas to extend all facilities to common people in need of medical aid. They should be involved in ensuring food and other basic supply of materials to those in need.
"The responsibility has doubled for security forces in Bastar. On the one hand they have to enforce the lockdown, simultaneously ensuring that people are looked after, and on the other hand they have to continue their lookout for Maoists," said Sundarraj P, Inspector General of Police (in-charge), Bastar Range.
"As per intelligence, Maoists are involved in holding meetings in villages, attacking road construction parties and burning vehicles. The attack and killing of 17 security personnel in Sukma is a recent example," he added.
He said the department's priority now is to ensure the safety of villagers and maintain law and order situation in naxal-affected areas.
He adds, "At any point we cannot slow down operation in fear of COVID-19. The routine road opening, area domination and other activities are being undertaken on daily basis."
The camps and battalions have been directed to follow and ensure that COVID-19 protocol of social distancing and other preventive measures are followed, he said.
A Central Reserve Police Force jawan from Kerala after joining camp in Bastar region showed coronavirus-like symptoms on March 10. Although he tested negative, strict orders to be quarantined on camp premises, was passed for those joining duty after leave.
Related news: Maoists debate over red corridor in south India's tri-junction
Kondagaon Chief Medical and Health Officer (CMHO) Dr Suresh Kumar Kanwar said all preparations including isolation wards and quarantine centres have been put in place in Kondagaon district. Same is case with other parts of Bastar. "Especially, villagers returning from other states have been directed to remain in home-isolation as their houses have been earmarked for regular follow up," he said.
He however refused to speak on naxal movements and their interaction with villagers in Bastar region.
Sukma district CMHO Dr Bansod, while refusing to speak on the Maoist attack of March 26, said all preparations are in place to counter any epidemic of coronavirus in the district.