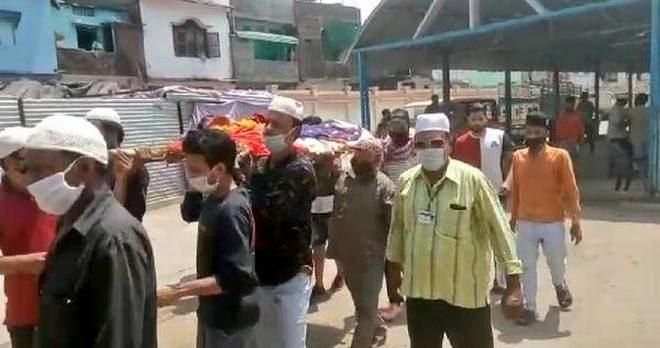 Humanity blurs strife-torn past, Hindus-Muslims join hands to fight COVID
The courtyard of SM Shamsuddin's house at Rajkhola village in West Bengal is abuzz with frantic activities. Around 20 masked youths, sitting at a safe distance from one another, are busy packing relief materials in polythene bags.
Since the past fortnight, Kuntal Pramanik, Riazul Haq, Shyamali Gayen, Manirul Islam and others from Rajkhola and adjoining Tehatta village in Uluberia sub-division of Howrah district, have been routinely gathering on the patio of Shamsuddin's house, now functioning as a "control room" for the relief operation in both the villages, for the purpose.
Related news: COVID-19: Indians have distanced themselves from rationality
"Free ration provided by the government is not enough. There are many in these two villages whose source of income has dried up due to the lockdown and so they are unable to even purchase basic essentials such as pulses, potatoes and onions. Hence, at the initiative of Shamsuddin bhai (brother Shamsuddin) both Muslim and Hindu communities of the two villages have come together to help those in need," said Shubankar Bhattacharjee, one of the youth volunteers.
Tumultuous past, peaceful present

The camaraderie between the two communities assumes significance given the stormy history of communal tension in Uluberia. In 2017, the remote Tehatta village was in the news after a government-aided school had to be shut down for several days following communal tension over holding of 'Nabi Diwas,' a religious programme marking the birth of Prophet Mohammad, on its premises.
"Even a few years ago, Hindus and Muslims used to jointly celebrate each other's festivals in these villages. But of late, fissures started appearing between the communities, who had been living together harmoniously for ages," said Shamsuddin, a teacher by profession.
But the current crisis has brought the two communities closer again.
"The COVID-19 crisis has united Hindus and Muslims of the area again," says Tehatta's Surajit Bhattacharhee, a zari worker, who has received relief materials from his Muslim neighbours.
Related news: Indian Muslims battle Islamophobia amid COVID-19
These two villages have set a shining example of amity by rising above the narrow communal divide to help each other at this time of crisis. The communal harmony that is seen today should always prevail," Uluberia MP Sajda Ahmed told The Federal.
When a temple sent help a mosque's way
Some 156 km from Uluberia, in Nabadwip, the hub of Bengal's Vaishnavite movement, a similar example has been set by the management committee of a Hindu temple.
Packets of dry food containing rice, flattened rice (poha), potatoes, biscuits and chhatu (sattu or flour made of barley) were sent from the temple named Chintamoni Kunja to the nearby Idilpur Masjid on April 15 for distribution among around 60 jobless daily wage earners from minority communities residing in the area.
"Nabadwip is the birthplace of (Hindu Vaishnava seer) Chaitanya Mahaprobhu.  Communal harmony is the essence of his religious teachings. The Chintamoni Kunja ashram by helping the minority brothers and sisters has only followed that teaching," said Sachindra Basak, vice chairman of the Nabadwip Municipality in Nadia district of West Bengal.
There are countless instances of such solidarity being witnessed across the country amidst the vitriolic hate campaigns being unleashed on social media, pitting one community against the other.
The dead know no religion
In two separate incidents in Madhya Pradesh — one in Bhopal and another in Indore — Muslims performed the last rites of their Hindu neighbours.
Muslim residents of Tila Jamalpura of Bhopal carried the body of their 50-year-old neighbour Sama Namdeo, who passed away on April 15 after prolonged illness. Her relatives could not make it to the funeral due to the nationwide lockdown.
"The lady lived next door and was suffering from some liver disease and was admitted to the Hamidia Hospital. Her husband Mohan and her sons were not here. We took immediate decisions in the absence of her family members," said Shahid Khan.
"My relatives and friends, most of them Muslims, gathered and performed the last rites according to Hindu rituals," he added. Videos of Muslim men, wearing masks and skull caps, carrying the woman's body on their shoulders to the cremation ground, were widely shared.
Earlier, on April 6, the last rites of Durga who died at Ranipura, Indore, too were taken care of by her Muslim neighbours. Ranipura is the same area where a team of health workers was attacked recently when they went there to screen residents for signs of novel coronavirus infection.
Related news: COVID-19 will die, but not hate, say Muslims in Tamil Nadu
Durga's sons could not attend the funeral as they were stuck elsewhere due to the lockdown.
These are not isolated incidents. There were similar reports from other states including Uttar Pradesh, Rajasthan, and Gujarat reinforcing the secular values of India.