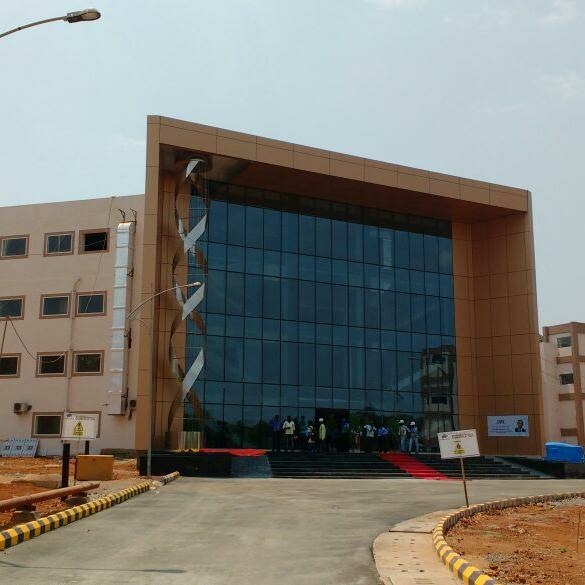 COVID-19: How an Indian vaccine firm, HBL, ended up making sanitisers
The HLL Biotech Limited (HBL), a state-run enterprise under the Union Health Ministry, which was expected to produce 585 million doses of vaccine per year, is now producing sanitisers and alcohol-based disinfectants, and is left to fend for itself financially.
A bureaucratic bungle seems to have put India several paces behind in the race to manufacture vaccines on a large scale, an urgent and major need of the hour during COVID-19 times, which has affected thousands and claimed hundreds of lives, besides disrupting millions of livelihoods.
The HLL Biotech Limited (HBL), a state-run enterprise under the Union Health Ministry, which was expected to produce 585 million doses of vaccine per year, is now producing sanitisers and alcohol-based disinfectants, and is left to fend for itself financially.
Envisioned in 2008 under the then-health minister Dr Anbumani Ramadoss, HBL was expected to make the country self-sufficient in manufacturing vaccines for Japanese Encephalitis, rabies, measles and Hepatitis B apart from BCG, pentavalent combination vaccines under India's Universal Immunisation Programme.
HBL was set up as a subsidiary of Thiruvananthapuram-based HLL Life Care in a 100-acre Integrated Vaccine Complex at Thirumani in Chengalpattu, near Chennai, with the aim to replace three existing vaccine producers which were set up decades ago — Pasteur Institute of India, Coonoor, Tamil Nadu, BCG Vaccine Laboratory, Chennai, and Central Research Institute in Kasauli, Himachal Pradesh. The construction started in 2012 and ended in 2018.
Also read: The scramble for COVID-19 vaccine and the challenges ahead
The Problem
An HBL official, on condition of anonymity, says there was no vision in establishing the firm as the government could have easily upgraded the existing three vaccine units.
But he pointed out that the key problem was in HBL's Detailed Project Report (DPR) submitted to the government.
"After construction of the complex, the validation process like testing of technologies, product design needs to be done. Only after five years of validation process can the company expect any turnover," he said. "But while submitting the DPR, it was said that the turnover will be expected just after construction. That was the biggest fault. They thought construction will be over within three years and vaccine manufacture will start immediately. So they misquoted the years and according to that, funds were allocated. But in reality, the construction and licensing were delayed due to bureaucratic procrastination. That resulted in cost escalation. So we requested additional money from the government but were denied. That is why despite having 75% captive status (that is 75% of Centre's orders would compulsorily be given to HBL), we were unable to produce any single dose of vaccine."
S Kannan, state secretary, Centre of Indian Trade Unions (CITU), which came to the help of beleaguered employees, says HBL has written to the Union Health Ministry and NITI Ayog for the additional sum, but was denied.
"But the government is profit-motivated. They think 'what is the use of having this complex'," he opined.
The parent company HLL too has stopped funding HBL last year, leaving around 275 employees in the lurch, as they haven't been paid salaries for the past nine months.
Also read: Indian firms join in as market race for COVID-19 vaccine heats up
The HBL official says it can be revived even now. "The Centre can announce it as 'Pandemic Research Centre' or it can run it on a Public Private Partnership (PPP) model. But the policies of the present government are against public sector undertakings. The bureaucracy is not listening to our woes and there is no political will to keep the company surviving," he said, adding that their efforts in asking the Tamil Nadu government to take over the venture too has gone in vain.
Tapping Resources
Despite all these, HBL is now producing medical essentials like hand sanitisers and alcohol-based disinfectants for hospitals treating COVID-19 patients.
Dr Rex Sargunam, president, Tamil Nadu Health Development Association, says the company has license from the Tamil Nadu Director of Drugs Control to produce 20,000 litres of disinfectant per month.
"Kerala has already bought 6,000 litres from them. The Tamil Nadu government also should utilise them and support this organisation," he said.
Besides disinfectants, HBL also has the capability to produce Viral Transport Medium (VTM) kits.
"These kits contain anti-fungal and antibiotic supplements, which are used for transporting COVID-19 clinical samples of suspected patients for virus detection testing," says Sargunam.
Also read: Divine tragedy: Humanity as illness, COVID-19 as vaccine
As the number of infected cases is growing day by day exponentially, he says there is a need for collection of more clinical samples for higher testing purposes. Since VTM kits in the market are difficult to get, HBL can develop such kits in a mass way — 3,750. kits X 50 tests per month at an affordable/ competitive price.
The required manufacturing licence application from the state and the Centre is underway. The governments can consider HBL for producing BCG vaccine also, he added.
Bacillus Calmette–Guérin (BCG) vaccine is primarily used against tuberculosis. Although there is no evidence of its success against coronavirus, tests are underway to check its effectiveness, the WHO has said.