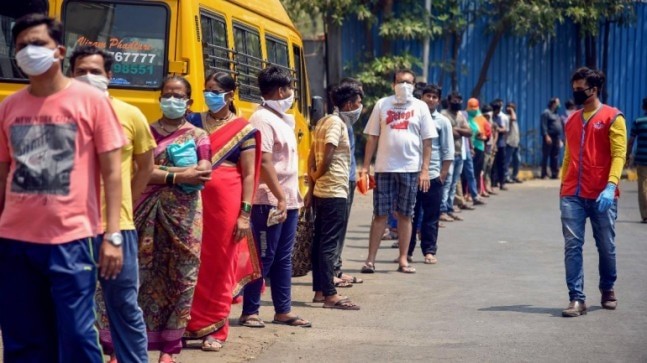 COVID-19 cases rise to 126 in UP; 5 more people test positive in Bihar
The number of COVID-19 cases has risen to 126 in Uttar Pradesh, an official said on Thursday.
The number of COVID-19 cases has risen to 126 in Uttar Pradesh, an official said on Thursday (April 3).
Of these 126 cases, 17 have been fully cured and discharged while two have died — one each in Meerut and Basti —  till date, Principal Secretary (Medical and Health) Amit Mohan Prasad said.
The Health Department has been maintaining an aggressive containment exercise in and around various districts from where positive cases have been reported and this has helped to some extent, he said.
According to an official bulletin, the district-wise tally of coronavirus cases in UP is Gautambudh Nagar (48), Meerut (24), Agra (12), Lucknow (10), Ghaziabad (9), Bareilly (6), Bulandshahr (3), Basti, Varanasi and Pilibhit (2 each), Ghazipur, Hapur, Baghpat, Jaunpur , Shamli, Moradabad , Kanpur, Lakhimpur Kheri (1 each).
Prasad said 429 samples of those who attended the Tablighi Jaamat congregation in Delhi have been taken and sent for testing.
Related news | Latest Updates: India's COVID-19 count at 2,069 on Day 9 of lockdown
"The samples of all those who had attended the Jaamat meeting will be sent for testing and a campaign is on for this purpose in the state," he said, adding all of them will be quarantined as per the medical protocol.
On Chief Minister Yogi Adityanath's video conferencing with Prime Minister Narendra Modi, Prasad said the need to strictly stick to the protocols of social distancing, washing hands and hygiene were emphasised upon in the conference.
He said positive results are being witnessed in the state on account of sincere efforts being put in by public and employees and officials.
The good thing is that there has been a decrease in the average rate of infection in the state, he added.
Bihar
Five people tested positive for COVID-19 in Bihar on Thursday, taking the total number of cases in the state to 29, an official said.
According to state epidemiologist Ragini Mishra, two women from Gaya, the wife and the mother of a coronavirus patient with travel history to Dubai, and as many men from Gopalganj, both of whom returned from the Middle East recently, tested positive. A resident of Saran district, who had recently travelled to the UK, also tested positive, she said.
"Altogether, 1,973 samples have been tested in the state so far, of which 29 have tested positive," Mishra told PTI.
Related news | Medically, no need to continue lockdown for COVID after 21-days, says Devi Shetty
Notably, Gopalganj reported its first COVID-19 case on Tuesday (March 31) when a man with travel history to the Middle East tested positive.
It is, however, the first time that a sample has tested positive from Saran. Of the 29 people reported COVID-19 positive in Bihar till date, one has died, while three have recovered.
The deceased was a 38-year-old from Munger who returned from Qatar a month ago and breathed his last on March 21 at AIIMS, Patna, a day before test results confirmed he was COVID-19 positive.
He had been suffering from renal failure and ended up infecting several others, including neighbours, relatives and employees of private hospitals in Munger and Patna before he was referred to AIIMS here.
Meanwhile, Bihar Chief Minister Nitish Kumar has congratulated the three people who have fully recovered.
(With inputs from agencies)