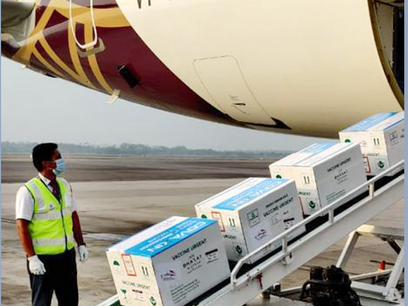 With just three days left for the Centre's COVID-19 vaccine rollout, Bharat Biotech on Wednesday (January 13) dispatched the first batch of Covaxin to 11 cities, a day after Serum Institute of India (SII) sent its consignments of Covishield through air and road.
Bharat Biotech on Wednesday said consignments of Covaxin have been sent to Ganavaram, Guwahati, Patna, Delhi Kurukshetra, Bengaluru, Bhubaneswar, Pune, Jaipur, Chennai, and Lucknow in the wee hours of Wednesday.
It was not clear how many doses of the vaccine have been dispatched.
Covaxin which is India's first indigenous vaccine for COVID is yet to complete its third phase of trials.
Related news: Covishield being offered at ₹200 per dose on govt request: Poonawalla
The Centre, which plans to inoculate 30 crore beneficiaries in the first phase, has clarified that beneficiaries do not have the option of choosing between Covishield and Covaxin when the vaccination starts on January 16.
The Union Ministry of Health on Tuesday had said that 54.72 lakh doses of Covishield had reached stores across the country.
Reports said the Centre in a meeting on Wednesday decided to cut down on the vaccination sites as planned earlier, on the opening day due to "technical reasons". Fewer sites would mean fewer people will be inoculated on January 16.
The government on Tuesday said it would procure 110 lakh doses of Covishield from SII at ₹200 per dose. While the government will buy 38.5 lakh of 55 lakh doses of Covaxin at ₹295 per dose, the company would provide 16.50 lakh doses free of cost as a goodwill gesture.
Both vaccines come in two doses, where the second dose will be administered 28 days after the first.
One crore health workers and two crore frontline workers including police and sanitation workers will be vaccinated on January 16.
Related news: India's first Covishield vaccine consignment flies out to 13 cities 
Prime Minister Narendra Modi is expected to inaugurate the vaccination programme and may interact with health workers through video conferencing on the occasion.