Barter, innovations keep TN villages fed, provided for amid lockdown
As Prime Minister Narendra Modi pointed out in his monthly radio address Mann Ki Baat on Sunday (April 26), the COVID-19 lockdown has in one way or another made Indian villages self-reliant, by reducing their dependence on urban centres.
As Prime Minister Narendra Modi pointed out in his monthly radio address Mann Ki Baat on Sunday (April 26), the COVID-19 lockdown has in one way or another made Indian villages self-reliant, by reducing their dependence on urban centres.
Taking up the challenge to self-sustain themselves while following social distancing norms to a tee, villages in several districts of Tamil Nadu have taken up a slew of measures – from reviving the ancient system of barter to producing low-cost disinfectants and herbal masks.
Barter, an alternative to market, money
Take Ariyalur for example. Farmers in the district have been unable to harvest their crop because of the unavailability or shortage of labour due to the lockdown. And those who have managed to harvest find it difficult to sell their produce at a fair price.
To save themselves from such a predicament, farmers of V Kaikatti village in the Ariyalur block of the district, have adopted the barter system. Under the system, a farmer who has onions in abundance exchanges it with another for paddy. A farmer who has cotton exchanges it for drumstick.
Related news: TN tea, flower growers cry foul over losses due to COVID-19
"Barter system is purely based on the trust of farmers on one another. They have realised that at the time of crisis, food is the only essential thing they need. So instead of trying to sell their goods in urban markets or destroying their crop over mental agony, they have adopted barter, which gives them mutual benefit," said Thanga Shanmuga Sundaram, a naturopathy practitioner based in Ariyalur.
A similar type barter system is being followed by villagers in the Bundelkhand region of Madhya Pradesh.
Homemade innovations  
In Kuthambakkam, a village in Tiruvallur district, a former panchayat president has developed a low-cost disinfectant.
R Elango, a chemical engineer by profession has jerry rigged a solar-powered equipment by attaching electrodes to a simple barrel, to produce sodium hypochlorite, a chemical used in most disinfectants.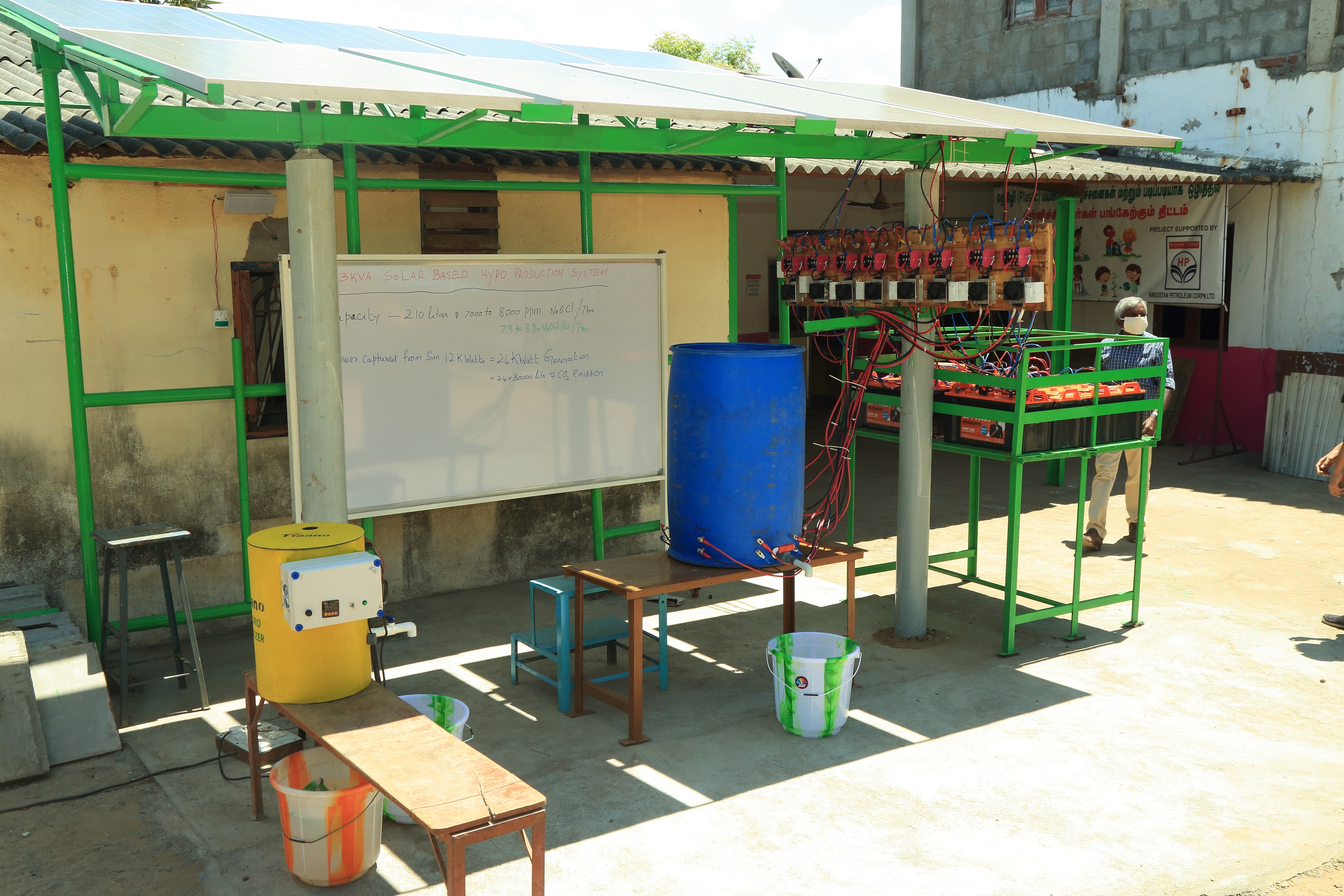 "In conventional method, electricity is passed through titanium electrodes immersed in salt solution. We can produce sodium hypochlorite using sea water too. Instead of using conventional electricity, we rely on solar power," said Elango.
Elango says he came up with the idea after coming across adulterated disinfectants in the market.
"There is a company which sells disinfectants under various brands. The disinfectants don't have any colour or odour. They won't kill any germs either. We thought, instead of depending on such fraudulent companies, we could produce sodium hypochlorite, the mother of all disinfectants at home," Elango added.
You must have already got used to your COVID-19 mask, but ever heard of herbal masks? The district administration of Vellore after getting face masks stitched by women self-help groups at Kunnathur village, is sending those to Siddha practitioners for herbal embalming.
"After we receive the masks, they are enriched with herbal concoction and dried in sunlight for a day. The concoction contains herbs like clove, basil leaves, Mexican mint and menthol. One can wear the mask for three hours, during which his/her respiratory tract will be cleansed by the inhalation of the herbal odour. It gives a refreshing feel to the wearer and feels akin to steam inhalation therapy. The masks, however, are not reusable," said Baskar, a Siddha practitioner.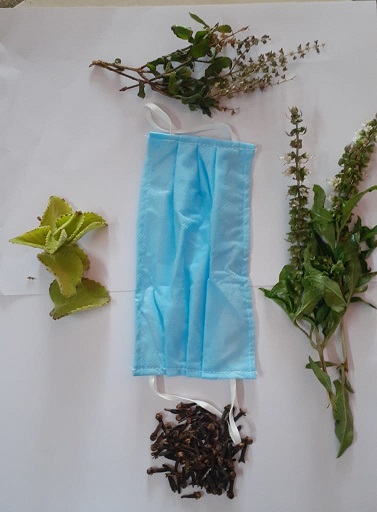 Currently these masks are being distributed to the frontline field workers like police, sanitary workers and volunteers who supply essential items. Baskar says the masks have not been introduced in the market as the district administration is unwilling to convert the production into a profit motive.
Is self-reliance sustainable?
"Due to awareness created by organic farmer Nammalvar and philosopher JC Kumarappa, people are showing interest in a minimalist lifestyle and realising the importance of self-sustenance. But things will come back to normal once the lockdown ends. So, to make villages self-reliant in a sustainable manner, the state and central governments need to chalk out policy decisions. Else, self-sustenance will only remain a fantasy," said Arupathy Kalyanam, a farmer leader based in Myladuthurai district who spreads awareness about self-sustaining villages.
One way to encourage innovations, which is a vital aspect of self-reliance, is to open innovation centres in every district, he added.
L Venkatachalam, economist, Madras Institute of Development Studies, however, says these innovations and self-sustaining measures are short termed although they can keep the village economy afloat for the time being.
Related news: Revisiting history of Tamil Nadu's first exclusive COVID-19 hospital
"Efforts taken towards self-sustenance are proving helpful for villagers because of the lockdown. Such measures will help generate employment opportunities if they continue after the lockdown is over. As far as agriculture is concerned, villages will continue to depend on urban markets to sell their produce, as it is where the bulk of their clientele lies. But, we do need our economy back on its feet. Until then, self-sustained efforts that Tamil Nadu villages are taking up, will help keep the rural economy vibrant" he added.