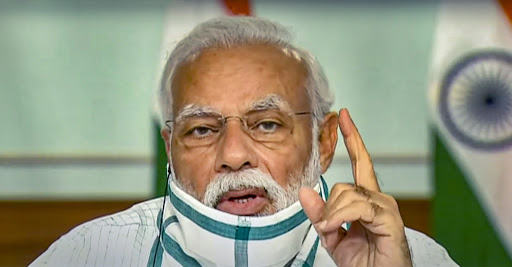 All eyes on Centre as PM sits down to chalk out post-COVID strategy
Prime Minister Narendra Modi on Friday met Home Minister Amit Shah and other cabinet ministers to discuss a post-lockdown strategy. Meanwhile, the nationwide lockdown has now been extended for two more weeks starting from May 4.
The Prime Minister is learned to be in hectic discussions with his Cabinet colleagues and others to thrash out a post-COVID strategy, especially on enabling flight and rail operations.
The thinking within the government, after learned deliberations and assessment of data, is that the nation can attain near-normalcy if a second wave of COVID does not hit it.
A highly placed government source claimed India had already achieved 55 per cent of normalcy even as the fear of the COVID-19 outbreak reaching the community transmission stage loomed large.
Prime Minister Narendra Modi on Friday (May 1) met Home Minister Amit Shah and other cabinet ministers in this regard. Meanwhile, the nationwide lockdown has now been extended for two more weeks starting May 4.
Sources told The Federal the main agenda of the discussion was the formulation of a strategy to allow at least limited travel.
In the meeting that was attended by Railway Minister Piyush Goyal, Civil Aviation Minister Hardeep Singh Puri and Cabinet Secretary Rajiv Gauba, it was agreed that flight services connecting metro cities are likely to commence operations from May 18, sources said.
Regarding relaxations in travel restrictions, the source said airports and skies would not be crowded as restrictions such as stringent social distancing protocols would be followed when the services commenced.
"According to an internal assessment, Air India will be the first airline to resume operation, followed by Indigo on May 20. Vistara airlines and other passenger carriers are expected to start flying from May 23," the source said.
Related news: Nationwide COVID-19 lockdown extended by two weeks: MHA
Meanwhile, the Airports Authority of India (AAI) on Thursday (April 30) stated in a set of guidelines for the resumption of services post lockdown that once restrictions on passenger flights are lifted, airports would facilitate limited domestic and international flights in phases and at 30 per cent capacity to maintain social distancing.
As per a report in Hindustan Times dated April 9, strict social distancing norms are expected to be introduced on planes. Passenger seating arrangement shall be changed to maintain social distancing (1m to 1.5m) between two seats using the chairs, the report stated.
Following the Ministry of Home Affairs' announcement allowing the states to bring home stranded students, tourists, and migrant workers, the Indian Railways deployed its first special train on Friday, transporting over 1,000 people from Telangana to Jharkhand.
The railways announced six such Shramik Special trains – Lingampally to Hatia, Nasik to Lucknow, Aluva to Bhubaneswar, Nasik to Bhopal, Jaipur to Patna and Kota to Hatia to run from point to point starting on Labour Day (May 1).
"These special trains will be run from point to point on the request of both the state governments concerned as per the standard protocols for sending and receiving such stranded persons. The railways and state governments shall appoint senior officials as nodal officers for coordination and smooth operation of these Shramik Specials," the national transporter said.
The source revealed that on Saturday (May 2), the Prime Minister is expected to chalk out a plan to open up the places of worship, malls, and wedding halls in a graded form with proper social distancing protocols in place.
"If the second wave of coronavirus does not emerge in India, the Centre expects to attain 100 per cent normalcy in the situation," the source confirmed.
Related news: MHA approves 'Shramik Special' trains to ferry stranded migrant workers

Earlier, on Thursday (April 30), PM Modi held a 'comprehensive' meeting to discuss strategies to boost the economy, with an eye on enhancing investment.
In a statement, the Prime Minister's Office said that the meeting discussed strategies 'to attract more foreign investments into India as well as to promote local investments in order to give a boost to the economy against the backdrop of the COVID-19 pandemic.'
The death toll due to the novel coronavirus rose to 1,152 with 77 fatalities reported since Thursday evening, while the number of cases saw a record jump of 1,755 to go up to 35,365 cases on Friday, according to the Union Health Ministry.
The number of active COVID-19 cases stood at 25,148 while 9,064 people have recovered, and one patient has migrated, the ministry said.
"Thus, around 25.63 per cent patients have recovered so far," a Health Ministry official said. The total number of cases includes 111 foreign nationals.