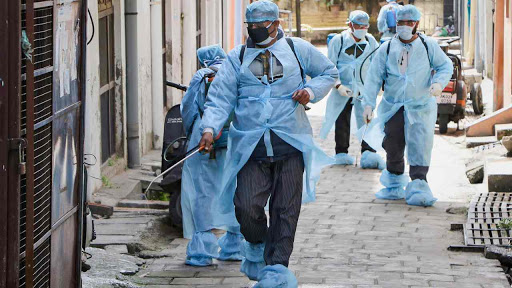 Dr Ramanan Laxminarayan, director of the Centre for Disease Dynamics, Economics and Policy in Washington and lecturer at Princeton University, has said that India could become the next coronavirus hotspot.
Dr Laxminarayan said that in the worst case scenario, 60 per cent of people in India could be infected by the virus, which equates to 700-800 million people.
However, he added that the vast majority would be only mildly affected, and that a small percentage would become seriously ill and an even smaller percentage would die because of COVID-19.
Advertisement
Talking about the Union health ministry's official figures on the number of confirmed cases, he said he found it hard to believe the numbers they put out. As of Wednesday (March 18) afternoon, the ministry had said on its website that India had 130 cases of coronavirus reported so far, apart from the 14 who have recovered and three who had died.
"If the United Kingdom can accept that they have underestimated the number of people infected by a factor of 12, then the situation would be the same in India at the very least," Dr Laxminarayan said.
Going by his claim, it would mean there are at least 1,500 cases that could have gone unreported. Taking into consideration India's population density, Dr Laxminarayan said India might have more than 10,000 undetected cases of coronavirus.
Contradicting the claim by the Indian Council of Medical Research (ICMR) that India is still in stage 2 (local transmission) of the pandemic, Dr Laxminarayan said India might have already entered stage 3 of the coronavirus pandemic (community transmission) two or three weeks ago.
He asserted that he would be able to say this confidently based on the experience of the rest of the world and on the best scientific modelling projections.
"If you take a look at the steps that the government has taken — shutting schools, colleges, theatres, and gyms — this clearly suggests that the government knows we are in stage 3 even if the government does not want to publicly admit it for arguably good reasons," he said while speaking to The Wire.
As a remedial measure, Dr Laxminarayan said India would have to step up its testing methods and added that at least 10,000 people should be tested in a day. However, according to the ICMR, as of March 17, India had tested only 11,500 people totally.
Related news | Coronavirus may steal 25 million jobs if urgent steps are not taken: UN
He said it was essential to test people showing symptoms of cough, fever, cold or any other form of respiratory issues, even if they have not travelled to any other country or come in contact with anyone infected by the virus.
On whether India's measures to handle the coronavirus pandemic were sufficient, Dr Laxminarayan said the government's steps to monitor those entering the country and shutting down schools, colleges, and theatres, however prompt, were not enough for a country with a population of 1.3 billion people.
Based on the assumption that four million to eight million people would need treatment at the ICU of hospitals, he said India needed to immediately import the equipment required in an ICU, like ventilators, and an assortment of medicines used to treat patients.
He suggested a few precautions to be followed by people who are in quarantine, and asked people not to buy masks unnecessarily if they are not infected, since that would cause a deficit in masks for medical staff and doctors who are more in need of them.
He added that homeopathy has not been scientifically proven to combat the virus.