Union Finance Minister Nirmala Sitharaman, over the past few days, announced a ₹20 lakh crore financial stimulus package to help the country's economy tide over the COVID-19 crisis and the subsequent lockdown — one of the harshest in the world. The announcements were in line with Prime Minister Narendra Modi's May 12 address to the nation, during which he announced the "atmanirbhar" (self-reliance) package.
The package included new reforms in agriculture and public sector enterprises, besides some earlier measures, including by the RBI.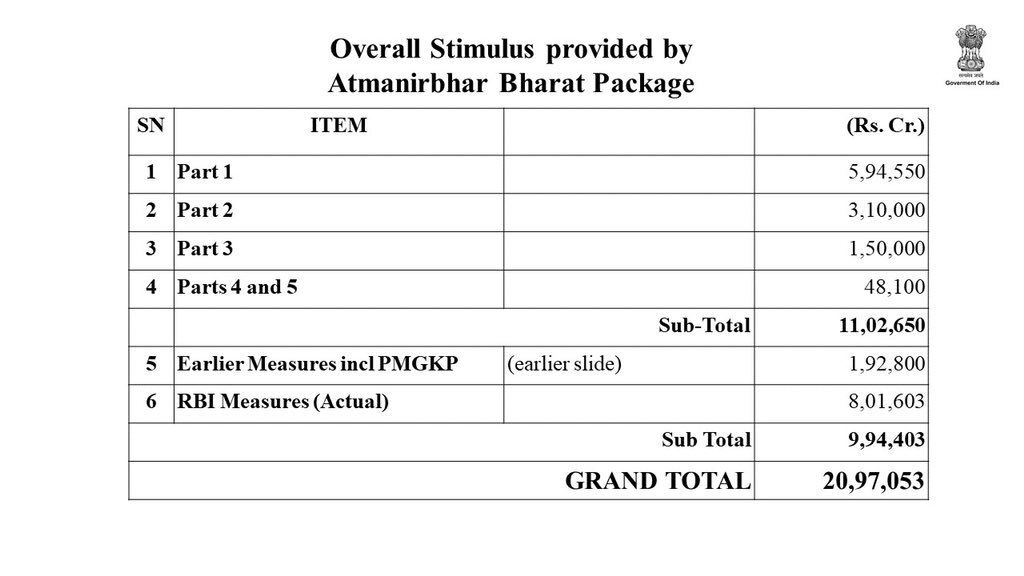 Advertisement
Sitharaman said the package, which was announced in five tranches beginning May 13, would spur growth and build a self-reliant India. However, self-reliant India does not mean cutting off from rest of the world, she said. Here are the highlights of the major announcements made by the finance minister over the last five days:
Part 1: Due date for I-T returns extended, TDS/TCS rates slashed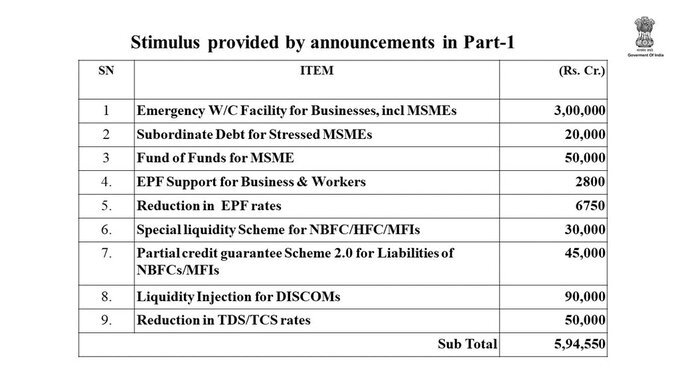 In the first tranche of the announcements, the government slashed TDS/TCS rate for non-salary payments to residents by 25 per cent for the remaining months of the fiscal and also extended the due date for filing income tax returns for 2019-20 till November 30, 2020.
Further, the finance minister announced ₹3 lakh crore collateral free automatic loan for businesses, including MSMEs, and emergency liquidity infusion of ₹90,000 crore in power distribution companies (discoms).
Other announcements included ₹30,000 crore liquidity facility for NBFCs, housing finance companies and MFIs, and ₹45,000 crore liquidity infusion in NBFCs through partial credit guarantee scheme. She also announced a reduction in statutory provident fund contribution to 10% from 12% earlier. Click here to read more.
Part 2: Concessional credit for farmers, free foodgrains for migrant workers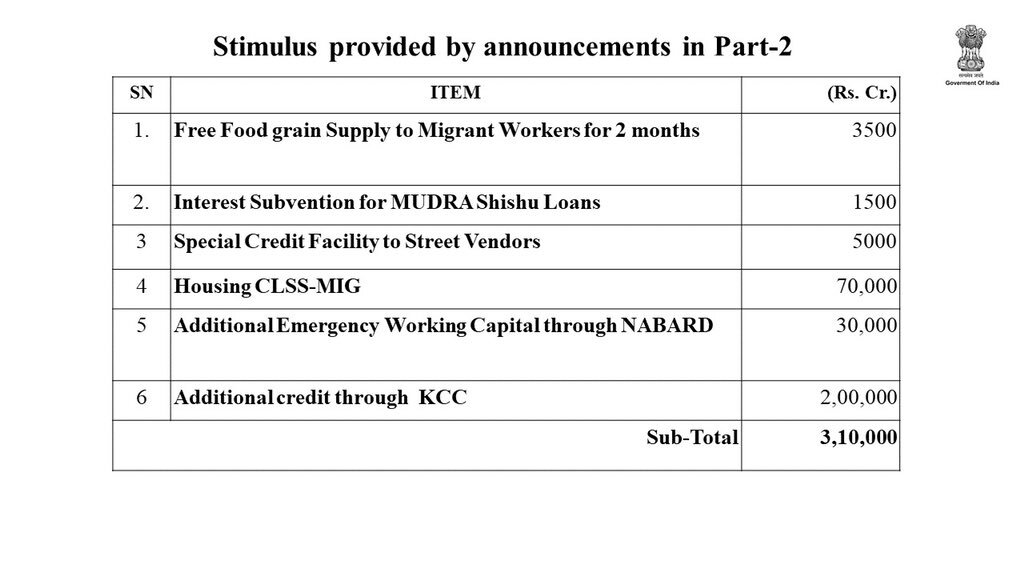 In the second tranche of announcements, the government said 2.5 crore farmers, including fishermen and those involved in animal husbandry, would get ₹2 lakh crore of concessional credit through Kisan Credit Cards under its economic stimulus package.
Sitharaman said each of the eight crore migrant workers, who had to leave their workplaces after imposition of the lockdown on March 25, would get 5 kg grains and 1 kg pulses free for two months.
Also, 50 lakh street vendors who were rendered jobless due to the lockdown would be given a working capital loan of ₹10,000 each to restart businesses. She also announced a ₹70,000 crore boost to the housing sector through a one-year extension of subsidised loan for affordable houses bought by the middle-income group. Click here to read more.
Part 3: Govt to amend Essential Commodities Act, ₹1 lakh crore agri-infrastructure fund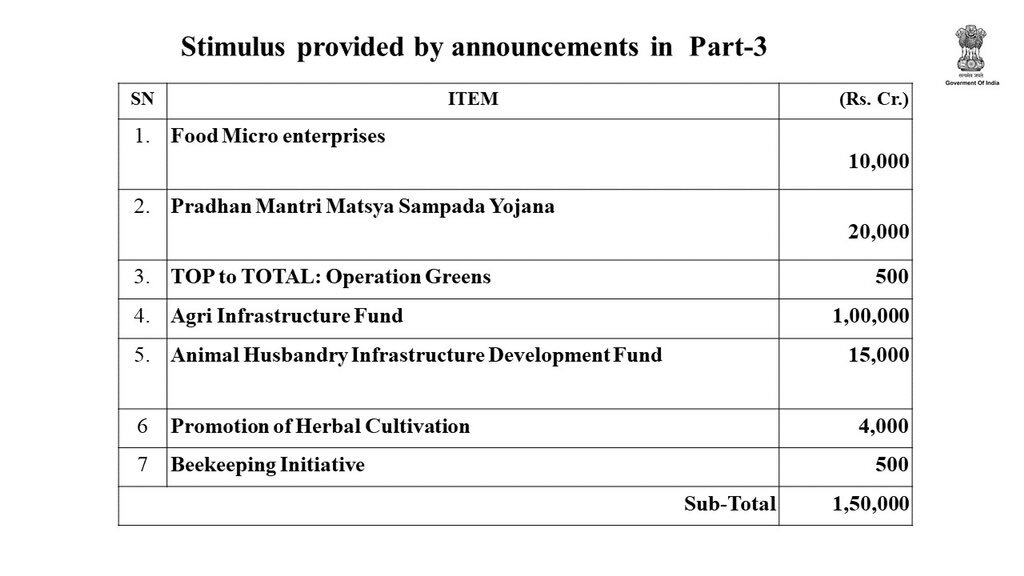 In the third tranche of the COVID-19 economic package, the government announced a slew of measures for agriculture sector, including a ₹1.63 lakh crore outlay, and amending the stringent Essential Commodities Act to remove cereals, edible oil, oilseeds, pulses, onions and potato from its purview.
The Centre will also immediately create a ₹1 lakh crore agri-infrastructure fund for farm gate infrastructure for farmers. Also, a new law will be framed to give farmers the option to choose the market where they want to sell their produce by removing inter-state trade barriers and providing e-trading of agriculture produce. Click here to read more.
Part 4 and 5: FDI limit increased in defence manufacturing, ₹40,000 crore hike in MGNREGA budget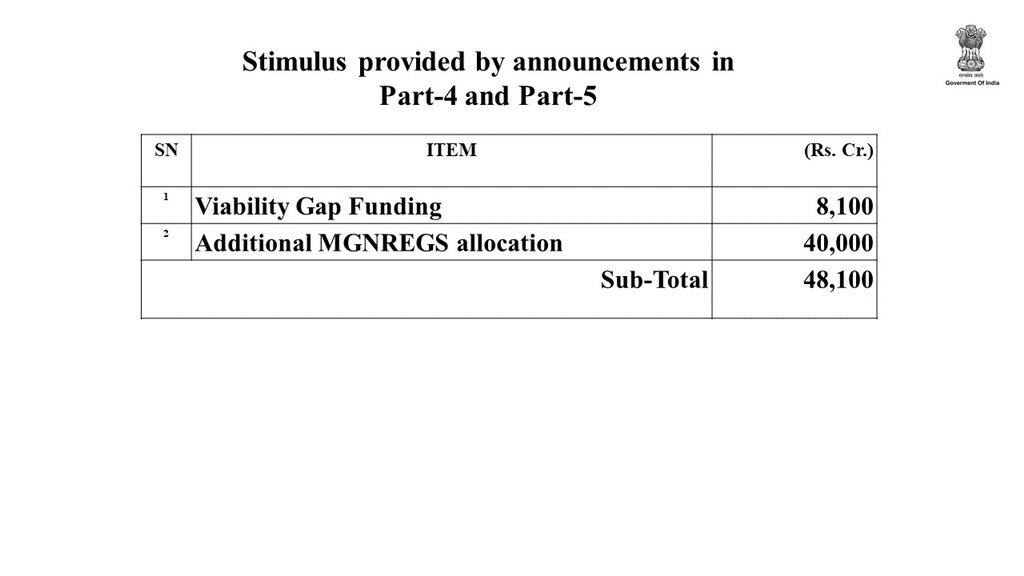 In the fourth tranche of the package, the government on Saturday announced an easing of limits on foreign direct investment in defence manufacturing, privatisation of six more airports, opening up of more air space and allowing private sector in commercial coal mining. Also, the list of weapons that cannot be imported will be expanded to give 'Make in India' a boost.
The private sector will also be involved in the Indian space programme including in future projects for planetary exploration and outer space travel as well as satellite launches. Click here to read more.
In the fifth tranche, the Centre announced plans to privatise PSUs in non-strategic sectors and suspend loan default-triggered bankruptcy filings for one year. The finance minister  also announced a ₹40,000 crore hike in allocation for the rural employment guarantee scheme (MGNREGA) to provide jobs to migrant workers.
In a boost to the MSMEs, she also raised the threshold of insolvency proceedings to help the industry deal with COVID-19 pains. The minister also said e-education will be encouraged as part of the Centre's One Nation One Digital Platform plan. As part of PM Modi's e-Vidya programme, the country's top 100 universities will start online courses by May 30, 2020. Click here to read more.
Sitharaman said the ₹20 lakh crore economic stimulus package to deal with the fallout of COVID-19 also includes ₹8.01 lakh crore of liquidity measures announced by the Reserve Bank since March. The stimulus totals to ₹20.97 lakh crore, she said, adding that this also comprises the ₹1.92 lakh crore package of free foodgrain and cooking gas to poor and cash to some sections announced in March.
(With inputs from agencies)