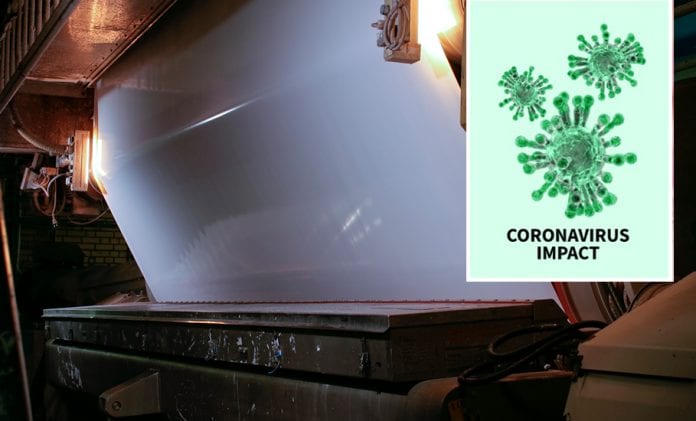 N. Sathish, an employee of a company that manufactures auto spare parts, in Chennai, was taken by surprise when he learnt that coronavirus breakout in China could have an impact on printing work in India.
In the first week of February, when he took his company's brochure designs for printing, the printing press staff told him that the usual papers they used for his brochures were not available. He learnt that all shipments between India and China had been put on hold because of the spread of coronavirus, named COVID 19.
The coated paper used to print his company's brochures is one of the main types of paper imported from China.
Advertisement
India needs a minimum of one million tonnes of coated paper per annum. Domestic production accounts for 0.40 million tonnes. Of the 0.60 million tonnes that India imports, China supplies a third of it, says Shekar Chandak, convenor of Federation of Paper Traders' Associations (FPTA) committee for international trade.
The coated papers are primarily used for printing magazines, brochures, catalogues, books and calendars.
India has about 600 paper manufacturing mills. However, domestic production is not sufficient to meet the growing demand. Hence India imports paper from South Korea, Indonesia, Brazil, Thailand, Europe and USA, China being the main supplier.
Many in the industry find the quality of paper from South Korea the best. Thailand and Indonesia being the Association of Southeast Asian Nations (ASEAN) members have an advantage since India has Free Trade Agreements (FTA) with them.
China's major hold is because of their huge production capacity and cost competitiveness led by export incentives, easy access to cheap raw material and energy. They thus deny Indian manufacturers a level playing field.
The decline in production of the domestic industry necessitated the rise of India's import of paper and paperboards year-on-year.
"Indian market is price-conscious and so China caters very well," says Bharat Ranka of Venus Paper Corporation, Bengaluru. Having received his last shipment in December, he has been waiting for the next consignment.
According to Chandak, because of the infection, other transhipment ports are also not fully functional. Consignment in the containers that reached Indian ports could not be unloaded because the necessary documents have not reached the ports. With containers scattered across the seas, the total supply chain in the paper industry has been disrupted.
Ranka who imports paper from China and Korea says they feel helpless. The importers are not able to supply to the dealers. As a result, paper traders, those in the conversion industry making paper products, packaging material, boxes, wedding invites, and the like have been affected. "End users such as corporate entities and businesses also feel the impact," says Kumarpal Jain of Dharti Papier, Chennai.
Senthil Rajan, of Sivakasi, who imports art paper from China admits that there is a severe shortage of paper. "My Chinese counterparts say that the situation would ease up by the end of the month," he says. But everyone in the Indian paper industry feels that the impasse will continue for another two months.
Kishan Singh of Hyderabad says that the bulk importers are in Delhi, Mumbai and Chennai and they supply to others requiring smaller quantities like, say, 1,000 tons per month. He admits to a severe shortage of products like gum paper, a major import from China.
The shortage has resulted in a price increase. According to Chandak, prices started increasing from the second week of January. Depending on the paper variety and availability, the rates have increased from 12 per cent to nearly 20 per cent. Publisher K. Nagarajan, of Bharathi Puthakalayam, rues that Indian manufacturers have also increased the prices because of the shortage.
An official in an Indian paper mill says their business does not feel any impact. However, the paper industry complains that the domestic manufacturers are using the shortage in a different way. Other countries that import paper from China are also facing shortage naturally. Some of the paper mills in India have seized this opportunity and have started exporting to these countries.
Their supply to the local market is also delayed. "The orders we placed with local mills that used to reach us within a week take more than a month now," says Kishan Singh.
According to Chandak, the major supply chain disruption has been in coated paper used for printing purposes. The industry expects disruption and price increase in packaging boards also.
Ranka feels that the Indian manufacturers should give preference to the domestic market. Nagarajan hopes that the government would intervene on that front.
Besides, the closure of some paper plants in China, post the Sino-US trade war, could help improve the demand-supply situation for paper manufacturers in India.
Indian Paper Manufacturers Association (IPMA) which had expressed concerns over continued growth in paper imports in the country, sought the government to hike basic customs duty, and also review India's Free Trade Agreements (FTAs) that extends preferential tariff treatment to import of paper.
Meanwhile, Sathish got his company's brochures printed on a different paper. Some in the Sivakasi printing industry say that not every product can have such options. Not every paper will lend itself well for every purpose.
And so with their fingers crossed, India's paper and printing industry wait with the hope that the sunny summer ahead would annihilate the virus and bring the sunshine back into their businesses.
(The writer is a freelancer based out of Chennai)