India's moribund telecom market, which had been witnessing an unprecedented consolidation and consequent churn for months, seems to be suddenly turning around. All the three private telecom players—Reliance Jio Infocomm (through Jio Platforms), Bharti Airtel and Vodafone Idea—have begun receiving sudden interest from American tech giants and private equity investors.
On Saturday (June 6) morning, Jio Platforms announced its seventh successive equity investment in a month-and-a-half, taking the total investment close to ₹1 lakh crore (₹92,202 crore). In other words, Jio Platforms has received more than ₹2000 crore investment on an average each day since April 22. The largest investment in this series has been from Facebook, which has picked up 9.99 per cent stake for ₹43,573.62 crore.
Advertisement
There have been subsequent news reports about Vodafone Idea (VIL) getting investor interest from Google Inc, while Bharti Airtel was likely being wooed by Amazon Inc. A report by Reuters has said Amazon.com was in early talks to buy a 5 per cent stake worth at least $2 billion in Bharti; another in Financial Times has spoken of Google looking to buy up to 5 per cent stake in Vodafone Idea even as Google's parent Alphabet Inc may be looking to buy some stake in Jio Platforms.
Neither Bharti nor VIL has confirmed if talks are on or whether any equity is being offloaded. But it is clear from this flurry of activity in a short span of time that India's telecom sector is back in business and that the painful consolidation phase may have finally brought some cheer.
Why the Indian telecom sector has been buzzing during a global pandemic, when economic and investment activities were suspended throughout the world, is likely due to two factors: the sudden and meteoric rise in the need for round-the-clock connectivity as COVID-19 made 'Work From Home (WFH)' a mantra and the consequent push this pandemic has provided to the fledgeling e-commerce and e-payments markets in India.
The WFH demand has re-energised telecom networks; the pandemic has also shifted focus to digital commerce and payments.
BK Syngal, former Chairman and MD of VSNL, told The Federal that telecom continued to be a sunrise sector. "In the COVID-19 scenario, what emerged was that more people had adopted WFH. Most companies prefer and now encourage WFH. The pandemic has brought about fundamental changes in areas like WFH, e-commerce and e-payments and the sudden growth potential in these sectors is driving large investor interest."
The investment by Facebook in Jio was strategic and made with the specific intent of getting access to Jio's e-commerce muscle power, especially across small kirana stores. Other investments in Jio in recent weeks, Syngal said, could well be from funds which would like to cash out later and cannot be called strategic in nature.
In any case, Jio Platforms is the market leader in both wireless and broadband services in India, with analysts calling its infrastructure "formidable". The company has gained nearly 388 million subscribers and has almost 43 per cent adjusted gross revenue (AGR) market share besides nearly 60 per cent share in data traffic.
Related News: Reliance sells 1.8% in Jio platforms for ₹9,093.60 cr to Abu Dhabi firm
Brokerage Axis Capital pointed out that in addition, Jio also has "an ecosystem of platforms like TV, News, Chat, Wallet, Cloud, etc…. 75000+ 4G base stations and 25000+ towers. The infrastructure and ecosystem has attracted strategic partners like Facebook and marquee investors like SilverLake, Vista, GA, KKR etc."
While the unprecedented investor interest in Jio is explained partly by its infrastructure and e-commerce potential, similar reasons could be behind the world's largest retailer, Amazon, eyeing a toehold in Bharti. Amazon views India as a key market; it has already committed upwards of $6 billion investments in the country and appears aggressive in cornering a larger share of the hugely underpenetrated e-commerce market.
The market itself is expected to more than double in five years and offers perhaps the largest growth potential anywhere in the world to Amazon. Partnering with Bharti, if it does happen, could well entail a collaboration with the latter's commerce and payments initiatives, besides the leveraging of the telco's connectivity platforms.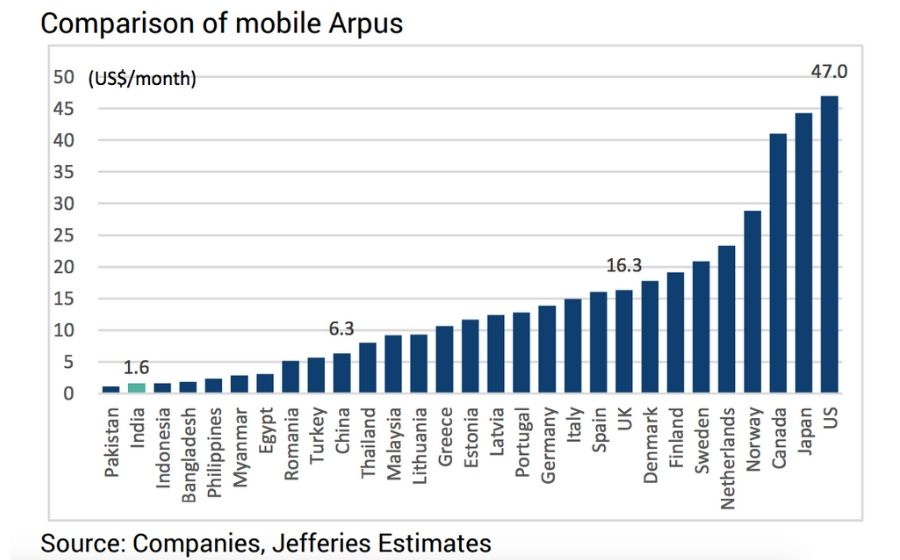 What Bharti's prospects have improved exponentially in recent months is clear from what analysts at brokerage Jefferies have said. Their projection is a doubling of Bharti's scrip in three years and mobile revenues or average revenue per user (ARPUs) of India's telecom market also doubling but in five years.
"…as pricing discipline may sustain, we argue that ARPUs could rise by 3-5% annually beyond FY25, in line with trends across FMCG and two-wheelers over the past decade. In this scenario, Bharti Airtel's fair value could range between Rs 840-1,110 in FY23, implying upside of 50-100% in three years."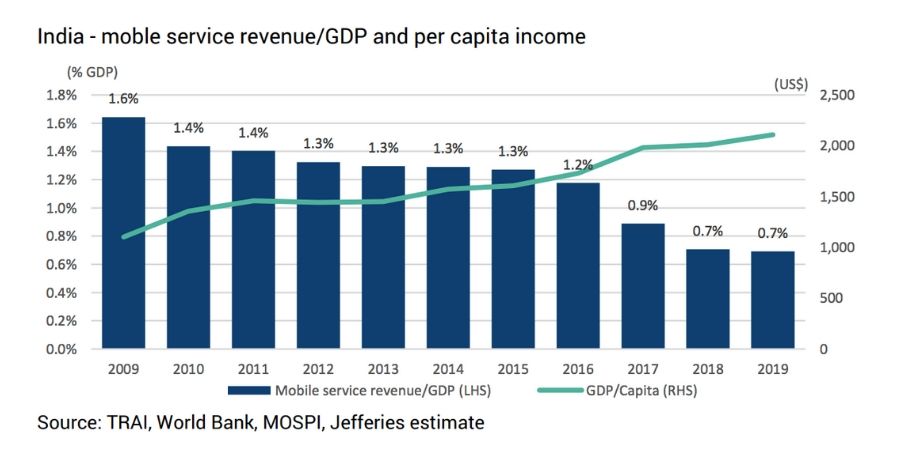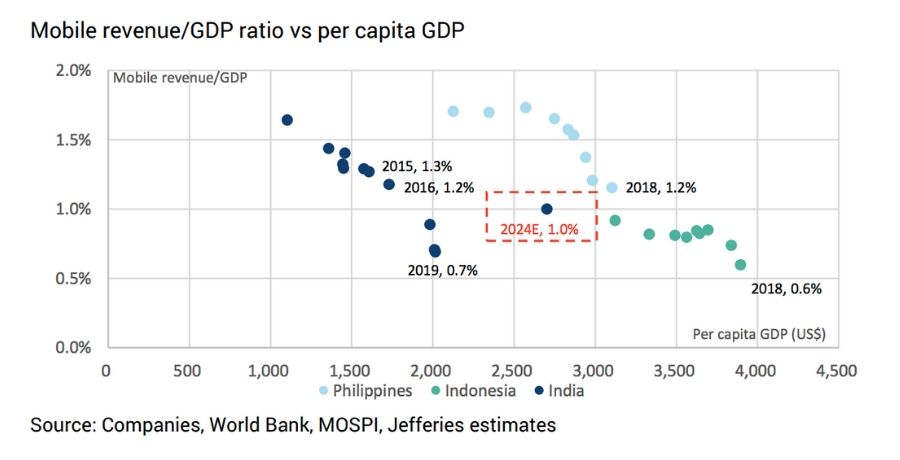 Bharti has done some aggressive balance sheet restructuring in recent months to attract renewed investor interest. And, the fact that VIL has been facing a rough time, largely due to regulatory issues such as payment of a large amount of past dues in a short time, has only helped Bharti's prospects.
Remember, India's telecom market comprised nearly a dozen players not long ago, but had shrunk to just three players last year (besides one state-owned telco). The payment of past AGR dues in a short span of time was then driving the two incumbent players (Bharti and VIL) up the wall even as competitive intensity never lessened. Reliance Jio Infocomm has been unrelenting in its march against the incumbents and has, in a short span of less than four years, taken leadership in profitability as well as subscribers.
So, the emergence of the newfound confidence of overseas investors in India's telecom sector, given this background, appears all the more fantastic and perhaps the COVID-19 pandemic is to be thanked for the turnaround in telcos' fortunes.