Incumbent telecom service providers Bharti Airtel and Vodafone Idea (VIL) have reason to cheer as the sector regulator TRAI has decided to continue the Interconnect Usage Charge (IUC) regime for another year.
This means the telcos will continue to charge ₹6 per/min for calls terminating on their networks from other networks. This will help them to stave off some depletion in their fortunes.
While it is a much-needed relief to the beleaguered incumbents, the IUC earnings will not save them from the impending financial precipice. The regulator's IUC decision is a small, short term relief at best. It is pertinent to consider the precarious situation of India's telecom industry as the IUC regime continues in 2020. There has been a churn ever since the Supreme Court asked all stakeholders to pay up legacy dues amounting to thousands of crore, within months.
Also read: RJio's move to charge for calls may force other operators to raise tariffs
The market has four operators – incumbents Bharti and VIL, newbie Reliance Jio Infocomm (started operations three years back) and state-owned BSNL-MTNL combine. The order of the apex court on paying old dues has impacted the two incumbents the most. So, the continuing income from IUC will help to a certain extent but it is not the panacea to cure the ills plaguing the industry currently.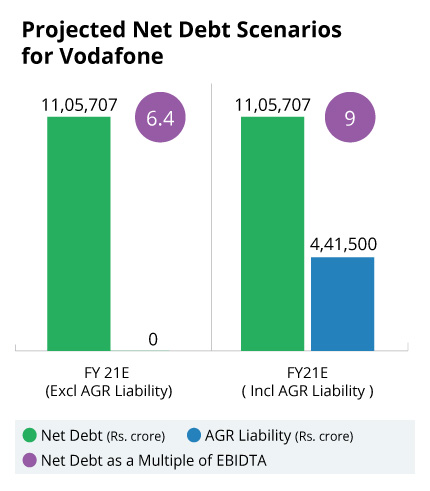 According to industry estimates, Bharti owes the government nearly ₹40,000 crore in past dues, while VIL owes around ₹ 50,000 crore. Industry veterans point out that for Bharti, the IUC continuance would mean an annual saving of close to ₹1,000 crore, while for Vodafone this would amount to nearly ₹1,800 crore. VIL earned about ₹300 crore in Q2 from IUC while Bharti earned around ₹ 200 crore. Of course, RJio gets impacted when IUC continues since most calls are at present originating in its network and terminating in Bharti, VIL networks. In Q2 alone, RJio's payout for IUC was about ₹650 crore.
Obviously, a thousand crore or two in a year will not really save the face for the incumbent telcos, unless they can raise additional funds to make the huge payment demanded by the government or manage to win a reprieve from the apex court. Having said that, VIL will be the most relieved from TRAI's decision.
Also read: Potential payment of past-due fees weighs on Airtel's credit profile: Moody's
In its order on Tuesday (December 17) evening, TRAI said, "On the basis of comments received from stakeholders in writing and during the open house discussion, and its own analysis, the authority has prescribed the revised date of applicability of Bill and Keep (BAK) regime, i.e. zero termination charges in respect of wireless to wireless domestic calls with effect from January 1, 2021, through these regulations."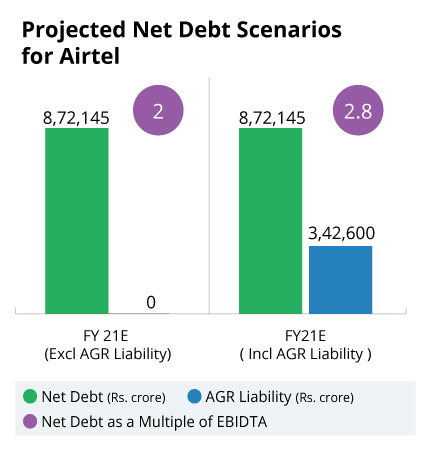 As of now, all telcos charge ₹6 per/min as IUC. TRAI quoted telcos who argued in favour of continuing with IUC as saying:
1) Despite making huge investments in the rollout of 4G networks and buying expensive spectrum waves, 4G traffic constitutes a very small portion of total voice traffic due to the slow adoption of 4G technology by consumers in India. They said the share of 2G capable devices continues to be the largest in their networks and makes a significant quantum of their customer base. Even today, in the Indian mobile device market, approximately 30 million 2G/3G phones are being bought by poor and low-income customers every quarter.
Further, the continuous growth in BSNL – an operator who is not a significant player in 4G services market – subscribers is another indicator that there is a demand for 2G/3G services. As per GSMA study, approximately 30% of customers will continue to use 2G/3G connections in India till 2022. Since this means they cannot just shut off 2G-3G networks in haste.
2) There is always a cost associated while terminating a call irrespective of IP or non-IP network, as in both the cases, cost of power, rental for the tower, spectrum etc. is involved. They also claim that the cost of completing a call is much higher than ₹6 per/min.
It is important to recall that in October this year, RJio reversed its own promise of never charging for voice calls and started charging ₹6per/min for each outgoing call, sensing that TRAI may continue with the IUC regime.
Also read: Trai moves to fix floor tariffs for mobile call, data
Meanwhile, analysts at brokerage firm IIFL, said that VIL will be the biggest short term beneficiary of the TRAI decision. "TRAI regulation to maintain IUC at the current ₹6per/min for a year is along expected lines and provides the most short term relief to VIL while RJio would see a temporary adverse impact. In Q2 Fy20 (July-September 2019), IUC EBITDA accounted for 28% of VIL's and 3% of Bharti's consolidated EBITDA. On the other hand, net IUC costs were 13% of RJio's EBITDA. These numbers are declining as the minutes mix of telcos has been changing and Rjio seems set to become a net IUC earner in the next 3-4 quarters."
As the relevance and earnings from IUC dwindle, the telcos' fortunes hinge on a review of the SC decision.
Analysts at ICICI Securities noted that, "AGR (adjusted gross revenue, indicates the mega payout due from incumbent telcos) resolution, with at least waiver of interest + penalty, critical for maintaining industry structure of three private players (+BSNL/MTNL). If the entire AGR liability is to be paid by 24th January 2020, then we see this industry consolidating into a two private player market as VIL may not remain a going concern."
Also read: Tariff hike good for telecoms, but may impact user behaviour