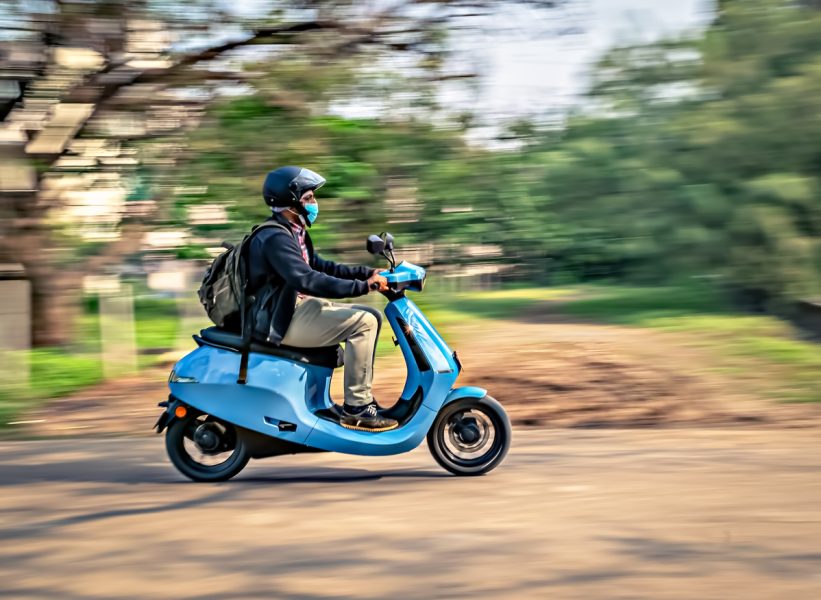 To remain on fast lane, India's EV sector needs strong regulation
Electric two-wheelers or EVs have become one of the most "inflammable products" in India as reports of several vehicles going up in flames pour in from different parts of the country.
As per reports, EV manufacturers are in the process of recalling nearly 7,000 vehicles, following a statement from Union Road Transport and Highway Minister Nitin Gadkari warning of heavy penalties on manufacturers who continue to produce faulty vehicles. Gadkari said an expert committee has been constituted to enquire into the accidents that have occurred so far and suggest remedial steps.
As per records, 20 Jitendra EVs (while in transit), three Pure EVs, two Okinawa EVs, one Ola and one Boom EV two-wheelers have caught fire so far, resulting in casualties, injuries and fear in the minds of lakhs of prospective buyers.
Quick recalls
Ola Electric has voluntarily recalled a batch of 1,441 units of its electric two-wheelers; Okinawa Autotechh has recalled over 3,000 vehicles while PureEV has recalled 2,000 units. Citing preliminary assessment, Ola Electric has said the the fire incident of its vehicle was an isolated case, but promised it will conduct a detailed diagnostic and health check of its scooters.
Experts say that with the government pushing for electric vehicles by offering a slew of incentives, it was bound to attract several companies that either launched their own start-ups to build two-wheeler EVs or fast-tracked their foray into this space.
Among the incentives which the government announced recently, was the ₹26,000-crore Productivity-Linked Incentive (PLI) scheme for the auto and drone sectors. Of this, a big chunk of ₹25,398 crore was set aside for electric vehicles, hydrogen fuel vehicles and others. Automobile companies that will invest ₹2,000 crore for four-wheelers and ₹1,000 crore for two-wheelers for five years are eligible for benefits under the PLI scheme.
As of now, there are over 400 two-wheeler electric vehicle manufacturers in the country, but only a few of them are eligible for the PLI scheme.
Why do EVs catch fire?
Pratik Kamdar, co-founder of Neuron Energy which supplies Li-Ion and lead acid batteries to the EV two-wheeler and three-wheeler makers, said that several players in the business have set up manufacturing plants but have little knowledge about batteries. "Substandard quality cells are used by a majority of battery companies to manufacture battery packs with poorly installed BMS (battery management systems). This causes high energy density cells which lead to thermal runaway and increase the risk of fire," Kamdar said.
Also read: An ordeal by fire for new electric vehicle makers and users
What needs to be done to avoid fires?
Develop a regulatory framework for EV manufacturers and battery makers, holding them accountable for use of cells, BMS and compliance with regulations.
2. EV manufacturers and battery makers should use fire-resistant grade battery materials along with superior BMS and best quality cells.
3. The EV manufacturers should provide better spacing for batteries and avoid the obsession with extreme compact sized batteries, which could be one of the reasons for thermal runaway eventually leading to fire incidents.
4. Reduce the under-seat storage by 30 per cent and use vibration pads to further ensure stability of the battery pack.
5. Install thermal pads to ensure sufficient cooling.
6. A standard operating procedure (SOP) should be followed while transporting an EV from the manufacturer to the dealer.
7. Batteries should not be connected to vehicles during transportation from factory to the showroom.
8. Batteries should be kept at a 30 per cent state of charge to avoid risk of fire during transportation.
9. Store batteries in a cool and dry environment and avoid direct sunlight and water.
10. Quarterly servicing of batteries is a must because fire instances in EVs do not happen all of a sudden but because of problems persisting for 10-15 days before the actual incident.
'Don't blame another country for faulty design'
Dhivik A, the co-founder and CEO of GoGreen BOV, which makes electric two-wheelers, told The Federal that blaming another country for faulty design is a short-sighted approach to solving the issue. "As far as battery packs are concerned, it is important to focus at least 40 per cent energies on getting quality cells, another 40 per cent on how battery cells are managed, 10 per cent on getting BMS right and the rest on the battery pack," he said.
Another analyst The Federal spoke to said that Indian companies should focus on engineering aspect of the product and also on how these batteries can work in Indian conditions. "All-electric vehicles are FAME (Faster Adoption and Manufacturing of (Hybrid) and Electric Vehicles) certified which means 80 per cent of the vehicles need to be indigenized. So, to blame another country for our problems is not fair," he pointed out.
Also read: Gadkari woos Musk at Raisina summit; says making Teslas in India would be profitable
It is important the government makes it mandatory for those who put up battery swapping stations across the country to adhere to the highest safety standards. "Imagine if batteries catch fire, almost the entire area around that station will be up in flames and the normal way of dousing the fire with water jets will not work here," the analyst said.
Chasing market share
Another founder of an EV maker said some manufacturers have lost market share because the vehicle mileage (from each charge) they promised was never fulfilled. "Any vehicle that is less than 250 watts and gives a mileage of 25km/hour is treated as a non-number plate vehicle. Above that limit, the vehicle needs necessary regulatory approvals and it costs a lot of money to be approved as a number plate vehicle. However, there are several manufacturers who were getting their vehicles approved in the less than 250-watt category but fit a higher power motor (without declaring it to the regulators) to enter the market and this opens up a host of problems both for the manufacturer and for the customers," he said.
Therefore, the government should set up a regulatory authority only for electric vehicle manufacturers as certain policies and incentives are also tailored for the class of vehicles.