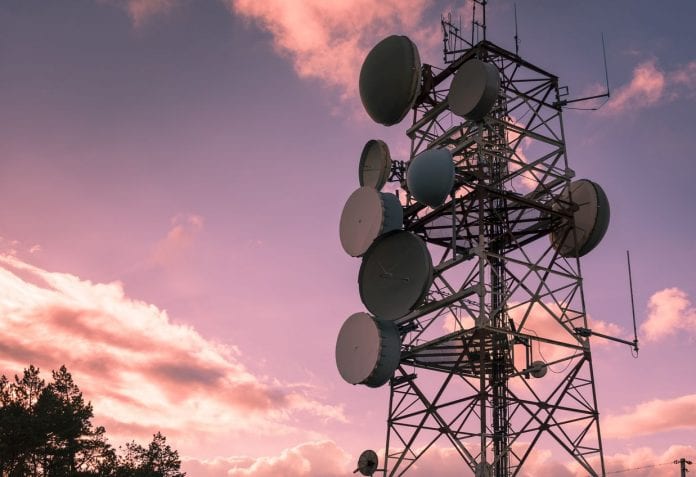 India's historically low telecom tariffs have been hiked over the weekend by anywhere between 25-40%. While in actual terms, the increase may seem insignificant (one of the plans offer ₹14 per month for 28-day recharge) in some cases, neither is the quantum of the hike too small to be ignored nor is the message the telecom operators are sending out to a billion-plus users of mobile services in India.
Lifesavers for telecoms
Indian customers have enjoyed talking and watching their favourite TV shows at unheard of low prices for years, especially after the arrival of Reliance Jio Infocomm (RJio) in 2016. RJio came with unprecedented freebies, promising lifetime free voice services and very economical data charges. In one swoop, the price rise announced by incumbents Bharti Airtel, Vodafone Idea (VIL) and RJio have taken the industry back to the pre-RJio days.
Higher tariffs will translate into improved ARPUs (average revenue per user) for both the two incumbents. This, in turn, should lead to higher EBIDTA (earnings before interest, depreciation, tax and amortisation margins) and thus lower Capex.
Why this round of tariff hikes is an important milestone in the telecom journey of India should be seen in the context of the recent Supreme Court decision, which put Bharti and VIL in a precarious financial position, since it mandated huge payouts by these two incumbent telecom companies to the government in past dues (RJio escaped this payout since it came into the market only three years back).
The telecom sector, which had already been over-leveraged, then came face to face with the prospect of a collapse as the incumbents, specially VIL, found it near impossible to raise more debt to pay the pending levies to the government. So, the tariff hikes have come as lifesavers, at least for VIL.
Also read: Vodafone, Airtel, Jio hike tariffs by 40-50%, effective from Dec 3
Have subscribers been fleeced by telcos for their own past shortcomings? That is surely one way of looking at the developments. Another is to realize that the unviable, rock-bottom tariff regime was not sustainable and would have ended sometime or the other.
Tariff hike may affect data usage of customers
Analysts at Goldman Sacs said in a note that Bharti and VIL's new tariffs for prepaid segments – prepaid accounted for almost 80% of total wireless revenue in the July-September period this year – are 22% higher on an average for 28-day plans and 33% higher for 84-day plans. So at the very lowest ticket size, tariffs have been raised by a fourth while the increase is by about a third for those slightly higher up in the pecking order.
Remember, telcos have quietly already implemented what is known as a "fair usage policy" where voice services over 1,000 minutes per month now get charged at the rate of 6 paise per minute. This was done by Bharti and VIL after RJio decided to implement the same charge for voice calls terminating on other telcos' networks some weeks back.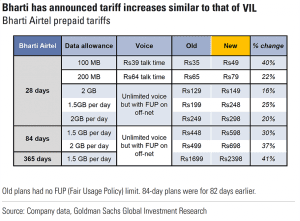 RJio's action negated its initial claim of keeping voice services free for life and also pushed competitors to hike rates. Bharti and VIL argue that this new charge does not affect a bulk of customers and only impact those who are anyway high users of their services.
But industry executives agree that the latest round of tariff hikes could alter data usage habits of customers besides also impacting the 2G customers – who predominantly use voice services.
Meanwhile, the GS analysts said, "We were expecting a 10-12% hike across the board. Bharti and VIL announced about 30% (average) higher prices for their lower-end plans offering 100/200 MB data – we note that these plans are largely targeted at feature phone users, and we were not expecting any tariff hikes for this segment. While we await details on new tariffs from RJio, we believe investors are likely to view the announcements by VIL and Bharti Airtel as positive for telco stocks; our initial math suggests annual EBITDA of telcos could go up by $1 billion as a result of the above announcement."
Not only are analysts pleasantly surprised with the quantum of the hikes, they concur that for VIL this could be a lifesaver. Analysts at Axis Capital said in a note that government wants three private and one public player in the market. "This requires continuity of Vodafone Idea as a going concern with its balance sheet most stressed at net debt/EBITDA of 7.6x (9.5x including provisioning for AGR-related penalty).
Need to meet target revenue 
Hence, we base our tariff hike analysis on Vodafone Idea to assess the hike required to meet its key quarterly expenses totalling ₹81 billion, which includes ₹35 billion per quarter of Capex and ₹40 billion interest on existing debt per quarter besides additional interest outgo on the debt that may be required for AGR-related penalty at ₹6 billion per quarter. We already expect it to generate ₹40-50 billion per quarter in EBITDA in FY21 (based on our existing subscriber, ARPU and EBITDA estimates). Hence, increase in ARPU needs to generate ₹30-40 billion per quarter."
Also Read: Govt relief, tariff hike temporary fixes for Bharti, Vodafone Idea
GS analysts said VIL's revenues could be about 22% higher (assuming a subsequent hike even for postpaid) compared to the July-September quarter after the price hikes and EBITDA could be about 170% higher. "For Bharti Airtel, assuming the announced tariff details, revenues could potentially be 24%/12% higher for wireless/consolidated (vs. what they reported in 2QFY20), with EBITDA 70%/26% higher (wireless/consolidated)."
Whether these tariff hikes bring about any large scale change in consumer behaviour remains to be seen. A typical phenomenon – missed calls – has already been addressed by telcos since now, a minimum monthly recharge is needed even to get only incoming calls to a connection. Will hours of movie watching on phones be history now?