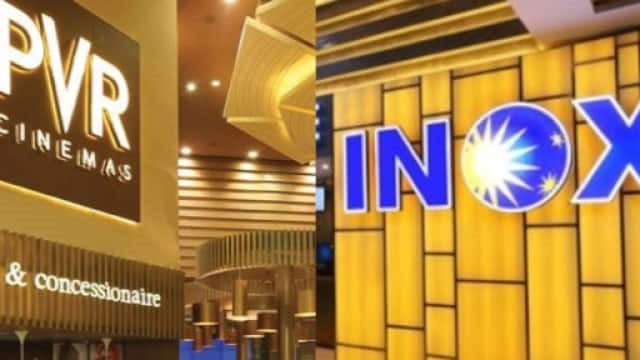 PVR-Inox: OTT threat, post-COVID dynamics drive multiplex consolidation
The big merger announcement between multiplex chains Inox and PVR that will result in a combined screen strength of over 1,500 across 110 cities and towns, is a strategic move to protect its turf because of the increasing competition from OTT players and the changing dynamics of the entertainment industry post-COVID.
The narrative about the consolidation of multiplexes had kicked off much earlier with newspaper reporting about a possible merger between PVR (over 900 screens) and another multiplex Cinepolis (over 400 screens), but this seems to have fallen through at the last minute. This could have forced PVR to look for other players for a potential merger.
While analysts have claimed streaming and exhibition will not cannibalise each other, the higher cost of watching a movie in a theatre could be a deterrent as post-pandemic, the taste of the moviegoers have changed significantly. This fact has not been lost on multiplex management, who find that footfalls have reduced over a period of time and they have to increasingly depend on non-movie revenues like food and beverages to sustain their operations. This was acknowledged at the investors' meet when the management admitted that OTT poses a strong risk to their business.
Meanwhile, the merger will lead to a presence of over 50 per cent for the combined entity, which means that out of every two screens, it will own one. The move has good potential because higher capital expenditure and fixed operating expenditure were turning out to be an albatross around their necks and now they can drive cost efficiencies together. Also, such a huge presence could allow them to nudge studios to go for theatre releases. It could also help the merged entity bargain for lower interest costs while raising debt.
As far as the contours of the new combined management are concerned, it plans to open 200 plus screens annually with the expansion in tier 2 and 3 cities continuing to remain the focus. Both the partners have agreed to add 1,000 screens each over a period of five-six years. (China, according to various reports, has about 80,000 screens).
Once the merger is put in place, the PVR management team will run the day to day operations and the new screens will be rolled out under the PVR-Inox brand. The older individual brands will however continue to co-exist. The Inox management will have representation across two board seats similar to PVR promoters.
Also read: COVID pandemic may give a push to drive-in cinema in India
The management has ruled out the rationalisation of screens as they have managed to avoid the same catchment areas. The merger leaves out Cinepolis and Carnival multiplexes (with around 400 screens each) to fend for themselves unless the Competition Commission of India (CCI) comes to their rescue. According to ICICI Securities, in a much smaller deal between PVR and DT Cinemas in 2016, some screens had to be divested for the deal to go through. The merged entity had 39 screens and the CCI asked the management to shed seven screens for the deal to become valid.
However, if the exemption clause is applied for this deal as the total revenues in FY22 will be below ₹1,000 crore and since this is the outer limit to draw CCI's attention, the merger will go through without a hitch. (The government has waived off CCI approval for merger entities that have less than ₹1,000 crore in revenues). "But, the CCI has the right to raise queries and, if it does so, the company/ies will have to respond appropriately. Hence, CCI's view on the merger is the only possible hurdle we see," ICICI Securities wrote in a note to investors.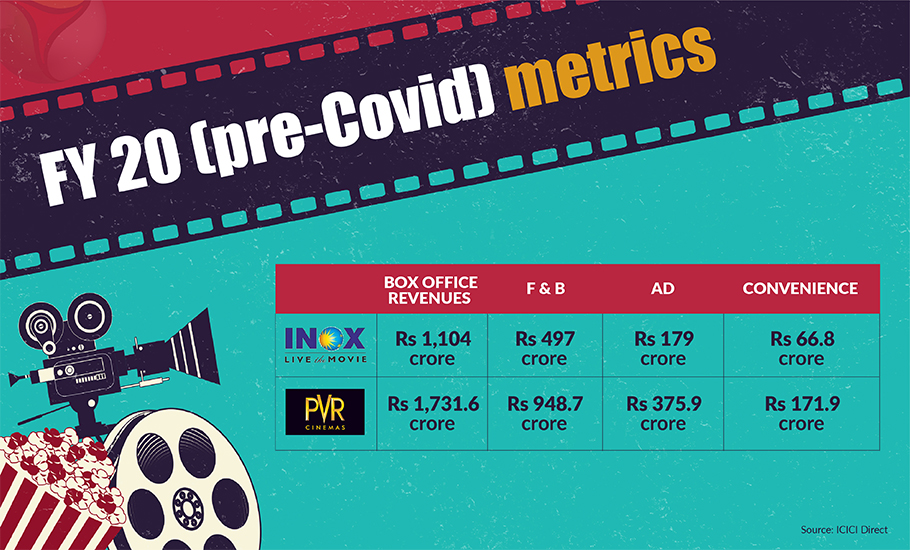 The other benefits of the merger could be one, higher pricing power in advertising. Inox's advertising revenues in FY20 was ₹179 crore, while that of PVR was ₹376 crore. The revenues from F & B for Inox was ₹497 crore and that of PVR was ₹949 crore.
The merger is expected to lead to better bargaining power and cost synergies leading to higher revenues from these two buckets. Secondly, as multiplexes are traditionally housed in shopping malls, the management will now be in a better position to strike lower rentals which again will lead to cost savings.
Analysts have pointed out that the merger between the two multiplexes is a bit too early for the industry. But the pandemic has fast-tracked several decisions, as corporates look for a better hold of their businesses and reduce similar kinds of shocks arising out of the COVID situation.