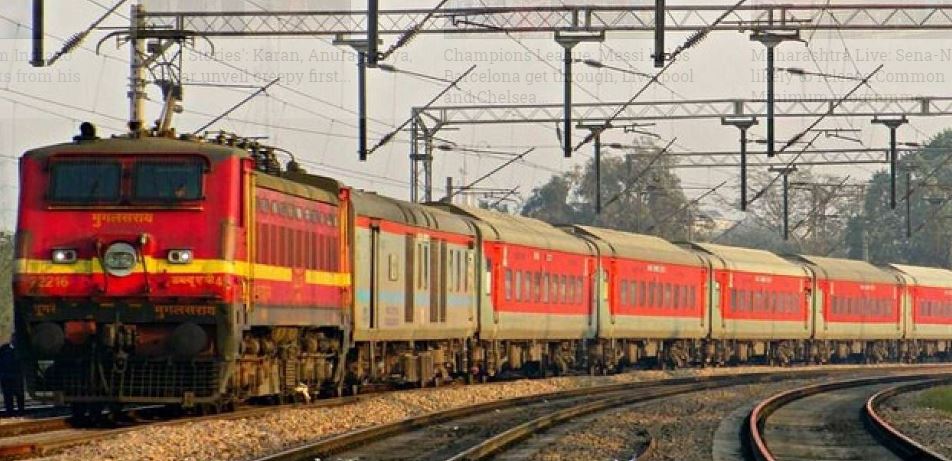 Late, but just in time: Centre's plan to hike train fares is need of the hour
There can be no quibble with the decision of the Indian Railways to raise passenger fares, as some recent reports have suggested, especially since the financial situation of the country's biggest transporter is precarious.
There can be no quibble with the decision of the Indian Railways to raise passenger fares, as some recent reports have suggested, especially since the financial situation of the country's biggest transporter is precarious. Earnings from its freight business are down by almost ₹15,000 crore during the first seven months of the fiscal compared to the target set out in the Budget and working expenses have risen simultaneously. Earnings from the passenger business too are struggling to keep up, with a nearly ₹2,000 crore gap between the actual and the target.
Just how precarious has been the financial condition of the railways can also be seen from its consistently high operating ratio (how much it spends to earn each rupee). Not only has the OR worsened during the Modi government's first term, in at least three of the last five years, this ratio was over 95%: 96.5% in 2016-2017 and 98.4% in 2017-2018. For 2018-2019, it has been revised upwards from 92.8% at BE to 96.2% in the Interim Budget and further to 97.3%. For 2019-20, the OR target is 95%. Reports suggest the OR for this fiscal has crossed 100%.
Also read: Freedom to price key to success of Railways' private operators 
Fancy trains, but no passenger flow
The recommendations of the 22nd report of the Standing Committee on railways noted that Indian Railways continues to incur losses every year on un-remunerative services. The losses are mostly due to (i) low ordinary second class fare (ii) low suburban and non-suburban season ticket (iii) loss on essential commodities carried below cost and (iv) a variety of concessions granted on passenger ticket. Working of uneconomic branch lines, too, imposes a heavy burden on the railways' finances. A gap is thus created between the revenue income generated through these services and their cost.
But despite such dismal financials and the obvious need to raise fares, this move would still be rather ironic. First, the number of passengers the railways has been carrying has hardly grown in the last few years and for nearly all of this fiscal, it has been declining. When the Indian Railways' attractiveness as a mode of transport is anyway lessening, does it make sense to raise fares and make it perhaps even more non-competitive compared to, say, road or air transport? Second, the Modi government's ambitious move to introduce airline-style flexi-fare scheme in a minuscule number of trains in 2016 faced a severe backlash.  The scheme, which mandated an increase in fares as a coach filled up, has already been watered down in some trains and removed all together in others. If flexi-fare couldn't pass muster, will an across-the-board fare hike go down well with the millions of commuters taking a train to their destination?

Precarious finances
The Indian Railways has been reporting a severe revenue shortfall compared to targets set out in the Budget for 2019-2020. According to its own statistics, its freight earnings have fallen short by almost ₹15,000 crore from the Budget target during the first seven months of this fiscal, at ₹62,733 crore against the target of ₹77,616 crore. During this period, it loaded almost 33 million tonnes less than the target set out in the Budget. As for passengers, these seven months have seen 160 million less passengers taking a train anywhere in the country compared to the Budget target – in other words, a nearly 23 million monthly fall in passenger numbers versus the target. This decline has led to an almost ₹2,000 crore shortfall in passenger earnings versus the Budget target.
The total gross receipts of Indian Railways (which include sundry earnings too) have therefore fallen by almost ₹19,500 crore during these seven months compared to the target set out in the Budget. This works out to daily shortfall of over ₹90 crore in gross receipts versus target. But during the same period, the Indian Railways' working expenses have increased by over ₹4,000 crore. With a widening gap between targeted and actual earnings and a simultaneous increase in working expenses, is it any wonder that the Indian Railways is pushing for a fare hike?
For the month of October alone, there was a decline of almost 30 million passengers against the Budget target while freight loading was less by over 12 million tonnes. Total traffic receipts fell by close to ₹5,000 crore in October alone to ₹13,387.67 crore versus the target of ₹18,196.4 crore. But working expenses rose by over ₹620 crore during October.
Declining passengers
Experts have pointed out earlier that the Indian Railways' modal share of passengers is just 10%, which means only one in 10 domestic passengers anyway takes a train to her/his journey. The decline in passengers has been an annual affair for the railways and there are multiple reasons for this: overcrowded trains, the inability of the Indian Railways to introduce new trains due to existing over capacity on dense routes and especially for this fiscal, the economic slowdown which may have pushed willing passengers to postpone their journeys. Then, the highly competitive budget airline fares are also pulling passengers away from trains, along with improved road transport options.
Flexi-fare scheme
Passenger fares have traditionally been heavily subsidised through freight earnings and then there are some heavy concessions too. A senior official of the Indian Railways had said earlier that in suburban trains, for example, ₹10 is the fare for travel up to the first 40 km – and that this fare does not even cover the cost of a seat. When the flexi-fare scheme was introduced in late 2016, the government had ensured it was applicable to less than 2% of all trains and the highest fare for any seat was capped at 1.4% times the base fare. The scheme initially generated some incremental revenue but also lead to widespread protests from MPs and passengers. It was then tweaked last November to reduce both, the number of trains and the highest fare.
Also read: Why private players in Indian Railways could be a game changer
In another related move, the Indian Railways has already allowed subsidiary IRCTC to operate trains on select routes as a private operator and plans to eventually offer trains to private operators on some routes with no fare caps or concessions.
Just that one move has already sent jitters through the staff of the largest employer in the world. It also comes at a time when reports suggest that the PMO is bearing down on the railway board to get rid of non-performers. Obviously, railway finances will not just be corrected by cutting flab, but will also require more realistic passenger ticket prices. It is a move Modi's predecessors have time and again put off fearing a political backlash. But the dismal state of affairs at Indian Railways seems to have forced the Prime Minister's green signal now.