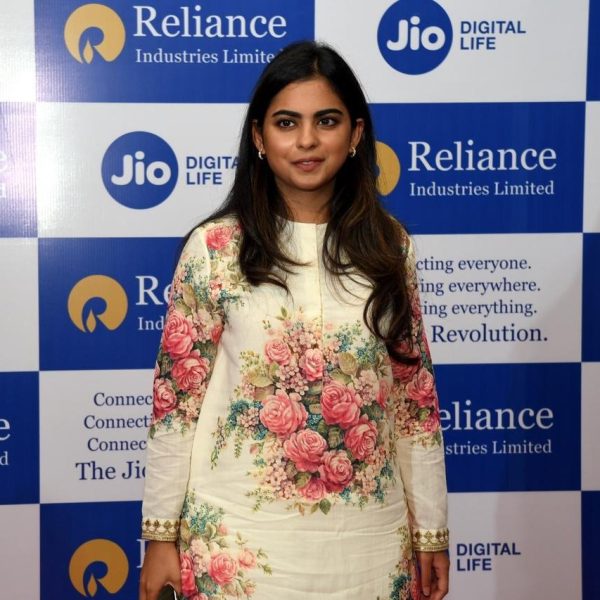 Isha Ambani set for top role: All you need to know about Mukesh's daughter
In 2014, Isha, along with Akash were appointed to the boards of Reliance Jio Infocomm Ltd and Reliance Retail Ventures Ltd. At the time, Isha was 23 years old.
After the appointment of Akash Ambani as the chairman of Reliance Jio Infocomm, Mukesh Ambani is set to name his daughter Isha Ambani as the chairperson of Reliance Retail Ventures Ltd, according to reports.
Mukesh resigned from the board of Reliance Jio and handed over the reins of the company to his elder son Akash. This step is seen as a succession plan by the 65-year-old billionaire.
Also read: Akash Ambani named Reliance Jio Chairman; Mukesh Ambani resigns
In a stock exchange filing, Reliance Jio Infocomm said the company's board at a meeting on June 27, "approved the appointment of Akash M Ambani, non-executive director, as chairman of the board of directors of the company".
Now, Akash's twin sister Isha too is set for a big role in Reliance. Here are some of the facts you need to know about Isha, 30.
Isha graduated from Yale University with majors in psychology and South Asian studies in 2013. She also has an MBA degree from Stanford Graduate School of Business. Later, she worked briefly with the global consultancy firm McKinsey in the US.
Opinion: Dividing assets and doing it well, the Mukesh Ambani way
On December 12, 2018, Isha married Anand Piramal. Anand is the son of the Piramal Group's Ajay and Swati Piramal.
Mukesh during an event in 2018 had said it was Isha who was the brain behind Jio in 2011. Jio telecom services were launched in 2015. In December same year, Isha and Akash introduced Jio 4G services at a star-studded event.
"The idea of Jio was first seeded by my daughter, Isha, in 2011. She was a student at Yale (in the US) and was home for the holidays. She wanted to submit some coursework – and she said, 'Dad, the internet in our house sucks'," Mukesh said.
"Isha and Akash belong to India's young generation that is far more creative, far more ambitious and far more impatient to become the best in the world. These young Indians convinced me that broadband internet is the defining technology of our age and India cannot be left behind," he added.
In 2016, Isha was seen at Reliance's AJIO.com's preview at Lakme Fashion Week.
In 2014, Isha and Akash were appointed to the boards of Reliance Jio Infocomm Ltd and Reliance Retail Ventures Ltd. At the time, Isha was 23 years old.
Also read: Mukesh Ambani is planning leadership changes; why, and what next?
When she was just 16, Forbes ranked her number two on a list of the world's youngest billionaire heiresses. "The only daughter of the world's fifth-richest man, Isha has been photographed with her father at cricket matches. (He owns IPL team Mumbai Indians). At 16, she already holds a stake worth about $80 million in Reliance Industries, the petrochemicals giant her father runs. A former student body council president, she also plays on her school's championship soccer team and is a trained pianist," Forbes wrote in 2008 about the list.
In 2021, the Smithsonian's National Museum of Asian Art in the US, appointed Isha to its board of trustees. The Smithsonian's Board of Regents approved her and others appointments for four-year terms each, effective September 23, 2021. The 17-member Board of Regents, consisting of the Chief Justice of the United States, the Vice-President of the United States, three members of the United States Senate, three members of the United States House of Representatives, and nine citizens, is responsible for the administration of the Smithsonian.
In the Fortune's 40 Under 40 — an annual list of influential individuals under the age of 40 — Isha was among the "emerging leaders" across the world, in its 2020 edition. Isha and Akash Ambani were included in the 'technology category'.
"They say data is the new oil — and when it comes to Reliance Industries, India's largest company, that's literally the case… As Jio board members, [the Ambani scions] helped seal the company's recent megadeal with Facebook — $5.7 billion for a 9.99 percent stake — plus major follow-on investments from marquee tech titans like Google, Qualcomm, and Intel. The flurry of investments lent the business an eye-popping $65 billion private valuation. Recently, Akash and Isha helped launch Jio Mart, a venture that aims to challenge Amazon and Walmart's Flipkart for command of India's massive and fast-growing online shopping market," Fortune magazine wrote.
In December 2021, at Meta's 'Fuel for India 2021' event, Isha said in an interview that small businesses are the bedrock of India's economy.
"We believe that small businesses are the bedrock of our country's economic backbone. The pandemic really brought home the truth that small merchant shops, retailers, and small businesses urgently needed to convert their physical brick and mortar stores to digital storefronts. For us, it meant an acceleration of delivering our responsibility to enable them digitally," she said.