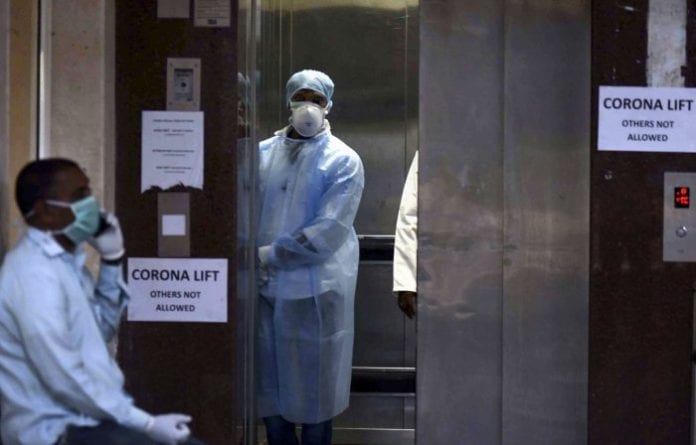 The world is grappling with the unprecedented COVID-19 pandemic and everyone is expected to pitch in with whatever help possible. Some of the world's billionaires are leading the fight against this pandemic by creating large funds to help the needy and also getting their businesses to come forward with measures.
Reports suggest that the Bill and Melinda Gates Foundation has pledged $100 million in its COVID-19 fight; the other super rich such as Jeff Bezos of Amazon and Jack Ma of Alibaba are also donating millions of dollars besides diverting their resources to help fill shortages from medical PPE to ventilators. Are India's super rich also doing their bit to combat the fallout of this deadly pandemic? After the marquee global billionaires began pleading their millions, India's twitterati started lampooning our desi super rich.
Related News: Key to win COVID-19 fight lies in hands of MCI, its young brigade of medicos
Advertisement
To be fair, the businesses of some of the Indian super rich did come forward with some initiatives to help fight the pandemic, though the demand from some quarters to actually create a large corpus with pledged funds from industrial houses remains unfulfilled. There are widespread shortages of critical medical equipment, hospital beds and medicines and it is nearly certain that India is slipping into a recession.
The need for a fund bigger than the ₹15,000 crore announced by the government for medical supplies is looking more and more urgent as reports pour in from across India of doctors and medical workers sending SOSs over the unavailability of PPE, leaving them in grave danger. Given the example of both Italy and China, where some of the highest casualties have been among the medical professionals, it is all the more critical for the private sector to turn its attention in this direction.
In a bid to tackle the crippling shortage of ventilators, the government has begun nudging automobile manufacturers to use their facilities currently sitting idle for manufacturing ventilators. At least two seem to have begun work on this.
Ventilator 2: 2 pronged approach. At one end, we along with two large PSUs are working with An existing manufacturer of high spec ventilators to help them to simplify design and scale up capacity. Our engineering team is right now with them working on it. @PMOIndia @MahindraRise

— Pawan K Goenka (@GoenkaPk) March 26, 2020
Ventilator 3: at other end we are working on an automated version of the Bag Valve Mask ventilator (commonly known as Ambu bag). We hope to have a Proto ready in 3 days for approval. Once proven this design will be made available to all for manufacturing. @PMOIndia @MahindraRise

— Pawan K Goenka (@GoenkaPk) March 26, 2020
But the third threw in a word of caution when talking to The Federal. The chairman of Maruti Suzuki India, R C Bhargava, told this correspondent that the company was "looking into the possibility of manufacturing ventilators at our facilities but issues, including imports of electronic controls from China, remain. This isn't something anyone can do in a rush".
Earlier, the Managing Director of Mahindra & Mahindra, Pawan Goenka, said that his group was in talks for manufacturing ventilators. "…we are working on an automated version of the Bag Valve Mask ventilator (commonly known as Ambu bag). We hope to have a Proto ready in 3 days for approval. Once proven this design will be made available to all for manufacturing" Goenka tweeted. The Tata Group is also working on making ventilators at its automobile facilties.
N Chandrasekaran to CNBC-TV18: Tata Group is looking at setting up a plant to manufacture ventilators; team working on it on priority#CoronavirusLockdown #StayHome @ShereenBhan pic.twitter.com/KUjXctzGfT

— CNBC-TV18 (@CNBCTV18Live) March 24, 2020
Chairman N Chandrasekaran has said some Tata companies were working on ramping up procurement of medical equipment and that the group was looking to set up a plant to make ventilators. Additionally, some of the group's hotel properties would be converted to isolation wards and healthcare centres.
I am committing 100 cr towards fighting the Pandemic. #DeshKiZarooratonKeLiye is a pledge that we undertook & this is the time when our country needs us the most. Many people are facing uncertainty & I'm specially concerned about the daily wage earners, we will do our bit to help pic.twitter.com/EkxOhTrBpR

— Anil Agarwal (@AnilAgarwal_Ved) March 22, 2020
Vedanta Chairman Anil Agarwal has tweeted about his ₹100 crore commitment to fight the COVID-19 pandemic. And Reliance Industries has already set up a dedicated 100-bed centre in Mumbai for patients. The Reliance Foundation is providing free meals across various cities in partnership with NGOs and the conglomerate has increased production of face masks to a lakh units per day.
These India Inc initiatives are a good start. But perhaps a long drawn COVID-19 impact would require much more commitment from not just India Inc but the billionaires themselves.
Related News: Trump, Modi, Xi or Johnson, COVID-19 is testing their mettle
It is pertinent to note here that the wealth of the India's super rich has grown faster than there global compatriots in 2019 and the gap between India's rich and poor has only widened again last year. The latest research published by Oxfam has noted that billionaire fortunes in India increased by 35% or by more than a third at ₹2,200 crore every single day in 2019 while the poorest 10% of Indians (13.6 crore) continued to remain in debt since 2004.
The increase in the wealth of the Indian super rich was twice as much as the global average since globally, billionaire fortunes increased by 12%. Here's another number: Oxfam said India's combined revenue and capital expenditure of the Centre and State for Medical & Public Health, Sanitation & Water Supply is ₹2,08,166 crore, less than the wealth of India's richest man, Mukesh Ambani.
Not just the billionaires, the government too may need to alter priorities as the harsh economic realities of a post-COVID19 world dawn upon us.
As an MP, I appeal to @PMOIndia to divert the ₹20,000 Cr earmarked for new Parliament building & Central Vista to supplement the ₹15,000 allotted to fight #Covid19, which is merely ₹20 Cr per district. Grand spending on buildings at this time of crisis is a postponable luxury.

— Shashi Tharoor (@ShashiTharoor) March 26, 2020
Congress' Shashi Tharoor tweeted about the need for the government to divert the thousands of crores earmarked for the Central Vista development in New Delhi towards the COVID-19 fight. Some other Opposition leaders have been suggesting that the myriad cess and levies Indians bear could also be used to fund some essential work in the COVID-19 fight. The government has paid some heed to these demands and allowed states to disburse the cess collected for the benfit of construction workers suddenly hit by the lockdown.