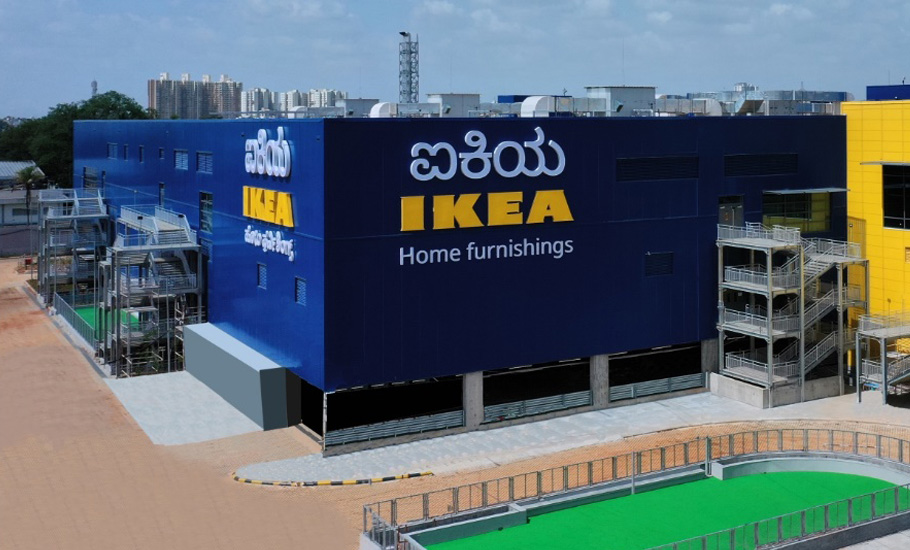 IKEA's latest India store is tailored for Namma Bengaluru
Bengalureans love to flaunt their balconies, and at the same time enjoying their private spaces; IKEA taps into this quirk
Four years after it lost to Hyderabad — after a close race — to be the first IKEA outlet in India, Bengaluru is now home to the country's biggest store of the Swedish furniture giant.
Spread over 13 acres on the busy Bangalore-Tumkur Road, the store at Nagasandra displays 7,000-plus home furnishing products, of which over 25 per cent are sourced locally. Over 1,000 local artisans are already working in tandem with IKEA, making sofas, upholstery, armchairs, furniture, plastic, and metal articles.
If the team is to be believed, the local sourcing will go up considerably high in the next few months/years.
At a time when foreign firms — like German retailer Metro and Swiss building material firm Holcim — are leaving Indian shores, IKEA is planning to unleash 20-plus stores in the next few years. Ahmedabad, Surat, Pune, Chennai and Kolkata are the likely frontrunners.  Buzz is that later this year or next year Delhi-NCR will have an outlet.
Just for the record, the India project is a staggering $1.5 billion.
Tailored to suit Indian aesthetics, IKEA has designs unique to every city it goes to. While the Hyderabad store has bigger, wider designs, its Mumbai store has compact, smaller furnishings, reflecting the city's crammed apartments, and in Bengaluru, it chooses to have flexible, convertible furniture. There is a reason why.
As per sources, an IKEA team has visited over 2,000 households, studying how people make homes, and how they relax, cook, dine and sleep. In Bengaluru too, extensive research was done before picking the bric-and-brac and other furnishings.
Bespoke designs for Bengaluru
Why? Erik Jan Middlehoven, Home Furnishing and Retail Design Manager (India),  said the team's research threw up fascinating perspectives about a "city (Bengaluru) which is always on the move".
"Here, people seem reluctant to hugely invest in single dwellings as in other cities. It seems like they are not sure about settling down in a particular home, or place. Maybe it is the traffic, people move jobs, eventually homes,  more frequently than say in Mumbai and Hyderabad. So we have come up convertible, makeshift designs so that people can shift seamlessly," Middlehoven told The Federal at the sprawling giant blue store overlooking NH-75.
Also, he said, compared to Mumbai and Hyderabad, two people (couples) are working in every home, probably forcing the family to shift intra-city locations now and then.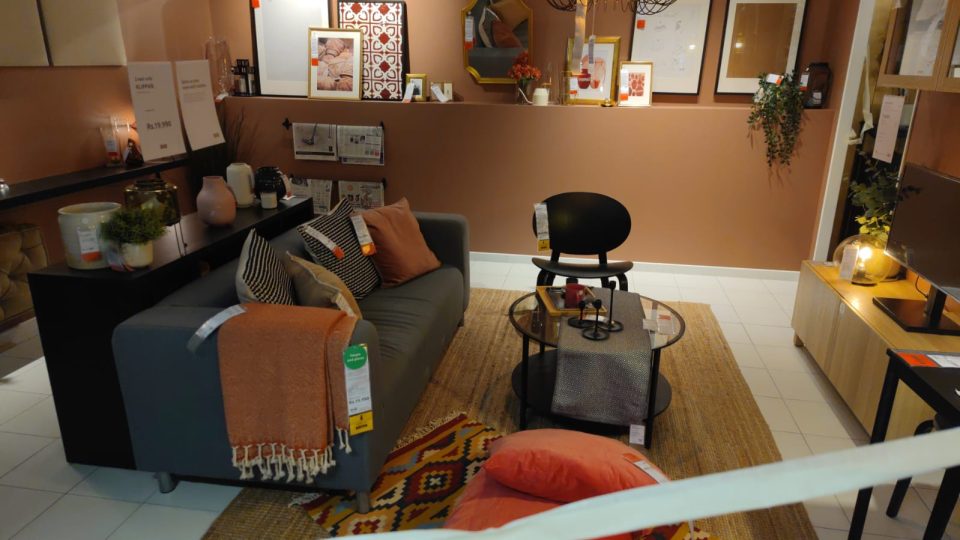 Bengalureans love to flaunt their balconies, at the same time enjoying their private space.
Said Middlehoven: "Balconies are very important for the city. Also, most would like to have a bit of their outside space as well. So we keep all these things in my mind while making furnishings for Bengaluru."
IKEA started its e-commerce journey in Bengaluru, with a shopping website and an app in 2021. And the 'storey' does not end in Bengaluru alone.
Rs 3,000-crore plan for Karnataka
IKEA has bigger plans for Karnataka, pumping in a staggering Rs 3,000 crore in the next five years.
Susanne Pulverer, Chief Executive Officer & Chief Sustainability Officer at IKEA, said the company would soon spread out elsewhere in Karnataka, but refused to name any city.
"We have a long-term commitment to Karnataka to create a positive impact on the local economy through our business. We will give opportunities for a growing eco-system for the whole industry, including growing people and skills, we continue to stand by our vision 'to create a better everyday life for the many people," Pulverer added.
From a 1,000-seater restaurant and a bistro serving a mix of Swedish and local delicacies to massive children's play area Småland, The Federal here takes a look at some of the things that struck us at Bengaluru IKEA.
At 460,000 sq ft, it's the biggest IKEA outlet in India. (Commercial space-wise)
The Bengaluru one is IKEA's third large-format store in the country after Navi Mumbai and Hyderabad.
Amid the pandemic, over 8 lakh online visitors/shoppers every per month in Bengaluru alone
It employs close to 1,000 staffers in Nagasandra, of them 72 per cent are recruited locally. Again, 20 per cent are hired from the neighbourhood (in 5-km distance)
Another 1,500 people are employed indirectly.
College students and youngsters are hired from the immediate neighbourhoods "so that their time is not spent on commuting in the city's infamous traffic".  Some of them are walking to work at IKEA.
Equal opportunity employer — the male-female employee ratio is 50:50
A 1,000-seater restaurant, one of the biggest in India, which serves signature chicken meatballs and local food.
Massive children's play area, named Smaland, again one of the biggest
Walkable distance from Nagasandra Metro station (Green Line).
IKEA's iconic product BILLY Bookcase is available in Bengaluru. (If you did not know, a Billy bookcase is sold every 10 seconds around the world)
Other signature items like MALM Bed, FRAGRIK Mugs, and GAMMALBYN sofa are also available
Will it be easy for Bengaluru IKEA?
When Hyderabad IKEA opened in 2018, there were reports of traffic jams, chaos and whatnot. The store in Bengaluru is expected to attract more than 70 lakh visitors every year. For a city quite notorious for traffic, it remains to be seen if people from all parts of the city will flock all the way to visit Nagasandra, overawed by the hype and blitz.
For instance, commuting from the Central  Business District (CBD) or even the cash-rich Whitefield (at least 2 hours in peak-hour traffic) could be a hurdle or two. That is going to be the biggest challenge for IKEA – notwithstanding the stone's throw-away Metro connectivity.
Also Read: Why Hyundai India is unfazed by threat from Tata Motors for No 2 spot
Also Read: FDI 2021: India in top 10 despite fall in investment, reveals Unctad report