The Indian Railways (IR) has reported nearly ₹2,300 crore year-on-year drop in freight earnings in the first eight months of this fiscal. There are two main reasons for this decline: the continued economic slowdown which has impacted the movement of commodities in general and the aggressive development of the road sector by the government which has lessened the attractiveness of IR as the preferred mode of long-distance freight carriage.
But freight carriage is the lifeline of the national transporter since profits made from this business are used by it to fulfill its social obligations and cross-subsidise passengers. Also, freight accounts for nearly 65 paise of every rupee earned by the IR. As freight earnings have been dipping this fiscal, it is no wonder that a cut in freight rates is on the anvil even as passenger fares may be raised.
Also read | Indian Railways' 2017-18 operating ratio 98.44%, worst in 10 years: CAG
Advertisement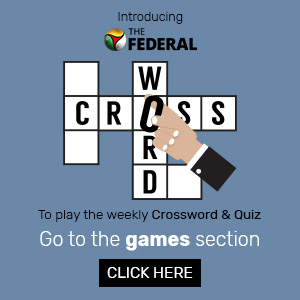 In fact, the gross earnings of IR (cumulative freight, passengers, other coaching and sundry) have been below par till now this fiscal and there is little likelihood of the numbers reaching anywhere near the target set out in the Budget. This is nothing new; IR has been missing budget targets each year for the last several years. So it is now left with little option but to load more freight by lowering rates and also simultaneously hike passenger fares to reduce losses incurred on transporting each passenger.
"We are going to rationalise both fare and freight. Freight rates are already very high so I don't think we will be raising freight rates. In fact, we need to rationalise freight rates…to bring down logistics cost," Railway Board Chairman VK Yadav had said. He also hinted at a move to raise passenger fares.
The latest earnings data of the national transporter show why its worries over freight earnings are justified.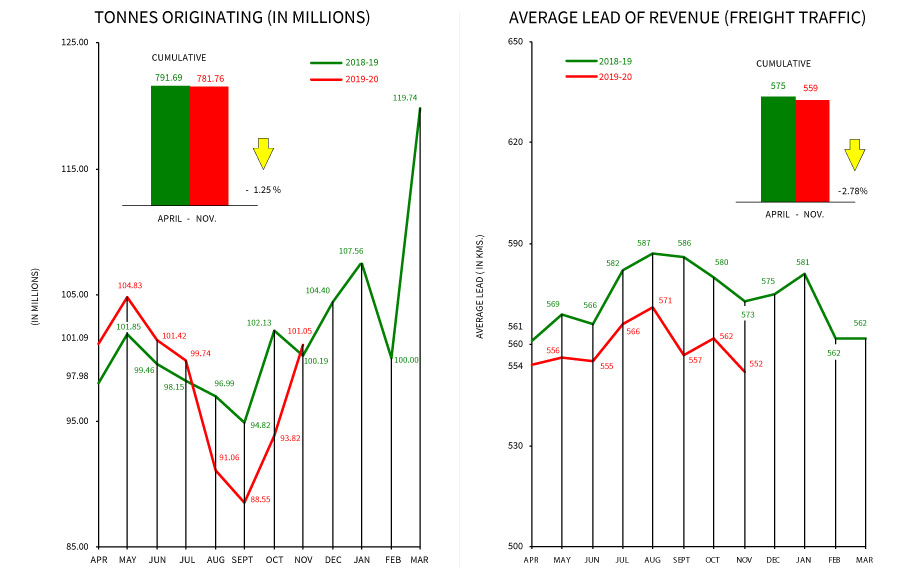 IR earned ₹72,460.46 crore between April and November 2019 from freight as against ₹74,758.91 crore during the same period in 2018; a decline of over 3% or nearly ₹2,300 crore. These numbers pertain to earnings excluding National Thermal Power Corporation (NTPC), with which the IR has an advance freight charge agreement. Not just earnings, total freight carried has also declined by nearly 10 million tonnes between April and November this year (781.76 MT) as compared to the same period last year (791.69 MT).
Also read | Late, but just in time: Centre's plan to hike train fares is need of the hour
Not just freight, there has been a fall in even passenger numbers this fiscal. Between April and December 10 this year, 55 million fewer passengers took a train journey; the total number fell from 5,877.24 million last year to 5,822.55 million this year. Gross traffic receipts of the IR (cumulative earnings from freight, passengers, other coaching and sundry activities) have remained below par, falling by over ₹650 crore between April and December 10.
IR's precarious financial position has been a matter of concern for many years now. According to the Demand for Grants 2019-20 examined by a Parliamentary Standing Committee, the social obligation (subsidisation of passengers) cost of IR in 2017-18 was ₹32,358.198 crore – this is how much it spent to offer concessions to passengers.
The IR loses money because of (i) Low ordinary second class fare; (ii) Low suburban and non-suburban season ticket; (iii) Loss on essential commodities carried below cost; and (iv) a variety of concessions granted on passenger ticket. Working of uneconomic branch lines, too, imposes a heavy burden on IR's finances. A gap is thus created between the revenue income generated through these services and their cost.
The Standing Committee noted that in 2018-19, there was a nearly ₹11,000 crore shortfall in total traffic receipts versus target set in the Budget. Actual gross traffic receipts were ₹1,89,906.58 crore while at the beginning of 2018-19 the target had been ₹2,00,840 crore. This leads to a steep hike in the operating ratio (OR).
Also read | Why private players in Indian Railways could be a game changer
OR is the amount the IR has to spend to earn every rupee. The targeted operating ratio at the budget stage for 2018-19 was 92.8% but the actual has now come to 97.2%. For the current fiscal, the targeted OR is 95%. Also, the OR worsened during the Modi government's first term and in at least three of the last five years, this ratio was over 95%: 96.5% in 2016-17 and 98.4% in 2017-18.
Then, BE internal resource generation target was ₹11,500 crore but the actual generation was not even half of that at ₹4,663 crore. In its reply to the standing committee, the Railways Ministry listed out the major reasons for this decline in receipts:
• Drop in originating passengers
• Trend of lesser average freight lead in RE vis-a-vis BE and less loading in actuals vis-avis RE
• Low growth in other coaching earnings
• Non-materialisation of revenue target from land monetisation
None of these reasons has changed in 2019-20. IR's passenger and freight businesses continue to confront intense competition from low cost airlines and a speedily expanding road sector respectively. As earnings dip, it is wise to lower freight charges and raise passenger fares to make ends meet. It is another matter whether politics will allow passenger fares to be raised – there has already been a pushback by train travellers and MPs over the flexi-fare scheme which allowed for a certain increase in fares as a coach filled up.
IR is anyway now experimenting with awarding some trains on high-density routes to private operators – who will not offer the myriad concessions that IR offers – in a bid to improve efficiency and earnings.