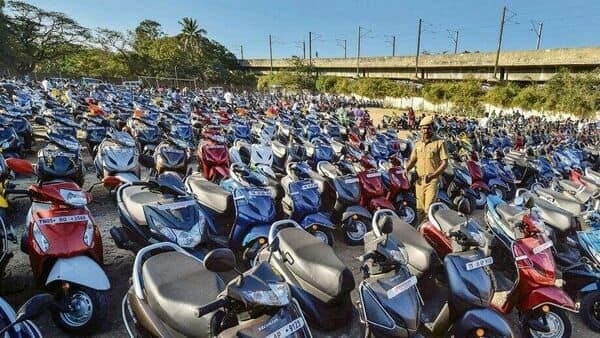 ICRA has pointed out that there has been a 30-40 per cent increase in upfront costs for two-wheeler owners in the last three years. Representational image
As the world gradually began opening up last year after the COVID pandemic, a combination of factors pushed India down to the second place in the global two-wheeler pecking order. Since 2017, India had been the world's biggest market for two-wheelers but this numero uno position was lost last year, as China manufactured more of the vehicles.
Curiously, this single statistic has not been highlighted by the automobile industry but has been underlined by a Parliamentary panel, which has also asked the administrative ministry to look into the reasons for the decline.
According to a Statista report, the total motorcycle production in China in calendar 2022 was a little over 20 million units; between April and December 2022, the figure was 15.56 million units. In India, production of motorcycles in the same nine-month period was 12.89 million, per data from the Society of Indian Automobile Manufacturers (SIAM).
Also read | New debt MF norms: AMCs open subscription for international schemes
Data for total two-wheeler production (including scooters, mopeds etc.,) for China is not available; in India, total two-wheeler production between April-December 2022 was 17.71 million.
Two-wheeler volumes have fallen
Ratings agency ICRA has said in a two-wheeler industry analysis that wholesale volumes (or factory dispatches, not retail sales) of two-wheelers have fallen by more than a third in just three years — from 21.3 million units in FY19 to 13.8 million in FY22.
The 13.8 million figure, of two-wheelers manufactured and dispatched to dealers last fiscal, was last seen in FY13, nearly a decade back. There was a steady increase in dispatches, year on year, till 2019 but COVID and its aftermath has taken the steam out from India's two-wheeler factories. And, the decline in manufacturing is unlikely to be made up soon, with ICRA's projection for FY24 projecting a 4 million units gap, compared to the FY19 peak.
Meanwhile, the Parliamentary Standing Committee, while examining the demand for grants for the Ministry of Heavy Industries, pointed out that India has slipped to second place in global two-wheeler manufacturing.
Cars vs bikes
In its report, the committee said: "The Committee notes that the passenger car sector of India grew significantly as India became the third largest manufacturer of passenger cars in the world. At the same time, in the two-wheeler sector, India has slipped to the second position from the first position as compared to FY 2021-22."
Further, it added that while the committee commends the ministry's efforts in respect of the manufacture of passenger cars, it notes with concern the decline in manufacture of two-wheelers in view of the extensive use of two-wheelers in the country.
Also read: EV two-wheelers will capture 100% market by 2027: Niti Aayog
"The committee is of the view that the ministry should conduct a holistic study and look into the shortcomings that have caused India to slip down to the second position in manufacturing of two-wheelers so that timely corrective measures can be taken to enable India to regain its position," it said in its report.
Exports on high drive
A careful analysis of SIAM data shows that while domestic sales have been falling behind, exports of two-wheelers have shown a more encouraging trend since 2019. Exports were at a 12-year high in FY22 at nearly 4.5 million units.
India's encouraging export performance in the last few years has been on account of acceptance of two-wheelers as a cost-effective alternative for last-mile connectivity in undeveloped nations – mainly in LATAM and Africa, besides other countries in the Indian subcontinent. But, ICRA says that even the export outlook remains weak, as multiple headwinds have impacted demand in emerging markets.
Demand for two-wheelers has been subdued in Africa for the last several quarters due to currency devaluation. Closer home, Nepal and Bangladesh have also faced a forex crisis. The same story is being repeated in Latin American markets.
Rising cost of ownership
ICRA has pointed out that there has been a 30-40 per cent increase in upfront costs for two-wheeler owners in the last three years. Insurance costs are up by 3-5 per cent; transition to Bharat Stage VI emission norms added up to 15 per cent increase to costs; commodity inflation led to price hikes and then there was the spike in fuel prices to contend with as well.
Of course, the entry level motorcycle has been the worst impacted since buyers in this category are extremely price conscious, and a majority reside in rural areas. ICRA has estimated that compared to the pre-pandemic year 2019-20, the recovery in sales of entry level bikes this fiscal year has been the lowest among all motorcycle segments at just about two-thirds.
The increasing noise around electric two-wheelers, though positive for the environment, has also played a part in denting sales of combustion engine two-wheelers.
ICRA expects that an improved two-wheeler financing penetration, easing chip woes for manufacturers, softening commodity prices and an expected uptick in rural demand (due to strong Rabi sowing acreage) should all be positives going forward. 
But, will India manage to beat back China in the near term in terms of two-wheeler manufacturing? This remains to be seen.