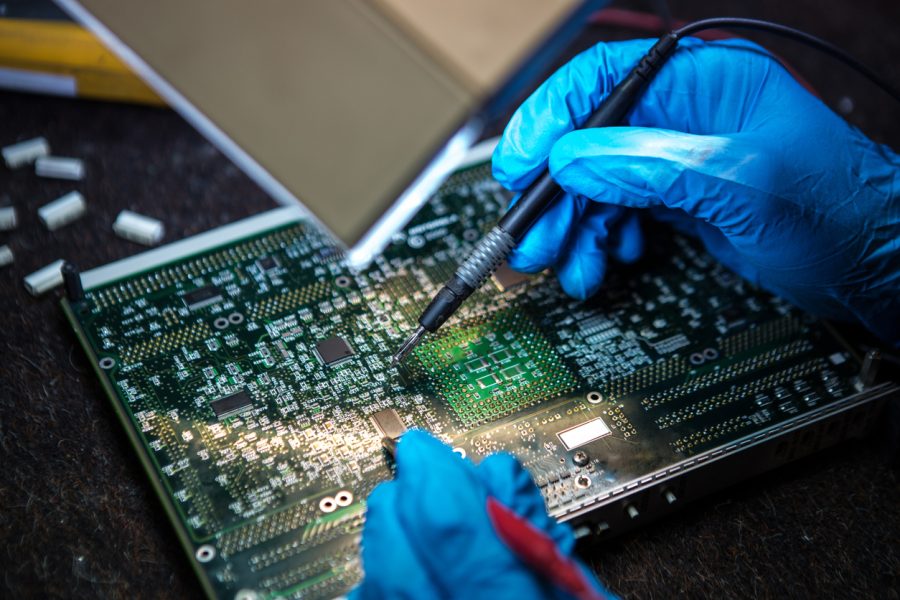 Chennai, Bengaluru, Gurugram among cheapest FDI sites for electronics R&D
Chennai is the cheapest FDI (foreign direct investment) location in the world to set up an electronics R&D centre. Along with Chennai, there are three more Indian cities in the top 10, according to fDi Benchmark, an investment location comparison tool from Financial Times.
The rankings were published in the February-March print edition of fDi Intelligence.
Also read: Taiwanese co, Tata Electronics to invest over ₹6,800 cr in TN cellphone facilities
The study, which benchmarked the world's top 100 FDI destinations in the electronic components industry, assessed each location's cost and quality competitiveness for R&D activities. In essence, it indicates the best locations for a modelled 50-person electronics R&D centre occupying 2000 square metres of office space, the report said.
Chennai was the low-cost place in the top 100 electronics FDI destinations, with estimated annual operating costs of $1.24 million for a 50-person R&D centre, followed by Penang in Malaysia ($1.32 million), Gurugram ($1.53 million) and Pune ($1.53 million). Bengaluru ($1.69 million) at seventh was the other Indian city in the top 10.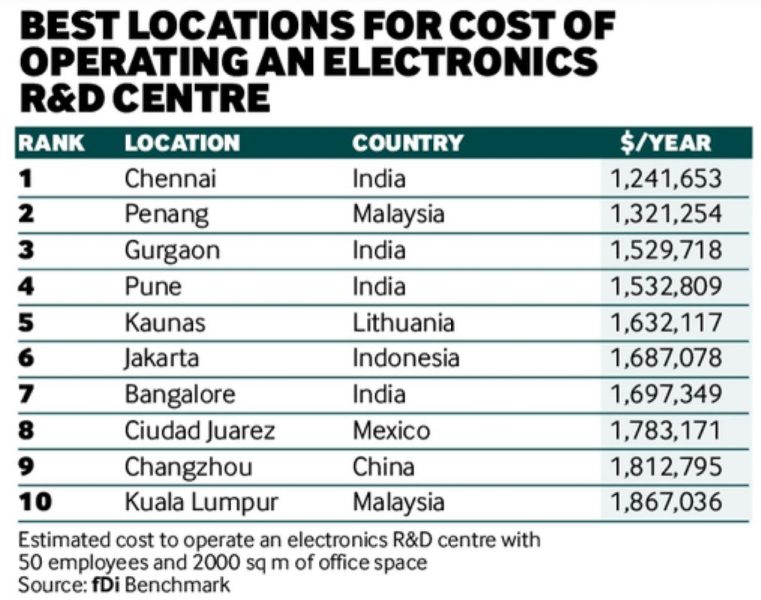 "The prominence of major Asian clusters in the electronics industry has made them attractive for research and development (R&D) operations. All but one of the 20 most competitive locations to set up an electronics R&D centre are located in Asia," according to fDi Benchmark.
Also read: FDI in TN increased by 41.5%, more investments via GIM 2023 expected: CM
When it came to the world's most competitive location for electronics R&D activities, Chennai was ranked second. The South Korean capital of Seoul topped the list. Bengaluru, Pune and Gurugram occupied the sixth, seventh and eighth spots, respectively. Istanbul (5th) in Turkey was the only European city in the top 10.
Tamil Nadu contributes nearly 20% of India's electronics production. In 2020, the state government released the Tamil Nadu Electronics Hardware Manufacturing Policy 2020. It aims to increase the state's electronics industry output to $100 billion by 2025.
Lower end of value chain
Despite being cheaper than other locations, India remains at the lower end of electronics value chains, according to the report.
"India has always been known for low-tech products … but has future potential. There is no comparison between what is (currently) being designed and worked on in India versus places like China, Japan and Korea," Mark Burr-Lonnon, senior vice president for global service at Mouser Electronics, a US-based global electronics distributor that supplies parts to design engineers, was quoted as saying in the report.