After telecom, Reliance may be planning a disruption in retail
Reliance Industries is said to be in talks to acquire Future Retail. In a clarification issued to the stock exchanges last week, Future Retail did not explicitly deny news reports that Reliance was in talks to acquire the assets. 
On March 10, just before the COVID-19 outbreak became a pandemic and upended many a business plan, Future Retail held an investor presentation to allay growing concerns about the founder group's huge debt.
Investors were spooked by a letter written by promoter Kishore Biyani to the stock exchanges four days before the presentation, warning against rumours about group companies and their debt positions.
During the presentation, India's third-largest food and grocery retailer behind Reliance Retail and D'Mart talked about focussing on organic growth and operating efficiency — "getting more out of the same" (referring to increased sales through existing stores instead of launching new ones). It also said it will not pursue any "M&A activity in the near term" as part of "more-calibrated" capex plans.
Investors, however, were not convinced and the shares of the heavily pledged group companies went on a free fall. Ratings agencies downgraded the group and its constituents, including Future Retail, and lenders invoked pledged shares.
As a result, nearly five months after that presentation, far from organic growth, Future Retail and the retail assets of other group companies could well be up for sale.
Reliance Industries is said to be in talks to acquire them. In a clarification issued to the stock exchanges last week, Future Retail did not explicitly deny news reports that Reliance was in talks to acquire the assets.
The deal could be valued upwards of ₹20,000 crore.
Future Retail had a market capitalisation of ₹5,942 crore on August 7, with the stock price up 1.81% to ₹109.6 on the NSE.
Media reports suggest any possible acquisition by RIL would include much of the Future Group's debt too. A report by global analyst Redd Intelligence said the debt of the four major promoter holding companies of the group was nearly ₹12,000 crore as of March last year.
Related news: $20 billion in 3 months: How sure-footed Reliance rakes in the moolah
But why is RIL, already the retail king with nearly ₹95,000 crore of core retail sales in FY20, keen on Future Group's retail assets?
Surely it is not to gain scale, since Reliance Retail is already far ahead of competition, with its sales worth more than the cumulative figures of the 8-9 next biggest retailers.
The answer could lie in Future's presence and scale in brick-and-mortar retailing as also certain core competencies it has built over the years, especially in brands and human resources.
An SBICAPS analysis said that RIL's share in India's organised retail needs to grow substantially for the conglomerate to realise its overall growth ambitions in the consumer-facing businesses.
Ankur Bisen, senior vice-president at Technopak Advisors, pointed out that despite all its financial struggles, Future's retail business has been successful in creating pioneering assets and building capabilities.
For one, the group has a high share of private labels in its portfolio. A private label requires sourcing for an own brand and selling through an own network of stores.
Related news: In line with Mukesh's grand plan, Reliance is debt-free ahead of deadline
"This means the seller has developed a vendor ecosystem," Bisen said. The Future Group has private labels in categories like home care, personal care and staples. "Future has Tasty Bite bhujiya and ketchup in its private label brands for which vendors, quality systems, sourcing tie-ups, a trademark with recall value have all been developed over the years," Bisen pointed out. "It was also planning to sell these private labels through its consumer business venture, Future Consumer. Anyone wanting to develop scale in the business would value these private labels."
Then there is Future Supply Chain Solutions, a subsidiary of Future Retail that offers supply, warehousing and logistics services. One of its customers, Tata Motors, for example, uses this company as a service provider for all its dealers across the country.
For any potential acquirer, this part of the bouquet would come in handy to extend consumer and FMCG businesses. Also, Future has vast human resource capabilities since it has veterans with expertise in running different retail formats.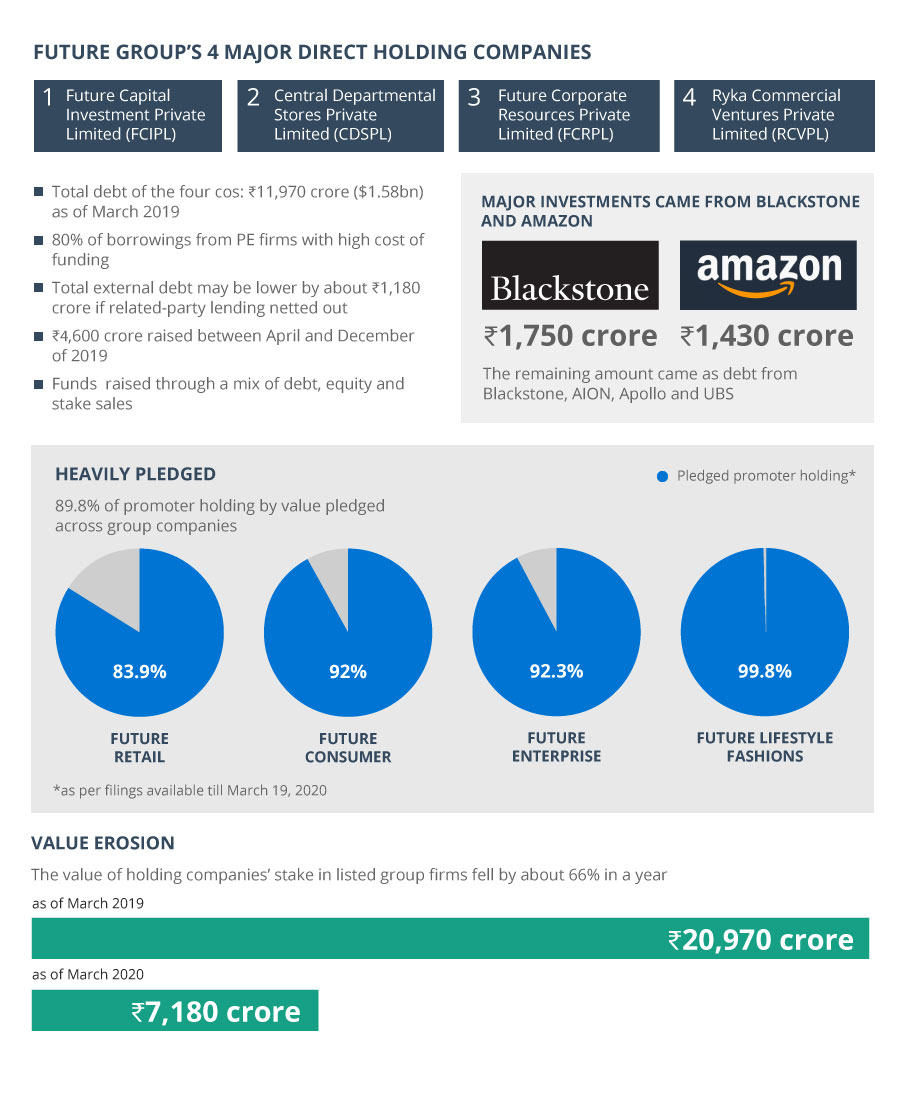 The market capitalisation of Future Supply Chain Solutions as on August 7 was ₹643 crore; the stock price was down 2.25% to ₹146.5 on the NSE.
A veteran in the retail industry, however, said Reliance should not buy Future's retail assets since the target companies cannot even offer prime real estate in the bargain. The person said while it is imperative for Biyani to find a buyer when his businesses are struggling to survive due to the debt overhang, there is no need for Reliance to snap up Future's retail assets, especially at current valuations.
But if Reliance does finally sign on the dotted line, then it would initiate a minor consolidation in an otherwise fragmented industry with low penetration levels. The sales of organised F&G retailers is about $20-22 billion in a market worth about $550 billion. In other words, organised retail accounts for just about 4% of the market, offering an unlimited space for everyone to grow.
Related news: Reliance Retail tops list of 50 fastest growing retailers globally
After purchasing Future's assets, Reliance could replicate its telecom business strategy to consolidate its position in the retail market, too.
Reliance entered telecom very late with Reliance Jio Infocomm (RJio), but it toppled the market dynamics with substantial investments, customer freebies and low-cost services.
After Jio's entry in 2016, incumbent companies suffered unprecedented losses as ARPUs tumbled, forcing smaller players to either exit or be acquired. Four years later, only three private players are left in the market against nearly a dozen earlier. RJio continues to show record subscriber and profitability numbers.
Industry experts, however, point out that the retail market is not similar to telecom where the "winner takes it all." Only a fragment of the organised retail market has been tapped till now and there is room for many players, they say. "Retail will remain a multi-player market for a long time to come unlike telecom," an industry veteran said.
However, there is no knowing when or how quickly Reliance will swoop down again on another retail biggie after snapping up Future's assets and continue with the consolidation drive.