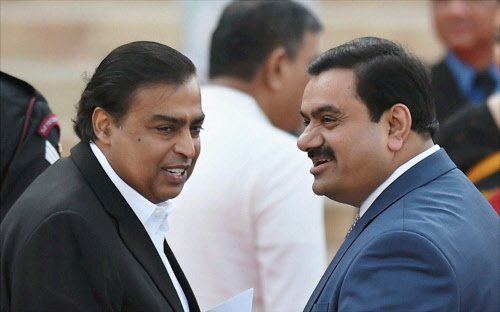 Adani, Ambani make fortune as spiralling energy prices shift focus on coal & crude
The Russian invasion of Ukraine has opened a flood of opportunities for Indian business conglomerates like the Adani Group and Reliance to make big profits amid rising commodity prices.
Gautam Adani and Mukesh Ambani are exploiting coal and crude oil reserves to feed global energy demand even as the two billionaires flaunt their liking for green energy.
Reliance share prices rose by 19% while that of Adani Enterprises went up by 42% from the day Russia invaded Ukraine (February 24) till April 30.
Adani's wealth has surged by $25 billion since February 24, taking his net worth to almost $106 billion, states the Bloomberg Billionaires Index. Meanwhile, Ambani's fortune swelled by almost $8 billion to $92.4 billion.
Also read: GST Council recommendations not binding on Centre, state govts: SC
The Adani Group is looking to mine more coal from its Australian block, which is already under public and environmental scrutiny for all the wrong reasons. Meanwhile, the Reliance Industries Ltd. is buying crude oil for heavy discounts to meet the ever-rising requirements of its oil refineries.
Bloomberg reported that Reliance deferred a scheduled maintenance of the refinery in Gujarat to produce more fuel, as global fuel prices touch a three-year high.
Unfortunately, the world's increasing appetite for more energy, post COVID lockdowns, is being fuelled by coal and oil – considered the biggest causes for high CO2 emissions and climate change. As per the International Energy Agency, demand for coal is set to go up this year and remain high at least till 2024.
The two Indian businessmen, arguably among the richest in the world, are exploring the 'dirty fuel' even as the developed world struggles to find alternatives with Russian supplies facing ban from the Group of Seven most-industrialized nations.
Also read: Explained: Twitter's good, bad bots and Elon Musk's demand for 'proof'
Chakri Lokapriya, managing director at TCG Advisory Services in Mumbai, told Bloomberg that fossil fuels are here to stay for the next 20 years at least. Hence, groups like Adani and Reliance are still likely to make a windfall from their investments in coal and crude.
Besides Adani and Ambani, US oil and gas tycoons Harold Hamm, Richard Kinder and Michael S. Smith, and Indonesia's Low Tuck Kwong, the boss of coal mining company PT Bayan Resources, have all made big money since the start of the war.