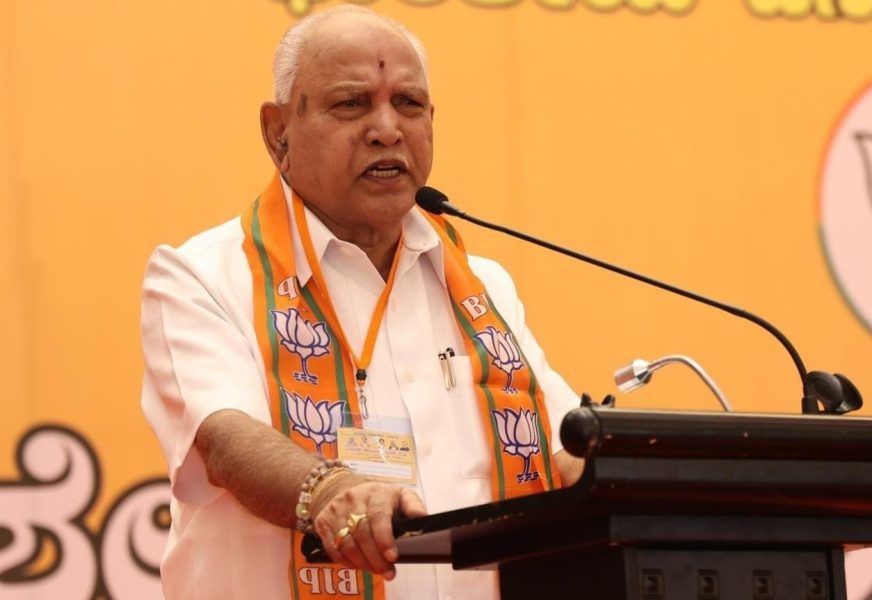 BSY was removed as chief minister in July 2021 and has been steadily sidelined in the party since then. File photo.
The BJP high command under Narendra Modi and Amit Shah brooks no dissent. But as the Karnataka elections approach, BS Yediyurappa (BSY), the Lingayat strongman, has been repeatedly defying them and getting away with that.
On April 10, when the marathon selection process was still unfolding in New Delhi, he left the tense negotiations abruptly and returned to Bangalore, a full day before the official announcement of the candidates. An aide told the media that Yediyurappa returned as he had already briefed the Delhi leaders and had nothing more to add.
Most political observers are saying that the list of selected and rejected candidates bears Yediyurappa's imprint. He seems to have focused on select constituencies and managed to push his choice.
Since the announcement of the tickets began, it is Yediyurappa's house that has been drawing large crowds of successful, disappointed and still aspiring applicants. Very few of them are thronging any other BJP or RSS leader, including Basavaraja Bommai or BL Santosh, who also played a key role in the selection.
Also read: Karnataka Assembly Polls: Yediyurappa has the last word as BJP fields 'rebels', 'dynasts'
Defying the high command
The high command and RSS were keen to pit Yediyurappa's son Vijayendra against former chief minister Siddaramaiah in Varuna, a Lingayat-dominated constituency. The move would have made life difficult for Siddaramiah and consolidated Lingayat votes in as many as 14 constituencies in two districts, Chamarajanagar and Mysuru.
But Yediyurappa put his foot down and announced that Vijayendra would contest from Shikaripura, the family bastion, days ahead of the official shortlisting of the candidates. He did not disclose any reason for his decision, but just issued a fait accompli and the party gave in quietly.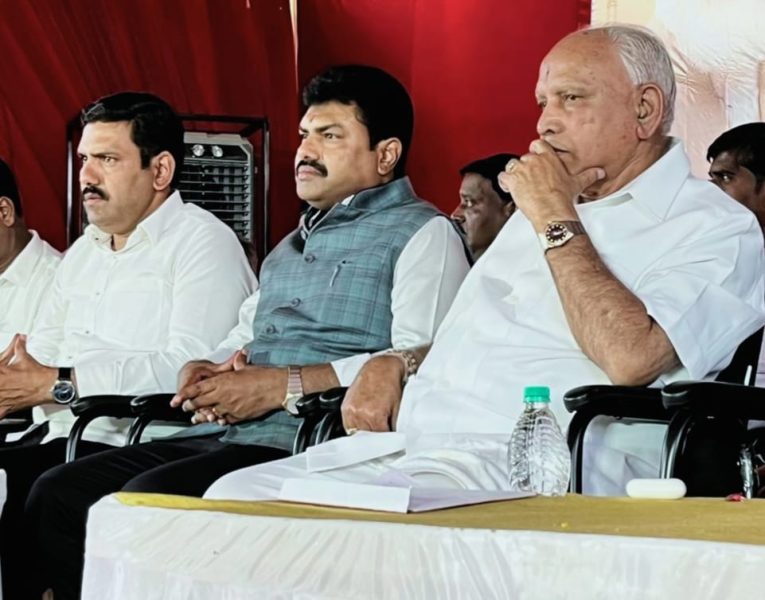 Yediyurappa was removed as chief minister in July 2021 and has been steadily sidelined in the party since then. Though he seems to be finding his authority again, he is just a shadow of the powerful figure he once cut in Karnataka BJP. He would have called the shots in most constituencies in the past, but now finds himself boxed into a few pockets of influence.
Also read: Karnataka polls: BJP releases first list; BSY's son Vijayendra to contest; 50 new faces fielded
He is a member of the parliamentary board, the highest decision-making body of the party, but was kept out of a few meetings in New Delhi, which discussed his choice of candidates.
But the hard-boiled politician, whom the RSS loves to hate, has sprung back to life like a phoenix. The BJP high command, which is used to obsequious leaders, is mindful of the redlines drawn by him.
Piggy riding on BSY
The rise of the BJP in Karnataka owes to Yediyurappa's mobilisation of the Lingayat votes in its favour.
Also read: Karnataka polls: Stage set for BJP heavyweights vs top Cong leaders
In the 2004 elections, BJP won 71 seats and two years later formed a coalition government with Janata Dal (Secular). After languishing nearly a lifetime in opposition, Yediyurappa became a deputy CM in the HD Kumaraswamy government.
After completing 20 months in power, Kumaraswamy refused to hand over the chief minister's post to Yediyurappa as they had agreed upon earlier. The 'betrayal' created a tsunami of sympathy for Yediyurappa among Lingayats, who rallied behind him.
Yediyurappa, turned out to be a masterful player of caste politics, and used the patronage at his disposal to woo the swamis and other influentials. Though his appeal was limited among Lingayats till then, he soon emerged as the tallest leader of the largest community in Karnataka and the party got an easy piggy ride to success.
Also read: Yediyurappa may see able successor in son Vijayendra, but BJP has set tough test for him
The 2008 election saw a massive consolidation of Lingayat votes behind him and BJP recorded its best performance ever by winning 110 seats, stopping short of a majority by just three seats.
Beginning of the rift
Yediyurappa's reign as CM marked the beginning of a rift with large sections of party leadership and Sangh parivar, especially the 'RSS puritans', as a rightwing political analyst puts it.
The RSS found that despite coming to power, it had no say in shaping policies, as BSY was preoccupied with power politics and not ideology.
Also read: Yediyurappa bids adieu to Karnataka Assembly with 'farewell' speech
"For the RSS puritans the Yediyurappa government was as useless as the NDA under Vajpayee where they could not promote their agenda. They decided that they had to get rid of BSY the way they got rid of Vajpayee and Advani," says the analyst.
Renuka Prasanna, secretary of All India Veerashaiva Mahasabha, a prominent Lingayat body, said, "Yediyurappa refused to implement the hardcore Hindutva agenda and instead acted as the chief minister of all social groups. They could not take it."
There was also a communication breakdown between the two camps. Yediyurappa had come up through the RSS ranks and was senior to others in the organisation. He reportedly treated them like 'bachchas' (kids) and would dismiss them impatiently.
A close associate of CM Basavaraj Bommai says he has seen Yediyurappa deliberately keeping the powerful RSS leader BL Santosh waiting as late as 2021. "Yediyurappa usually apologised saying he had too many visitors. He would do Santosh's work, but would make him wait," he said.
He further says the rift between BSY and RSS goes back in time and has a caste element in it. A Brahmin body, RSS was comfortable with a fellow caste man, Ananth Kumar, but never trusted Yediyurappa, a Lingayat. The intense rivalry between Ananth Kumar and BSY reflected this division.
Yediyurappa's moment of glory as the first BJP CM of a major southern state ended in disgrace. His rule was marked by large-scale defections, political instability, an out-of-control mining lobby and corruption scandals, which led to his resignation and even brief imprisonment.
He fell out with the central leadership, formed own party Karnataka Janata Party (KJP), won 9.5% of the votes in the 2013 elections, and reduced BJP to 40 seats.
Patch up with the party
The rise of Modi to power saw Yediyurappa returning to BJP and leading the party to 104 seats in 2018. After engineering another round of mass defection to bring down Kumaraswamy's government he took oath as CM probably for the last time in 2019.
But he found that the equation with the party had changed. The BJP high command under Modi and Shah was a power centre that could not be pushed around. A resurgent RSS in the state under BJP general secretary, Santosh, launched a methodical campaign to cut him down to size.
The central leadership held back approval on key decisions such as Cabinet formation and refused to give him time to sort out the issues. Santosh shrunk BSY's clout in the party, denied ticket to his son, nurtured parallel Lingayat leaders and instigated the Panchamasaali agitation for reservation to weaken his hold over the largest subcaste of the community.
He also encouraged a party MLA, Basanagouda Patil Yatnal, to aggressively target Yediyurappa and family's alleged corruption and protected him from any backlash.
Bringing down BSY
In 2021 an emasculated Yediyurappa was forced to resign. He gave in after resisting for a while but refused to go quietly. Lingayats watched a tearful Yediyurappa turning his dismissal into a long-drawn TV spectacle and an unprecedented number of Lingayat Swamis, including many heavyweights, descending upon Bengaluru in a show of support to the outgoing CM.
Sharing the RSS perspective of the event, the analyst says, when Yediyurappa took oath in 2019 there was an agreement that he would make way for a younger successor after two years. But he showed no sign of leaving and RSS agreed to let him finish the term if he would ensure a succession plan.
But Yediyurappa reportedly scuttled all attempts to ensure smooth succession. He undermined Deputy CMs Like Laxman Savadi and was plain hostile to potential successors like Aravind Bellad. "Worse, he started promoting his son as successor prompting RSS puritans to push the button," says the analyst.
Prasanna dismisses this narrative saying, "RSS removed BSY because money and power have gone to its head. It is behaving like the Congress high command."
Managing the fallout
After removing Yediyurappa, BJP's first priority was to prevent an open rebellion, a repeat of 2013 that could have seriously damaged the party. There is a widespread belief in the political circles and the media that Yediyurappa and family have been kept in check with the threat of legal action on their alleged corruption.
The president of JD(S) CM Ibrahim likes to mock BSY saying he is constantly trailed by Enforcement Directorate (ED) and Income Tax (I-T) officials. "The files are ready and hence they are not in a mood to rebel," says the analyst.
To keep Yediyurappa's Lingayat voters in good humour, the high command deployed a heavy dose of optics as well. Modi took part in Yediyurappa's 80th birthday celebrations and led him to the stage by hand. Shah, who had refused to meet Yediyurappa when he was CM, went to his home for breakfast and insisted on receiving a bouquet from his son Vijayendra in a show of goodwill.
Leadership vacuum
The sidelining of Yediyurappa had an unintended consequence: it created an immediate leadership vacuum at a time the party was gearing up for the polls. None of the intended successors, even Bommai, could step into Yediyurappa's oversized shoes and remained second ranking notables, who would have to sweat to retain their own seats.
The anti-incumbency and organisational weakness made many pessimistic about the party's chances and many known names, including three serving legislators, quit the party in the month of March, a trend that seems to be accelerating. Serious infighting broke out within the party in different districts and as the high command looked on there was none to step in to plug the leak and restore order.
Realising that the party had no other leader with the influence and stature of Yediyurappa, the high command enlisted him to troubleshoot and sought his advice on selection of candidates as well. The widespread rebellion that followed the announcement of tickets expanded his role further and in a matter of days BSY transformed from persona non grata to an influential voice in the party.
The flaw in RSS
Commenting on the party's flip flop, a former MLC and an associate of Yediyurappa says the RSS' problem with Yediyurappa is 'symptomatic'. Despite an impressive network and cadre, RSS does not have any mass base to win elections, and has to rely on vote catchers like BSY.
But it also becomes wary of popular leaders as they are harder to control. "It is not just Yediyurappa, even Sriramulu the popular Valmiki leader, who was their blue-eyed boy some time ago, is now being neglected," he says.
RSS leaders control the party decision-making but do not have any mass base of their own. They are reportedly comfortable doing the backstage manoeuvres but hesitate to step out in the open when there is a crisis.
Savadi lost the 2018 election but Santosh made him deputy CM to undermine Yediyurappa. Now he has joined the Congress after failing to get a ticket. Though Savadi considers Santosh to be his 'guru' the RSS leader could do nothing to stop him.
"Savadi was outsmarted by Ramesh Jharkiholi, a district-level leader, and not BSY who can play the game across the state," says the former MLC.
The RSS hold on the central government magnifies its power. But that factor will not work in its favour for all times to come, he adds.
Yediyurappa's gameplan
The recent turn of events has shrunk many of Yediyurappa's rivals and left him taller. Savadi is now with the Congress, Somanna is fighting for his life in two tough constituencies, Yediyurappa's one time bete noire Jagadish Shettar is seeking his support to get his own ticket. His frequent challenger Eshwarappa sent his son to meet him and request for a ticket.
Yediyurappa knows there is an irreconcilable conflict of interest with RSS, points out the former MLC. "If BJP comes to power without his help he knows he and his sons are finished," he says.
There is even talk of Yediyurappa quietly working to play spoilsport in a few constituencies where his bitter critics are contesting. "If he can quietly move a few votes away from the party in select constituencies, there will be an impact," says the former MLC.
A few of BSY's close associates have left the party and are contesting on a Congress ticket against many of his detractors in BJP.
Impact on Lingayat voting
With Yediyurappa no longer in the driving seat would Lingayats still consolidate for BJP? The opinion in RSS is that BSY's hold over Lingayats is overestimated. "Even in 2013 only 5 to 7% of Lingayats voted for BSY. There will be no impact on the average Lingayat voter of BJP," says the analyst.
Lingayats are not a monolith and their voting preference varies from region to region and subcaste to subcaste.
For instance, Bommai has emerged as the tallest leader of the Sadars, a prominent Lingayat subcaste. Yediyurappa's woes are unlikely to make a dent in their support for BJP.
But among Gowda Lingayats in the Mysore and Chamarajanagar districts enthusiasm for BJP has waned after BSY's exit. Though they have voted for BJP traditionally, Gowda Lingayats seem to have become more receptive to the Congress overtures now.
The Lingayat bureaucrats and other elites have seen political power shifting to the RSS at their expense after BSY stood down. They fear that RSS may take their votes to hoist a Brahmin chief minister.
While Yediyurappa is not an election issue for many Lingayats, BJP may lose some votes in many constituencies in the absence of his personal appeal and political management.
Political observers say Lingayats are such a diverse group it is rare to see a leader emerging to unite all of them across the state. Whenever that happens Lingayats become a potent force and the party they favour reaps benefits.
"Yediyurappa achieved that for BJP. But with his exit, a huge draw for the party is gone, and the Lingayat voters are likely to split," says the former MLC.