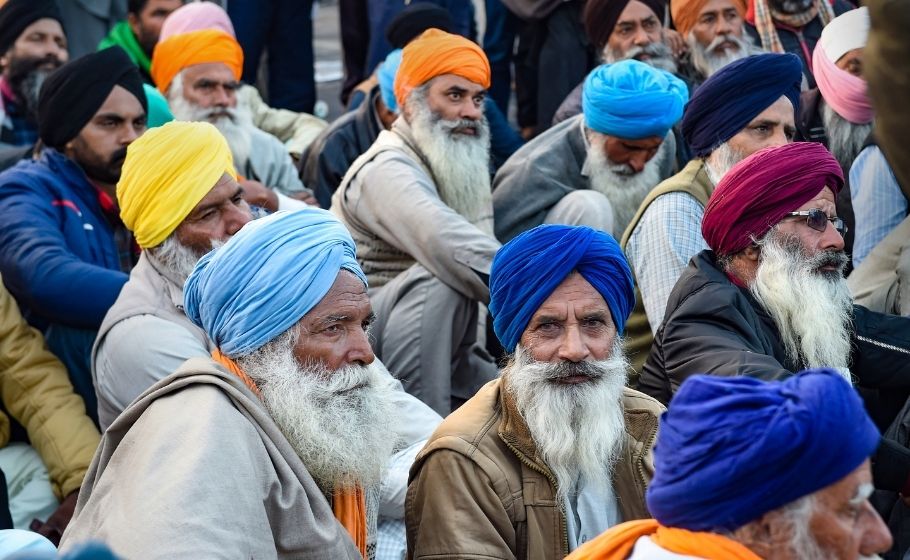 Why small businesses in agri sector are worried about farm laws
Indian economy is heavily dependent on agriculture and allied activities. The sector provides employment to millions engaged in farming and agriculture entrepreneurship. A large section of farmers is protesting against three farm laws for the past two months on the Delhi borders, terming these laws as 'anti-farmers' and 'pro-businessmen'. The farmers have now included small agricultural entrepreneurs or businessmen involved in product marketing.
This section includes wholesalers, retailers, commission agents, transporters, exporters and financers. Some of them are also engaged in input marketing, selling fertilizers, agricultural chemicals, seeds and machinery. There are thousands of retailers and wholesalers in Punjab who feel that they will be sidelined once big players enter the market.
Also read: Farmers' R-Day tractor parade to cover 50 km on Outer Ring Road
For instance, Amrit Mann is an owner of Amrit Flour Mills in Ludhiana, Punjab. He buys wheat and rice from farmers, processes them and sells them in the local market. "We are into this business for the last 30 years and there are nearly 200 full-time employees with us. Our worry is that once the three farm laws are fully implemented, big players in the agricultural market will take over the entire business," Mann told The Federal.
Vijay Mehta, owner of Mehta Seeds and Fertilisers in Khanna, Punjab, told The Federal that these farm laws would break the entire supply chain of agriculture in Punjab. "A farmer buys seeds and fertilizers from us, but these laws have legalized contract farming after which big companies will provide seeds, manure and fertilizers. Where will we go? There are lakhs of shops like ours in Punjab employing thousands of people?"
Transporters unions across India also support farmers in the protest. The All India Motor Transport Congress has said, "Thousands of trucks carrying food, vegetables and other perishable and non-perishable items coming from Punjab, Haryana, Himachal Pradesh, Uttar Pradesh, Uttarakhand and Jammu and Kashmir will be impacted by the farm laws. We support the protestors as 65% of the trucks are engaged in carrying the farm produce."
Prakash Dalal, owner of a transport company based out of Haryana, told The Federal that half of their business would be impacted because of these laws. "We transport a lot of food items like grains, pulses, vegetables and fruits. Once big players enter the market, they would take our entire business."
Also read: Farmers protest: Sibal slams Centre for being impulsive with laws
Jaidev Bansal, a middleman based out of Narwana in Jind district, told The Federal that with the farm laws, their entire commission will be gone. "We are accused of funding the protest. The farmers know what is right for them. We are against these farm laws because these directly affect our fraternity — we will be jobless," he said.
"We charge about 2% commission, but nobody sees what we do for farmers. We give them loans without any interest. We help them with seeds, fertilizers and transportation. We help them clean their crops and help them to sell at better prices. We provide them with a variety of machinery as well," he said.
"Agriculture is not only restricted to farmers. There are millions of wholesalers, retailers, transporters, godown owners, manufacturers of fertilizer, agricultural chemicals, seeds and machinery. If you give all of this to big companies, millions would be jobless," he added.
Bid to monopolize the sector
Aunindyo Chakravarty, a senior economic analyst said: "Have you ever wondered why India's big businesses are suddenly so keen on farming? The answer is very simple: they have already exhausted all other options for making mega-profits. For big businesses, agriculture is the last big sector that offers an opportunity for consolidation. It is also the only space where there is a possibility of growth. That is why they are so keen to see that the farm laws stay. And that is what India's farmers have to fight."
He says agriculture is the only sector which is run by small private entrepreneurs. "There is a lot of money to be made here through consolidation. Big businesses can indeed take over the share of income made by intermediaries — traders, transporters, wholesalers and retailers. There are millions of small private entrepreneurs in agriculture who can be pushed aside and replaced by big agricultural monopolies," he added.
Also read: Give up stubborn stand: Minister Tomar to protesting farmers
Arun Kumar, the Malcolm Adiseshiah Chair Professor at the Institute of Social Sciences, Delhi, accuses the present government of ignoring the unorganized sector. "GST was implemented owing to the pressure from the International Monetary Fund as well as big industries and multinational corporations. These industries thought they would get huge benefits, which happened initially as the demand from small players came to them."
No one took the unorganized sector into account, he added. He says though the unorganized sector is exempt from GST, the exemption didn't get them the input tax credit (reducing the taxes paid on inputs from taxes to be paid on output). So, the selling price increased. Owing to that, the demand shifted from the unorganized to organized sector. Initially, the latter benefited, but soon their sales also started dipping, he said.
"A similar thing is happening here. They are trying to give the farming sector to big businesses, but are ignoring the unorganized agricultural sector, which will result in more job losses," said Arun.